Love the coconut milk curry. Love it. In general, I find "red" my favorite at the Thai joints I've been to, so naturally, I had to try to make it better myself at home.
Been making this for several years now, and I'm now confident I can beat anyplace's red curry in this city. I'm not a braggart, it's not my style. I'm just telling you that I can make a product that will knock your socks off, and it really ain't hard to do. I was a little tentative to try at first, but after doctoring up this and that, I can now say it really is a cinch. If you've never given it a try at home, don't delay any longer. A few tries and you'll get the hang, and then start tweakin it to what you want. Here's what works for me...
Ducks/row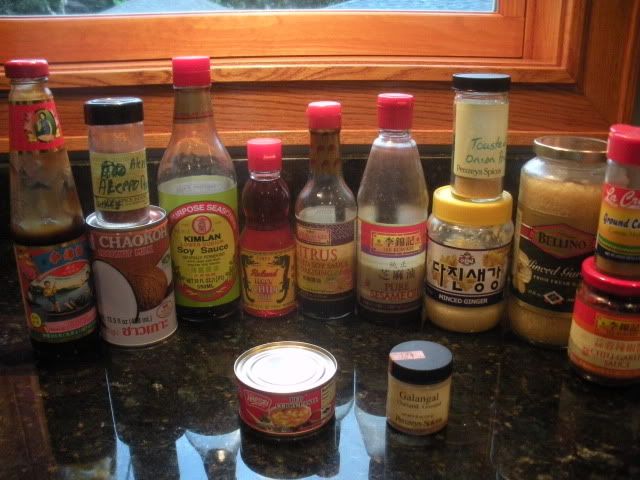 More ducks. From left: about a tsp of lime leaf, a tbs of a volcanically hot jalapeno, and about 1/4 cup of leek.
Normally I'd use onion, but the csa box had leek in it this week.
The paste:
Some sautee it in the coconut cream from the can, I use a mixture of veg oil, a splash of sesame oil and hot chili oil. 1/2 can of the maesri paste for 1 can of coconut milk. The rest of the paste goes into the freezer for use in a stir fry, or fried rice - perhaps as a base for a marinade for some bbq chicken... The paste gets sizzled for a few minutes here. Not browned, just sauteed to loosen up and release its flavors.
After a few minutes, the leek, jalapeno, and lime leaf are added:
This'll go for another few minutes for the leek, jalapeno to soften up. Once it's nice and soft - (again, not browned) Then the garlic, ginger, aleppo, galangal, chili garlic sauce, and toasted onion powder get tossed in:
This'll go for another few minutes for the garlic/ginger to release their flavor into the fold. Looks like a gross party prop, doesn't it? At this point, your whole household should know what's for dinner, and if you have a good vent, your neighbors on each side, two houses away, will know you're cookin something good too:
Next, a dotting of Oyster sauce. Unconventional? I don't care. Think about it. It's like reg vs decaf, diet vs real sugar. No contest if you ask me. It adds mouthfeel and beefs up the flavor. Not a lot - this is prolly a tbs and a half. This adds richness, and enhances the savoriness. Also at this point I'll add a few drops of ponzu, and lower sodium soy:
After a few more min, in goes the coconut milk + the juice of half of a good lime and averything is mixed well. It's brought too a low, low, simmer while I'm prepping the chicken and chopping cilantro. This is done to meld flavors, and to reduce the curry a little bit. About two minutes:
My first choice for this is thighs. I'll use breast if it's on super sale, but thighs are always better in my book. A lot of the recipes I see say to boil the chicken in the curry. If boiled chicken is your thing, then huzzah to you. I use a very slow simmer - like a poach. Chicken stays juicy. IMO, common sense prevails:
I usually make this with seared mushrooms. They were too expensive yesterday, AND my csa box had a few nice zucchinis. A lot of recipies say to use various veggies like green/red peppers, and to also boil them along with the meat. I'm not a fan of boiled veggies for the most part, so I always prepare the veggies I plan on using seperately - normally a quick sear in a very hot pan, then I add them to the curry just before serving. I'd rather have crisp veggies. If boiled is your thing - then go with it: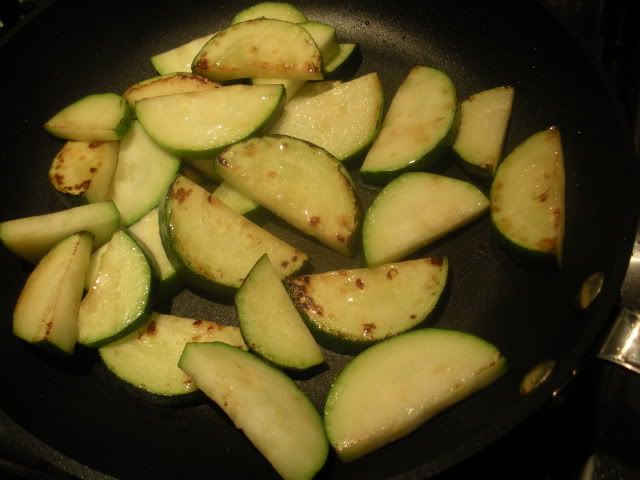 For something on the side, I like Trader Joe's "Coconut Curry" or "Lemongrass" Chicken Sticks. You toss em in the oven and a few min later, you have crunchy little deals for contrast to your curry. I didn't feel like running to the basement freezer for them, and also, I had half a bag of Trader Joe's mini chicken cilantro won tons in the freezer upstairs, and a hot pan from the zuchini. Problem solved: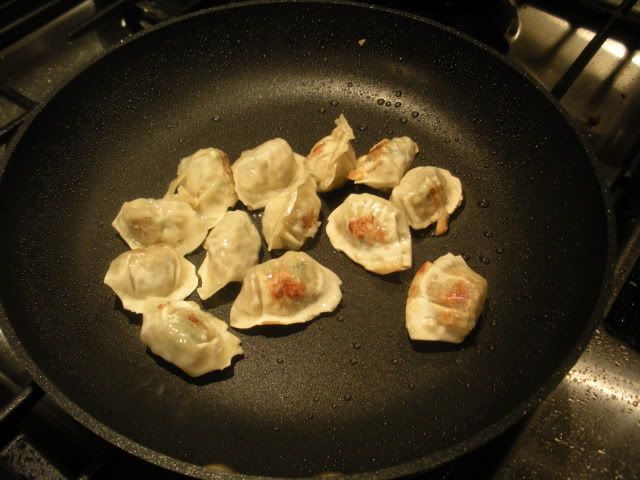 Plated: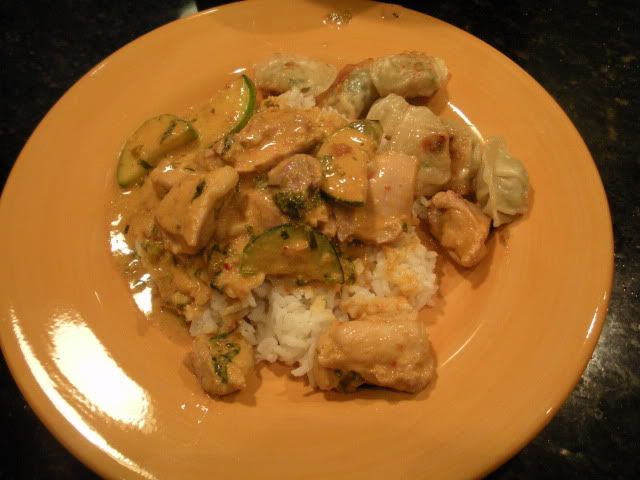 Tangy, savory, spicy, layered heat that pops at first, then mellows out to a nice warmth while you chew. If you stop eating, then it gets hotter. That's where the wontons com in. The rice and sauce is a fine meal in itself, the juicy chicken, and crunchy zuchini are almost like a bonus. And yes, that's the unmistakable essence of lime leaf in there. I'd sprinkle some slivers on the top, but I keep mine frozen, and it kinda changes the taste, IMO. It's more concentrated than fresh, and I think it overpowers too much after frozen to eat straight.
Another thing. You'll note that no palm sugar was used. I think added sweetness ruins coconut milk curries. I much prefer them savory than sweet. And yes, like most stewy/curry/gravy dishes, it's even better the next day.
Lunch is going to be great today.
We cannot be friends if you do not know the difference between Mayo and Miracle Whip.