I recently purchased Andrea Nguyen's Asian Dumpling Cookbook and decided to try one of the recipes this weekend. I have been really impressed with her other cookbook, Into the Vietnamese Kitchen. Her recipes are clearly explained and delicious. There is a
website
which complements the cookbook and has some recipes posted and videos demonstrating technique.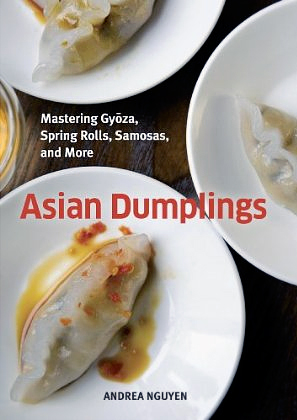 The "basic yeast dough" (famian) is used for steamed buns such as char siu bao but I decided to try making the panfried pork and scallion mini buns (sheng jian baozi)
The dough is very simple to make in the food processor. Ingredients are yeast, water, sugar, baking powder and AP flour. You can use the
imported Red Man Hong Kong flour to make the bao whiter
, but I wasn't bothered by the idea of having off-white bao so I didn't hunt for it.
After being processed, the dough has to sit for 45 minutes. Then you divide it into pieces, roll them into balls, press them into discs and roll them into thinner circles.
The filling is made of ground pork, ginger, chinese chives or scallions, salt, white pepper, sugar, soy, rice wine and sesame oil.
The instructions on shaping the bao are very clear in the cookbook (the video on her website is helpful too). But, I think it just takes practice (I guess I'll have to keep making them).
These were pan-fried, then steamed (a la potstickers).
Dumplings (cooked mainly seam side up--some are face-up, some face-down in the picture).
Served with Chinkiang vinegar and ginger, soy sauce and chile oil--they were quite good.
I decided to make some of the dough into unfilled steamed buns and freeze them (for later use with some pork belly or duck). I steamed these about 3/4 of the way so I can steam them the rest of the way when thawed.
Before cooking:
After cooking
These recipes were surprisingly easy. I'm looking forward to trying some of the other recipes. I think baked filled buns (ju bao) with curry chicken filling is next.