LTH,
I'm a fan of Andy's Polish Deli with a preference, of the three Andy's, for the recently remodeled store on the 5400 block of Milwaukee Ave. It's not that the quality varies, but that particular Andy's is larger, has a greater selection of prepared products, and is easier to navigate.
I've always been a fan of Andy's fresh Polish sausage for the smoker, but as of late I find myself buying some of their 'dinner ready' items. Unfortunately, most of what I enjoy gives even a Nothing says Excess like Excess fellow like myself, pause. Polish sausage split down the middle, stuffed with sauteed mushrooms/sauerkraut and bacon wrapped springs to mind, though as they did not have that today I opted for bacon wrapped pork tenderloin.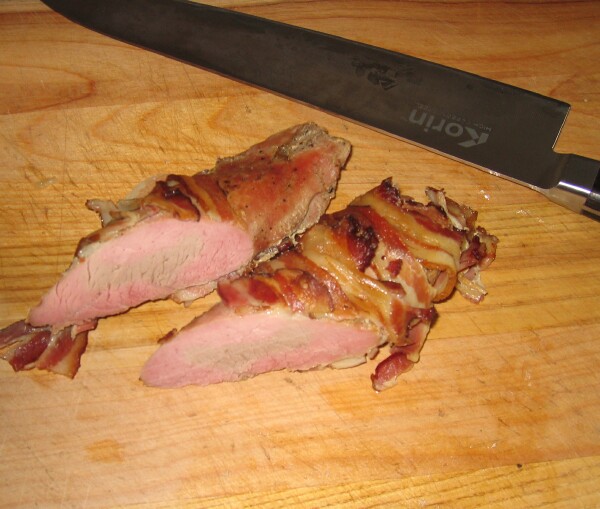 I passed on my favorite slow roasted bone-on pork belly. Rib attached, incredibly succulent, rich, melt-in-your-mouth pork goodness, instead, bought Chicken Kiev, which discharged about an ounce of butter when cut.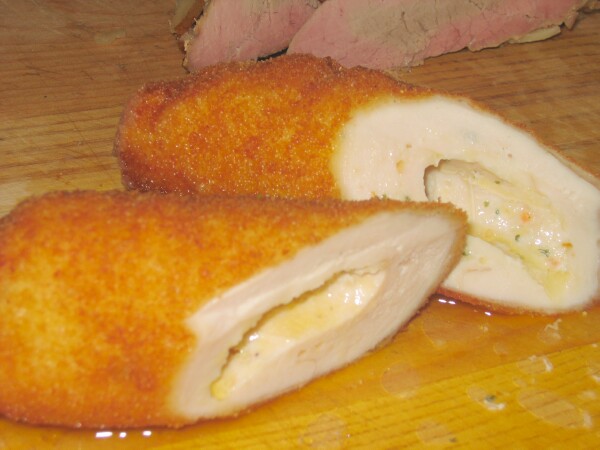 Chicken Kiev was ok, but not in the same league as pork belly. I picked up a few other items for lunch including, 100% due to Wade R's post, chicken livers.
Top to R, Prune filled pork tenderloin, sliced green pepper/daikon, red cabbage, pan fried potato dumplings, bacon wrapped pork tenderloin, chicken kiev and, in the middle/sauteed chicken liver. I did not buy the green pepper/daikon at Andy's, just felt I needed a little something healthy on the plate.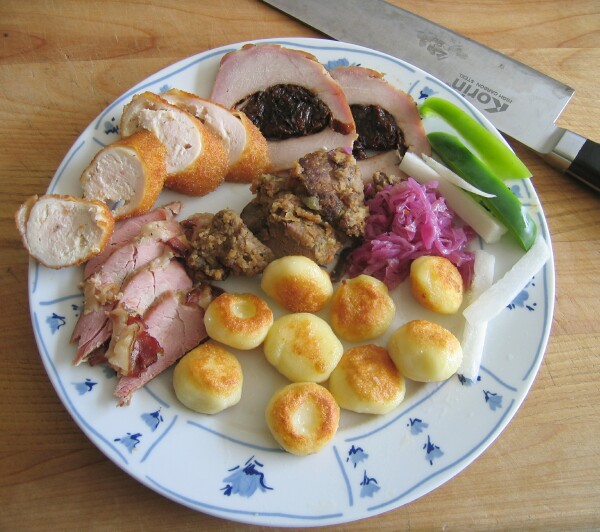 Andy's also has an incredible selection of fresh sausage, cooked sausage, fresh and deli meats In addition they have bread, dry goods, produce and milk. While not a full-service grocery, such as
Wally's
, what they carry is good quality.
My actual purpose for going to Andy's today was to pick up fresh Polish to smoke on the
WSM
. Andy's also had really nice looking baby back ribs for the very reasonable price of $3.19. These were true baby backs, i.e. loin back ribs that weigh less than 1-3/4 pound.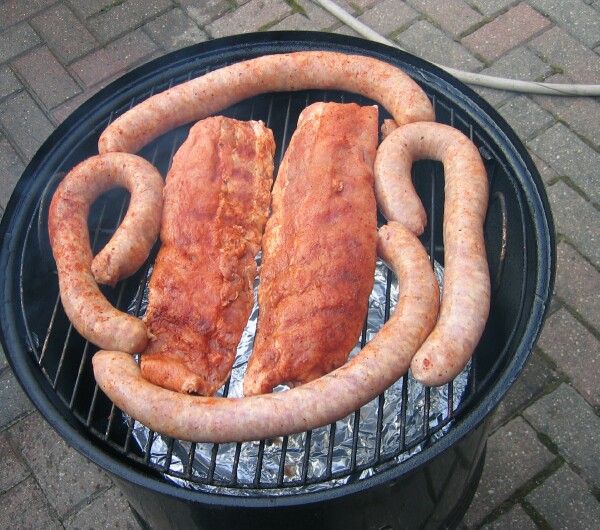 Ribs have an hour + to go, sausage less.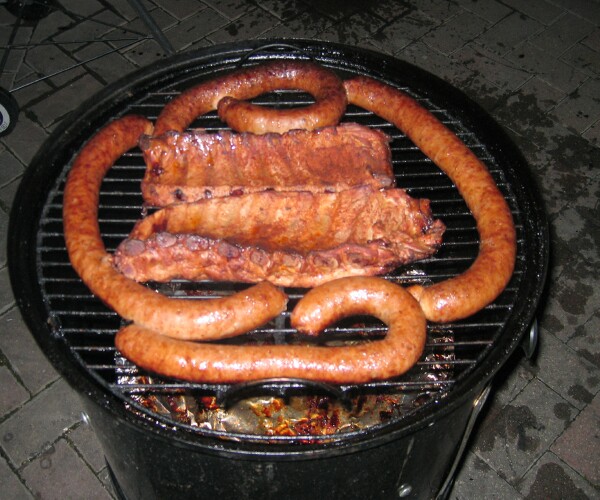 Andy's fresh Polish after a couple of hours on the smoker.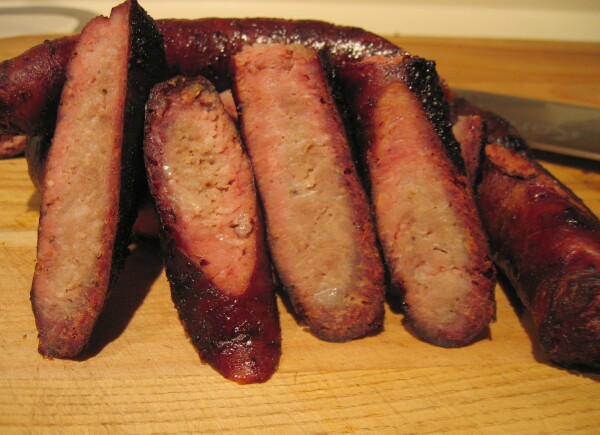 I don't know exactly why, but I was in the mood for sauce tonight,
Blues Hog
, to be exact.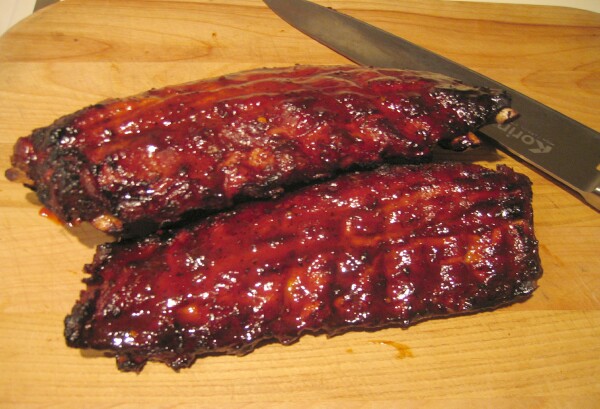 I'm not much for bottled sauce, normally make my own, if I even use sauce, but there are a few I like. Speed Queen hot mustard based, Arthur Bryant's, Original Open Pit, more out of nostalgia than any other reason, and Blues Hog, though straight from the bottle I find Blues Hog too sweet, I cut by 1/3 with cider vinegar.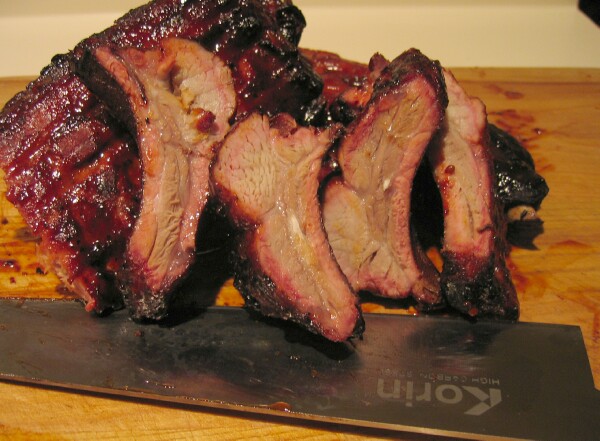 I should mention I know the fellow who makes Blues Hog, hell of a BBQ man, has three cute little daughters and makes some of the best commercial rubs and sauces.
Enjoy,
Gary
Andy's Deli
5442 N Milwaukee Ave
Chicago, IL 60630
773-631-7304