So I went on Saturday with my wife, who is both Filipino-American and raised in Las Vegas. She raved about Seafood City, and indeed I loved it when we went back for a visit some time ago. When we heard about the Chicago location, we were ecstatic. While we appreciate the smaller stores and restaurants (La Isla catered our wedding!), no place has ever had everything we wanted in terms of grocery, and many of them are a bit far--we are South Siders, and though Chinatown has some things, it is insufficient. Seafood City is an important development in our lives, then--easy to get to, thorough in its grocery offerings, offering a taste of home. Clearly, given the lines and crowds, we aren't the only ones excited by this.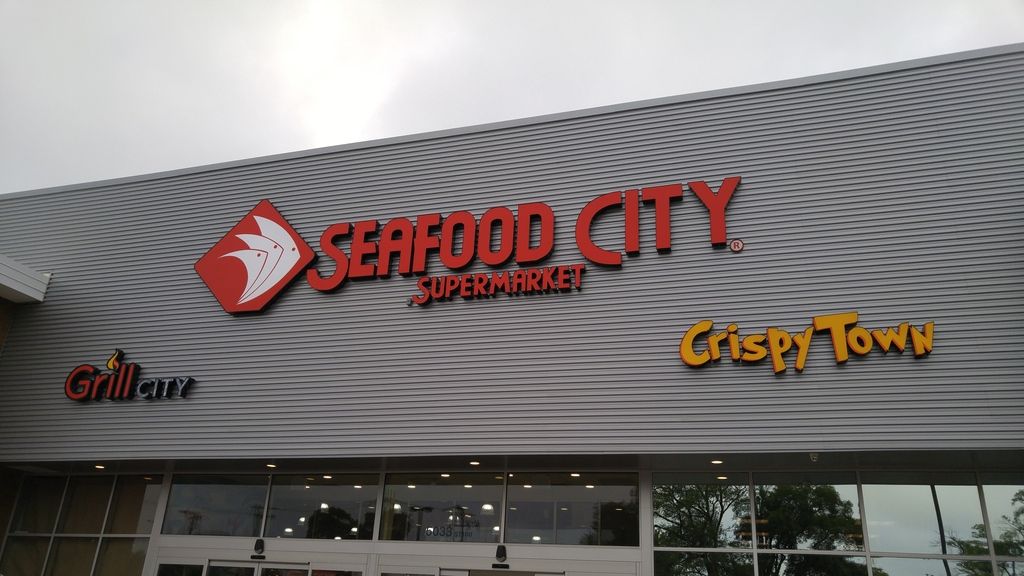 We got there early, around opening time. Grill City, which has truly excellent barbecue, did not open til 9. A line started forming immediately. We shopped first.
The first thing we looked for was fresh calamansi, to which we have a mild addiction. The real thing has a taste like lemon and lime, but with a mild tingle, like it was kissed with Sichuan peppercorn. I hope I'm not the only person who feels this way. Alas, the fresh thing has yet to appear in Chicago, but I believe they are working on acquiring it. In the mean time, enjoy one of these various varieties of bananas--I've never seen this many different types in one place: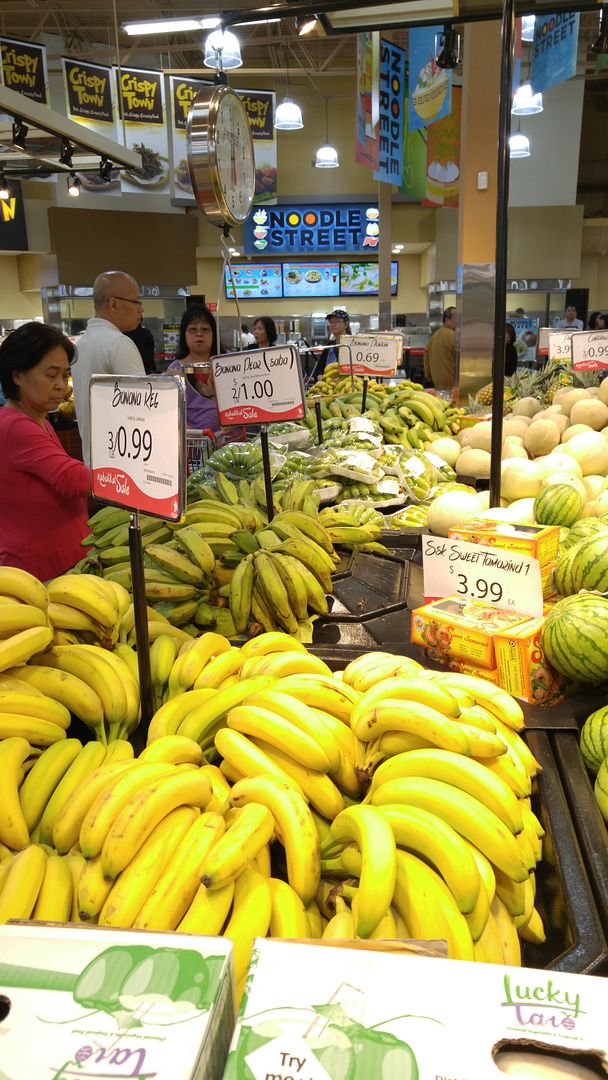 Additionally, they have a good variety of Asian produce, from long beans to bok choy to Chinese eggplant. They also had Filipino eggplant, which looked like Chinese eggplant with a green tinge.
Don't forget large packages of Vienna sausages and Australian canned corned beef (we came home with a bunch of the latter):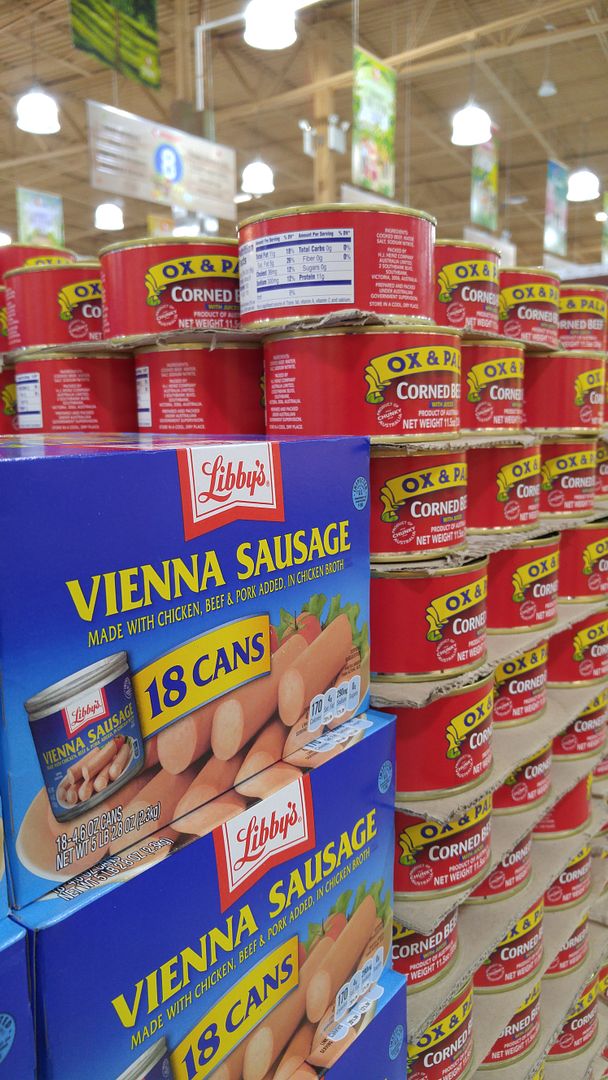 Right behind vinegar in the Filipino pantry sits patis, or fish sauce, and right behind that sits bagoong, a sort of funky, funky shrimp paste. Seafood City has it in droves--I didn't know this many varieties existed, or that they could be so beautiful arranged thusly: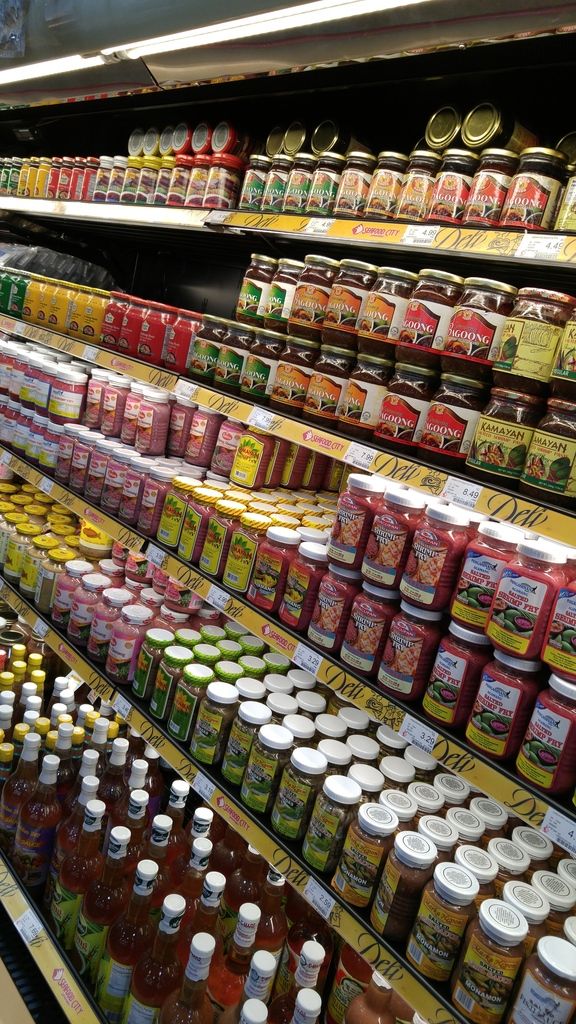 I chuckled a bit going down the ethnic aisle, where they have some Polish goods, some Indian spices, and a few other odds and ends from very different parts of the globe:
As we perused further, we were dismayed to find no calamansi extract or bottled juice, either. Only in the frozen section did we find Manila Gold, which is fine but sweetened. Right near that, however, was Magnolia brand ice cream. They have a shop in the Las Vegas store, and they specialize in Filipinized ice cream flavors: mango, macapuno, buko pandan, and my favorite, ube. These are quite good, and larger than what we've seen from Village Creamery. We have nearly finished the mango that we came home with, so I guess we'll have to go back soon for more, perhaps for the queso ice cream: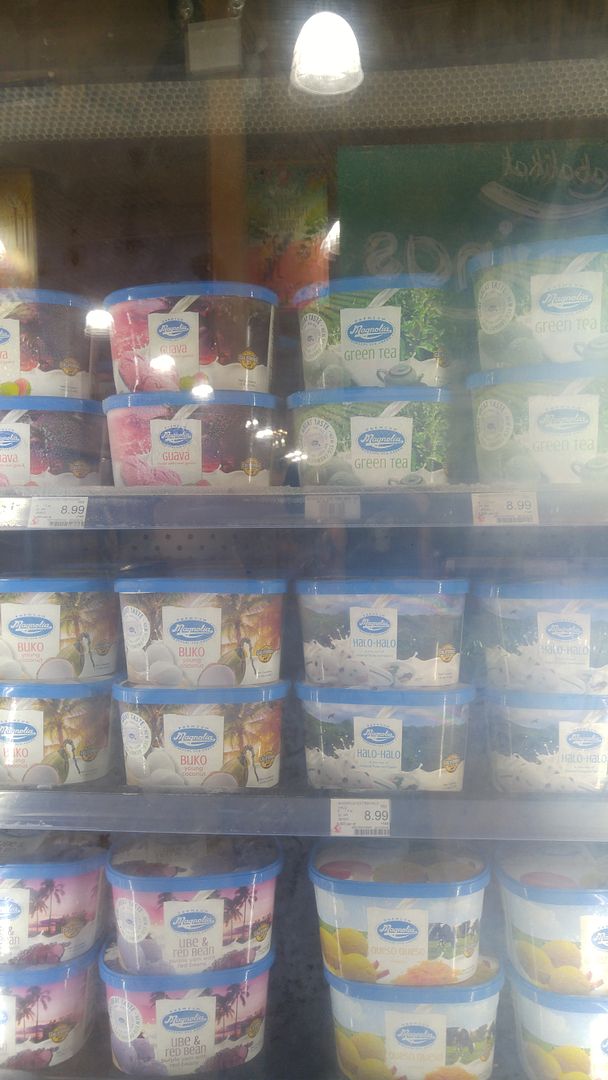 Fish selection is good, and they will clean and fry it on the spot for you to bring home. Also near here they have two or three brands of tocino, longanisa, and Filipino-style hot dogs, as well as house versions of each. The bakery section was almost entirely out of some things that day--we snagged one of the last bags of pan de sal--evidence of the droves of customers moving through.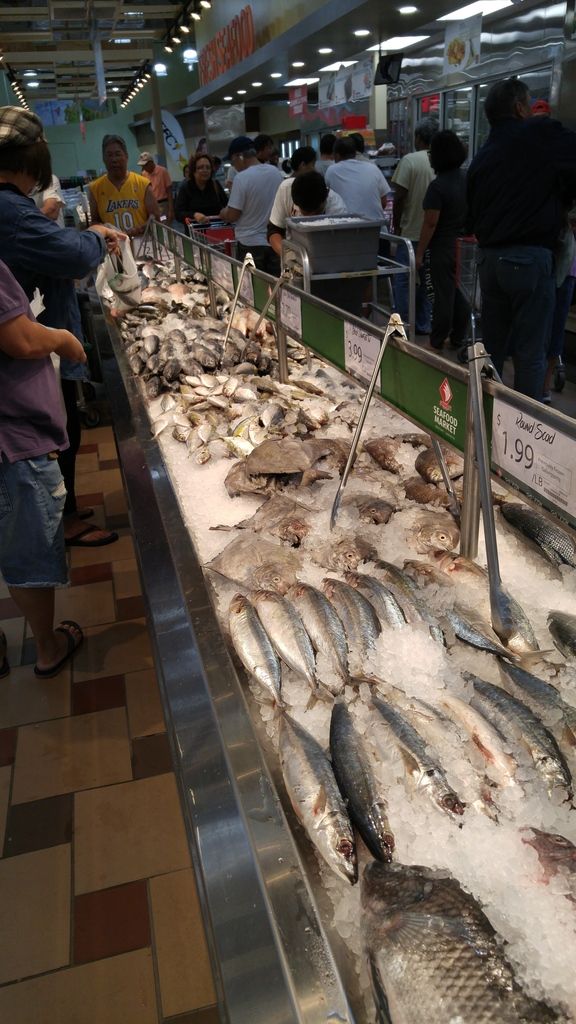 After working our way through the crowded (and yes, rather tightly spaced) aisles, we got in line for Grill City. At the Vegas location, we never waited terribly long--usually long enough for a fresh batch of pork skewers to come off the grill. This one was almost an hour wait from start to finish, for some bbq pork with rice. The wait is frustrating when this is your view:
Still, the end result is worth it. Make sure to ask for the vinegar for dipping it in--it has a bit of garlic and chili added to it, and really livens things up (I suspect a sauce was missing in the bland fried foods above, as some sort of sauce or dip accompanies nearly everything). I will be going back to Crispy Town for bagnet before too long, though. I think the other dishes are pretty good, but not worth waiting that long for. Bopis might attract some of the more adventurous eaters:
Noodle Street is completely new to the Seafood City family, but it doesn't appear to be too different from Chow King, which my wife loves and I have zero interest in. I'll check it out for siopao and cuapao in particular, for Filipino-Chinese that is hard to find in Chicago. I will probably pass on the rest of their offerings for now.
We're very happy to have Seafood City in Chicago. It is a fairly complete Asian grocery, and has all the Filipino ingredients you could want (save fresh calamansi, for now). With all the families running around, munching on barbecue, slurping ube shakes, and conversing in Taglish, it definitely felt like a celebration.