So, after getting some nice bags o chiles from the csa guy, operation giardiniera was in full effect this past wknd. It's a two day affair. Day one is for cleaning, chopping and brining, day two is for rinsing, sterilization, and jarring. Took a few pics. Wanna see em? Here they go.
The main characters: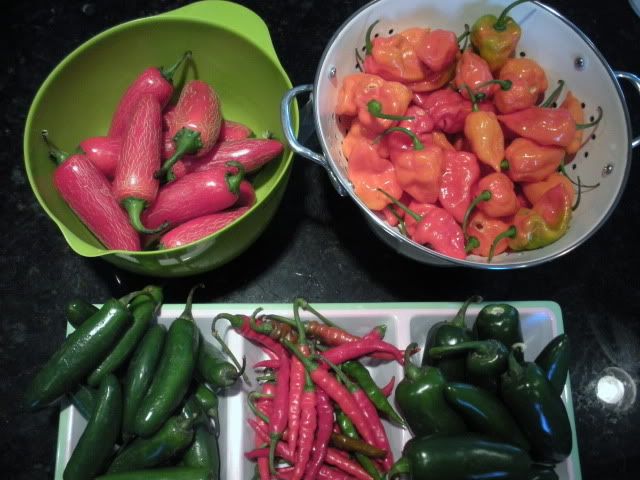 Clockwise from top left: Red Jalapenos for sweet, fruity flavor; THE bhut jolokias; mildish jalapenos; thai finger hots; serranos.
THE bhut Jolokia: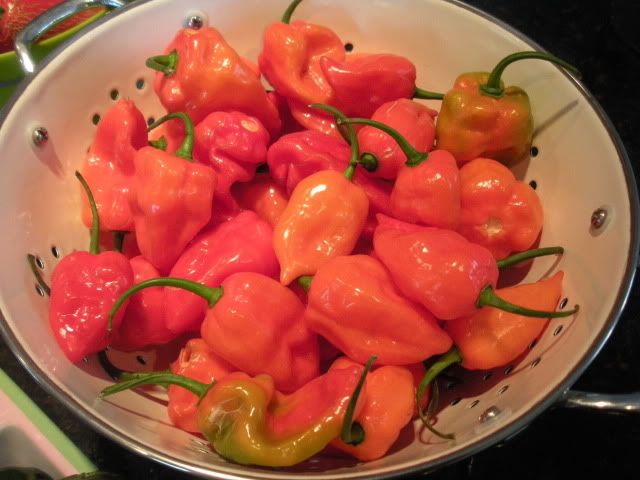 Supporting cast: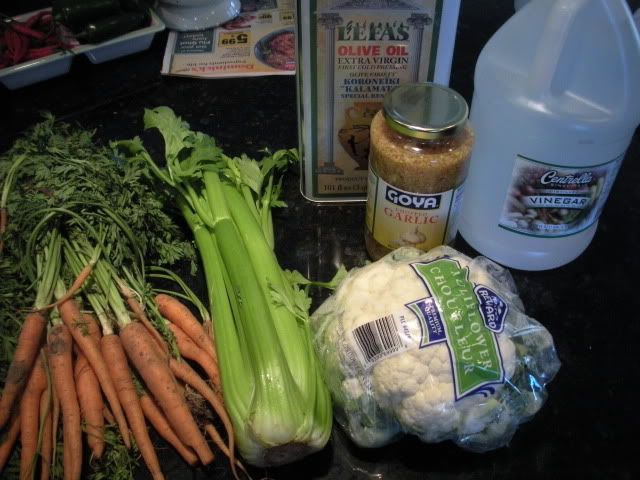 So, basically, it's pretty simple stuff. You brine some vegetables, stick them in jars, cover with oil and vinegar,
and store it in the fridge. There are recipes all over the web. Tailor one to your tastes, and you will never buy the cooked
jarred stuff in soybean oil again. What works for me:
I use the cuisinart. I like a finer dice than most for ease of spreading.
I don't use a lot of celery. I find it overpowering.
I use the pre-jarred chopped garlic.
I give a quick rinse to about half of the veggies after the soak in salted water.--I go for a flavor profile of heat, garlic,
and a tiny bit of salt. I do not want the giard to add a lot of saltiness to whatever it's going on.
I let it sit in the fridge for at least two weeks before opening.
So, I cuisinart each set of like veggies together. The cauliflower and celery I do by hand:
For this go round, I'm gonna do jars with the bhut jolokia separately. Here's the fiesta of chiles: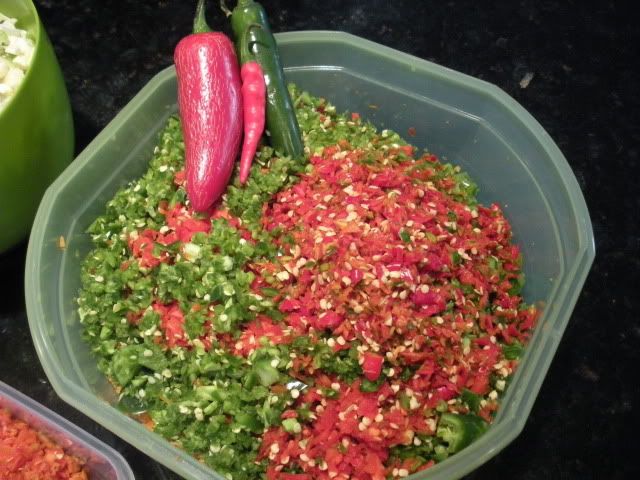 And here's the chopped ghosts:
Everything gets covered with a very salty solution over night in the fridge:
Next day:
Drain (and give a quick rinse to about half of the mixture)
I wind up with a bowl of fiesta grande:
Don't deny this looks like a party:
So, I pour a decent amt of vinegar into the bowl, sterilize jars and lids:
Fill the jars about 3/4 full with the veggie mix and vinegar, and fill the rest of the jar with evoo: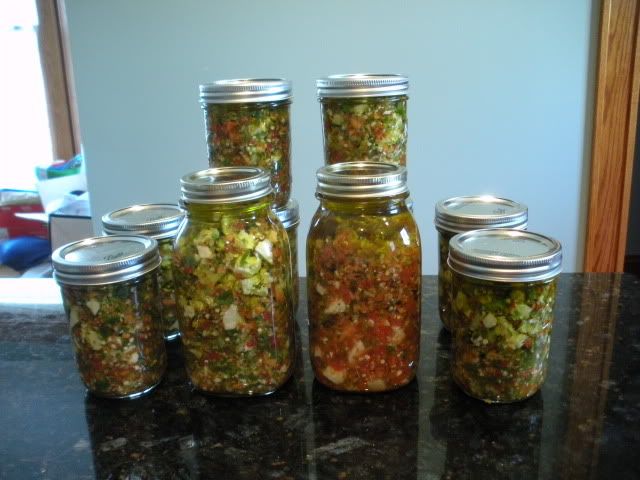 And into the fridge for two weeks they go. The jar in the middle on the right is chock full of bhuts. The jar middle left will probably wind up at The Brown Sack in a few weeks. I'll make another dozen or so jars next weekend.
We cannot be friends if you do not know the difference between Mayo and Miracle Whip.