my first attempt, read a bit of this thread as well as other research. thanks.
Curious to see how this batch turns out, oil/vinegar and spice(black pepper, garlic, oregano,) whisked up to be almost a vinagrette. Flavors were good just sampling during the process. Looking forward to trying it after a few days in the fridge.
I used:
8 jalapenos - sliced, then rough chop
2 stalks celery - chopped
2 carrots - chopped
1/2 onion - chopped
I tossed the above in a bowl with 1/2 cup of kosher salt and covered with water Refridgerated for about 8 hours, tasting along the way until I was happy with texture and salt content. Rinsed and set aside
tossed in a bowl:
black pepper
oregano
4 cloves minced garlic
added:
1/2 cup apple cider vinegar
1/2 cup white vinegar
3/4 cup canola oil
1/2 cup olive oil
I poured the liquid over the rinsed veg. adding a jar of green olives to the mix. Tossed the mix into a clean mason jar and sealed:
here is the best pic I came up with, pictured behind some abt's i did: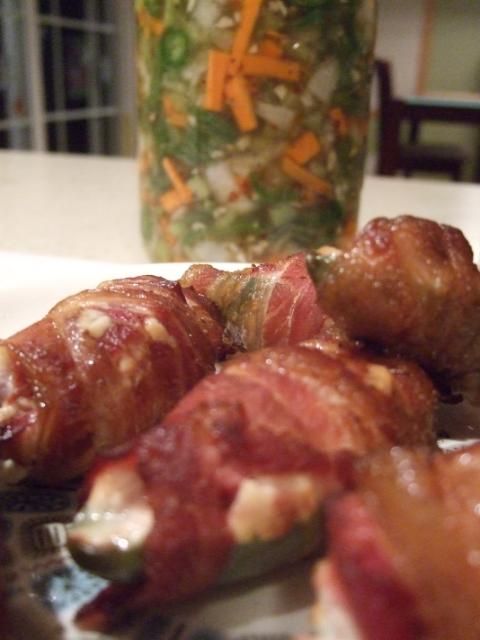 Last edited by
jimswside
on November 12th, 2012, 11:05 am, edited 1 time in total.