It's been awhile since I posted one of these, but this one's a pretty easy one, called
Erős Pista
("Strong Steve".) It's an absolutely straightforward and ubiquitous condiment in Hungary for stews and soups, reminiscent of sambal oelek. I was reminded of it a few weeks ago as red jalapeños have been selling at a buck a pound, and I have run out of my official Univer-brand Erős Pista (which can be found at Bende in Vernon Hills).
As I've mentioned before, while Hungary has a reputation for spicy food, for the most part, the cuisine is actually quite mild. Heat tends to be added at the table in the form of crushed, dried peppers or this particular pepper paste. There is also a non-spicy counterpart called Édes Anna, or "sweet Anna."
Here they are, side by side: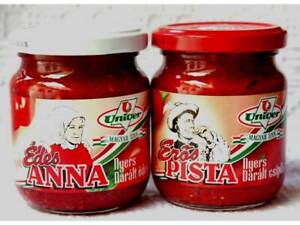 Looking up various Hungarian recipes and videos, they seemed to converge on 80% peppers. 20% salt. That's it. The commercial version has less salt -- about 12%, but it also contains citric acid and potassium sorbate to preserve, as well as xantham gum to thicken.
The main difference in recipes I've been able to find is the types of peppers used. Many use a mix of sweet red peppers (like the local variety known as
pritamin paprika
) and spicy red peppers to temper the heat. Some only use spicy peppers. That is up to you.
I started with 830 grams of red jalapeño peppers, trimmed: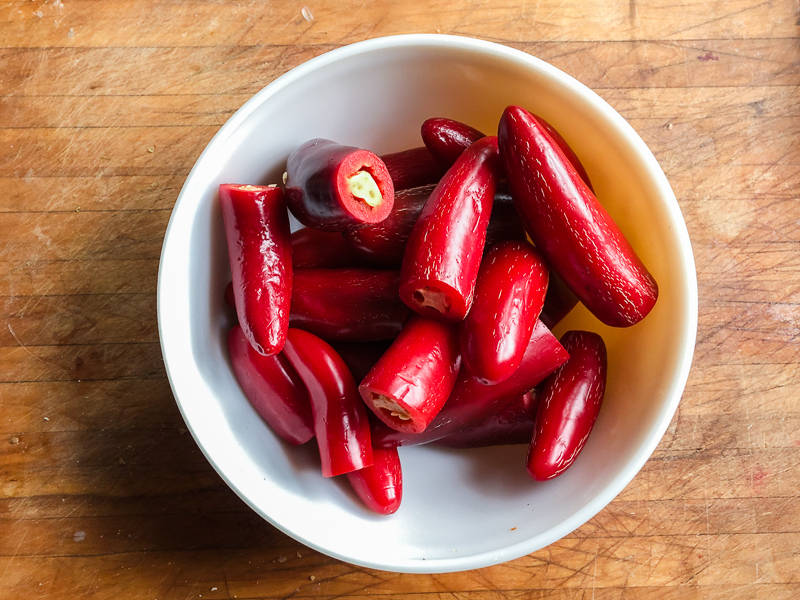 Traditionally, the peppers are run through a grinder, but a food processor works fine: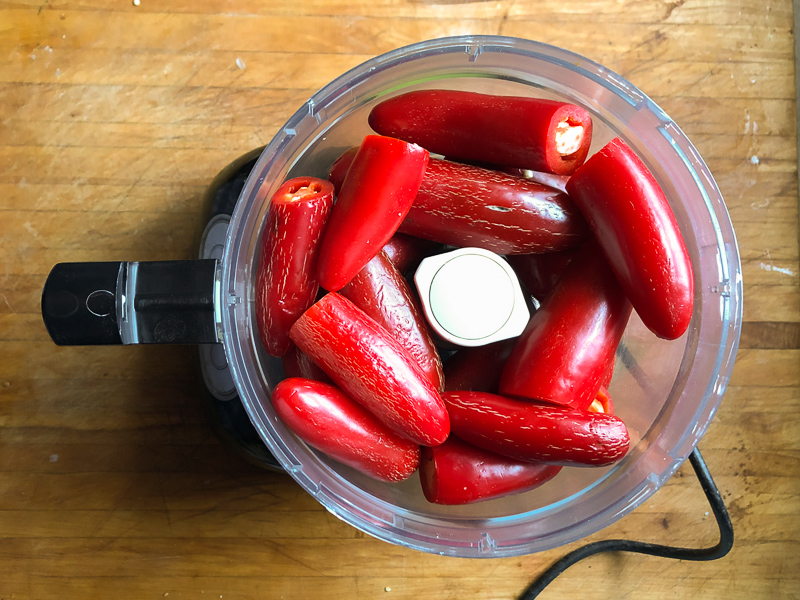 Add 20% salt (166 grams in our case):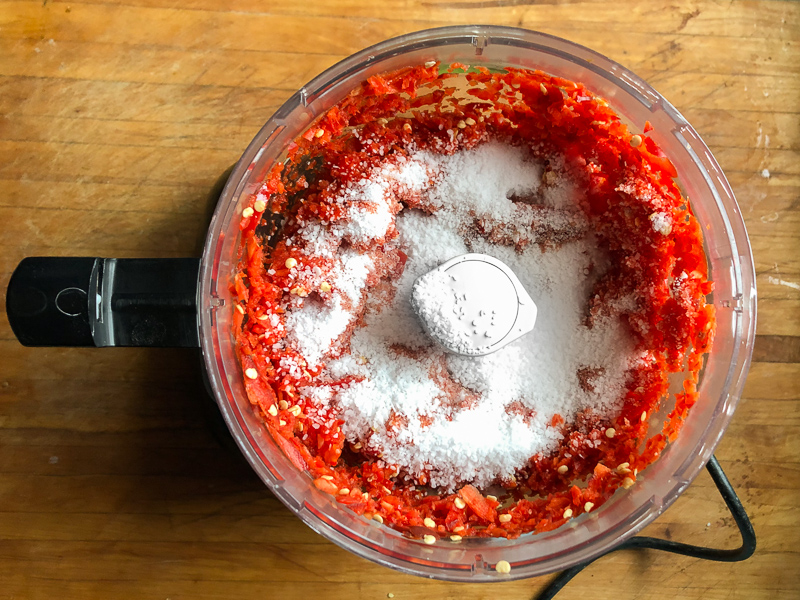 Grind until there are no big pieces of peppers left: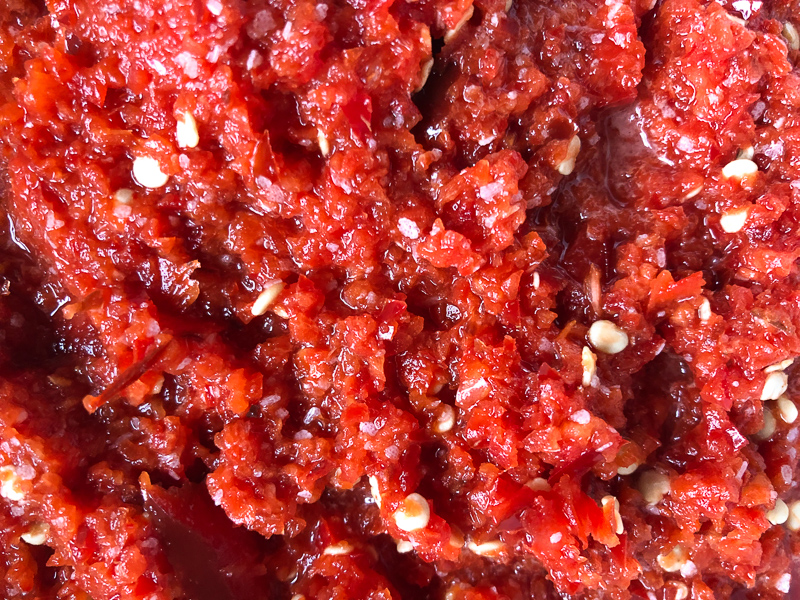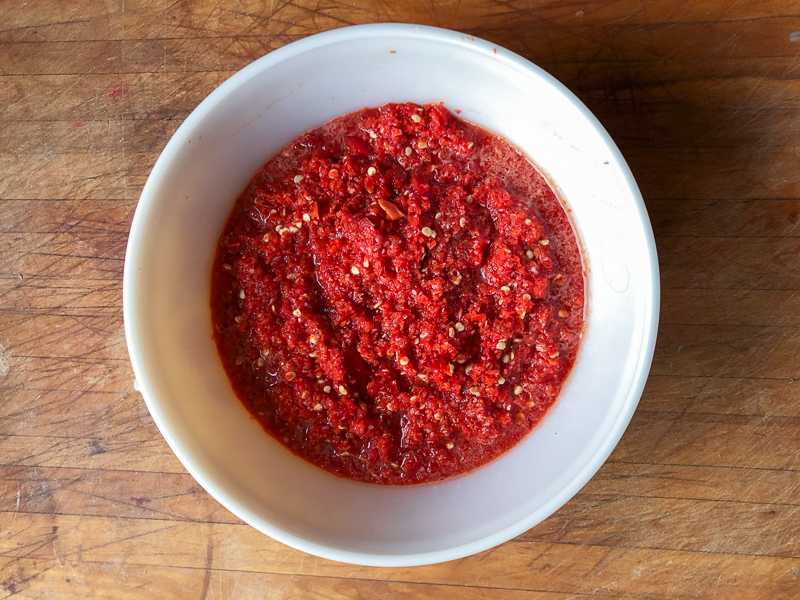 Jar: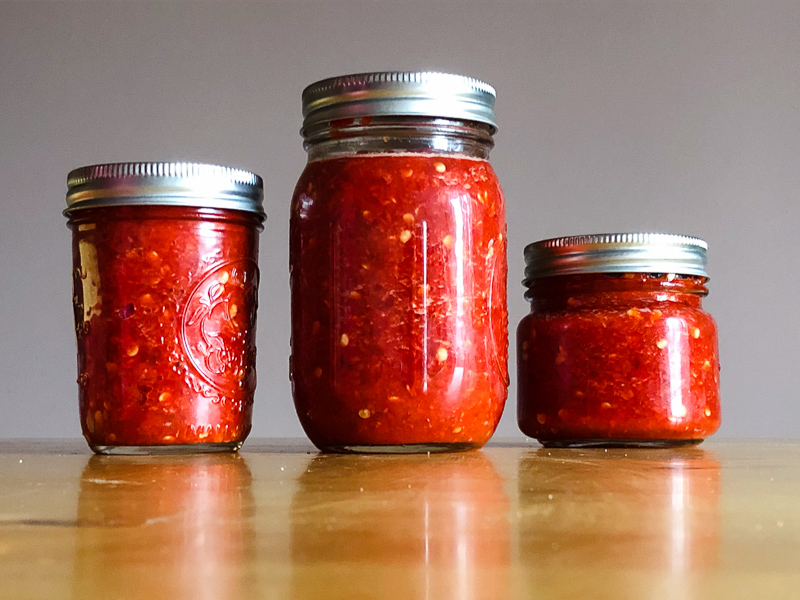 You can use this right away to spice up your soups and stews, but the flavor does change over time and I've found it really needs about a week to two before it starts tasting like Erős Pista and loses some of that raw pepper flavor.
For a condiment so simple, it really is one of my favorites when you just want to add heat and spice to something. Plus I use it in stir fries, sometimes for curry pastes, chili, anywhere I would need chili peppers. No goulash soup is complete for me without this stuff.
Last edited by
Binko
on January 26th, 2021, 8:50 am, edited 1 time in total.