LTH,
Had a hankering for Biscuits and Gravy in the style my brother in-law Nick makes, he calls them Hunting Camp Biscuits and Gravy. Chunky, spicy, lots of black pepper, so I made a batch.
Nick's Hunting Camp Biscuits and Gravy.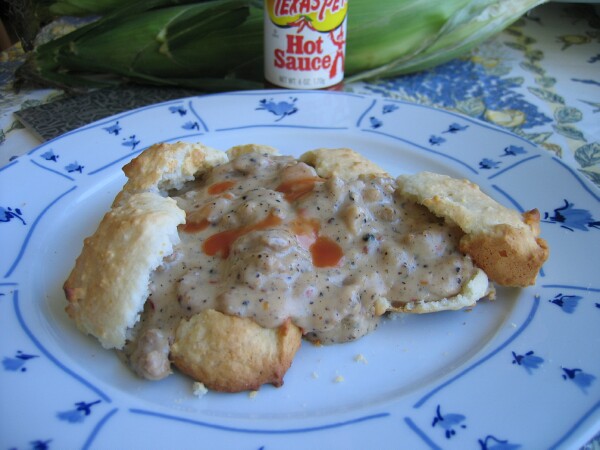 Here's Nick's recipe, I don't change a thing, with the exception I make scratch drop biscuits instead of Jiffy mix.
Nick's Hunting Camp Biscuits and Gravy
. (Loose recipe)
1 batch Jiffy Mix biscuits, or your own from scratch.
1-lb Tennessee Pride Hot breakfast sausage
Whole Milk
2-TLB black pepper, freshly ground, coarse
Flour
Crumble and cook breakfast sausage, preferably in a cast iron skillet, on med-heat.
Add 1-TLB black pepper at this point. (I also add crushed red pepper)
Do Not degrease.
Whole milk to cover.
Immediately sprinkle layer of flour on milk.
Whisk.
Add remaining black pepper
Simmer, with the occasional whisk, until desired consistency. You may have to add additional flour or milk.
Serve over split biscuits, bottle of Texas Pete on the side.
Enjoy,
Gary