Franabanana wrote:Kaufman's bagels are chewy and dense, especially compared to the Einstein's and Cosi's of the world. They are smaller in size but probably about equal in weight. I love the rye and pumpernickel bagels. I wish they had salt bagels, a particular guilty pleasure of mine.
Being born with an overactive "lazy gene" I try not to work harder than I have to. I am about to speak a blasphemy to true foodies everywhere. What follows is a Bread Machine recipe for salt bagels, (or salt Bially depending on how you shape the dough).
INGREDIENTS
4 cups AP flour
3 tablespoons dark brown sugar, (you can use light... in my opinion dark is better)
1 teaspoon coarse Kosher salt
2.5 teaspoons, (one packet) yeast, (do not use the quick acting) )(since I'm doing this in the bread machine, I usually do not proof the yeast, but if you're of a mind to 1/4 teaspoon of granulated sugar 1/2 cup warm [110F] water and 2.5 teaspoons yeast in a small covered jelly jar. Stir... DO NOT SHAKE. When the glop bubbles furiously and you hear someone in the house yell; "It's ALIVE!" you can dump it into the bread machine.)
3 Tablespoons Olive oil.
12 oz 100F water
METHOD
Dump all the ingredients in the order given into the bred machine, (assuming that your machine has a dough setting) set the machine and walk away or do something else for about an hour, (my machine dough cycle take 1 hour 3 minutes).
When machine stops, empty dough out onto a floured board and knead by hand until satiny and smooth, (takes me about 1.5 minutes).
Place dough into an oiled bowl, cover with a dish towel and allow a second rise for about 30 minutes.
After dough has risen a second time cut dough into 32 equal balls, (they will be about 1 oz. each), form the dough into ropes just a bit longer than your two hands together. Wrap the dough rope around your dominant hand and roll it into a bagel shape, (this is the tricky part and your first few efforts will look like the work of an uncoordinated kindergartener, but it will not effect the taste. Cover with towel and allow a 3rd. rise of about 30 minutes.
Put approximately 1 gallon of water into a large non-reactive pot and bring to a boil. Add 1/4 cup granulated sugar to pot and stir.
Drop bagels, two at a time into the boiling sugar water and allow to boil two minutes... turn over and allow to boil on opposite side an additional two minutes. Remove bagels to a greased cookie sheet sprinkled with corn meal, (otherwise the wet dough will stick to the sheet and be a mess).
Preheat your oven to 425F and place a small container of water into the oven to raise the humidty.
Boil the rest of the bagels until they are all on the sheet. Sprinkle the tops with a small amount of coarse Kosher salt or Pretzel salt, (you can also use cinnamon sugar, poppy seed, caraway seed, sesame seed, dried onion or sauteed garlic... among other things).
Bake in center rack of the over for 8-10-15 minutes until crust starts to brown then slide sheet out and turn bagels over. Return to oven and brown the opposite side for an additional 8-10 minutes.
These bagels do not live well in plasic food bags, ans since there are no preservatives, they will stale out quickly. I have found that they will keep fairly well in a paper bag in the fridge for a couple of days, (freshen then for 10 seconds in the microwave if the harden too much to cut) and will freeze in a paper bag for a couple of weeks.
You can also use the same recipe for making soft pretzel rolls if you substitute 2/3 cup baking soda for the sugar in the boiling water bath.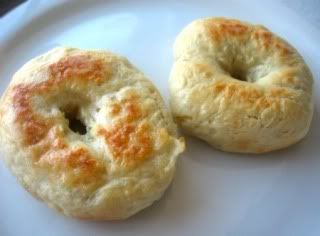 You can't prepare for a disaster when you are in the midst of it.


A sensible man watches for problems ahead and prepares to meet them. The simpleton never looks, and suffers the consequences.
Proverbs 27:12