After spending some time overseas in Philippines with family this past November, I also took some time to work with a few local restaurant chefs to deepen my love of Filipino culture and cuisine. As a result, I'm offering a special dinner and extending an invite to LTHForum members to share some Filipino favorites. Hope to see some familiar and new faces!
https://www.eventbrite.com/e/summer-fil ... 6686064468
Join us for another delicious Filipino dinner where Chef Joelen Tan of What's Cookin, Chicago will take you on a culinary journey through the tropical flavors of Philippines. This is unique family style dinner event which will be served as a kamayan, a native way of eating in the islands - perfect for the summer! Attendees are also welcome to BYOB.
Limited seating is available so reserve your spot early!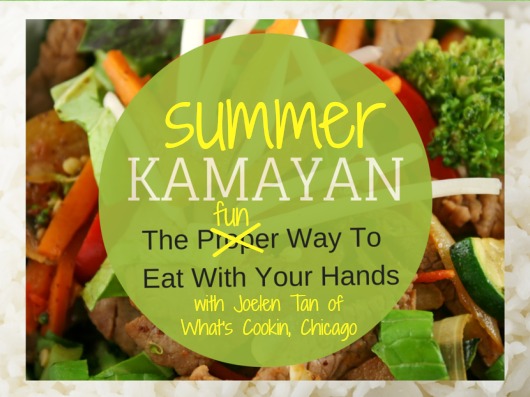 Presented by What's Cookin, Chicago
SATURDAY JUNE 6, 2015
6:30pm - 9:00pm
Cocktails & Appetizers ~ 6:30pm
Kamayan Family Style Dinner ~ 7:30pm
$40 per person
THE LIVING ROOM
2423 North Avenue
Chicago, IL 60647
Tickets are $43.19 (with Eventbrite fees) for an all-inclusive dinner that includes the menu of appetizers, cocktails, kamayan menu and desserts listed below.... and BYOB is also welcome!
COCKTAIL MENU
Sisig Lettuce Wraps
Toasted Garlic Corn
Dalandan Citrus Cocktail
KAMAYAN MENU - all served atop a river of garlic fried rice, set on banana leaves...
Sinigang Shooters - sour tamarind broth garnished with a stalk of steamed baby bok choy
Longanisa Links - native Filipino pork sausage with hints of garlic & onion
Adobo Prawns - soy & vinegar braised head-on prawns with carmelized onions, garlic and peppercorn; served with spring onions, cherry tomatoes, sweet shrimp paste and egg
Java BBQ Beef Sticks - tender beef kabobs glazed with a sweet Asian bbq sauce
Lumpiang Shanghai - crispy rice paper rolls stuffed with savory ground beef; served with sweet chili sauce
Cucumber Mango Salad - slices of cucumber, red onions, cherry tomatoes & fresh mangoes, tossed in a ginger & soy dressing
FOR DESSERT
DIY Halo Halo Station- the Filipino version of Hawaiian shaved ice, in which you can customize to your tastes with a variety of tropical fruit mix ins, topped with ice cream
Mango Flan - delicate egg custard infused with mango and laced with caramel