Hi all,
The test ride of the Tour de France LTH-style that Dimitra and I were supposed to do this morning turned into a test drive because of the showers, but we collected all of the important information nonetheless. We've tweaked the itinerary one final time. We decided that Cyrano's on the Riverwalk was just too beautiful of a setting to pass up. So, we will go there for lunch instead of Pastoral. To give the Tour some semblance of visiting different regions of France, we've added an Alsatian element to the ride. For dinner, we'll stop at Brasserie Jo, where we can share tarte flambées and salads after our day on the road.
There's a lot of information below. Please read carefully and post with any questions. We still have room on this ride, so if you haven't signed up yet and would like to join us, let us know! I think it's going to be a fantastic day--very relaxing, covering a decent swath of Chicago with some nice views from bridges and the Riverwalk and yummy food. I can't wait. See you Saturday at 10:30am at Vanille Patisserie, 2229 N. Clybourn!
Croissants from Vanille Patisserie: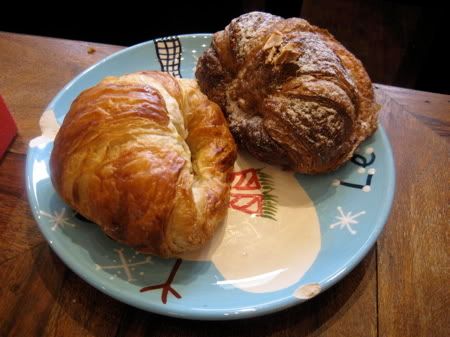 ---------------------
FINAL ITINERARY & COST
10:30-11:30 Meet & croissants @ Vanille Patisserie
11:30-12:30 Commute to Cyrano's on the Riverwalk
12:30-2:00 Lunch @ Cyrano's
2:00-3:00 Commute to Hot Doug's
3:00-4:00 Duck fat frites @ Hot Doug's
4:00-5:30 Commute to Brasserie Jo, brief stop @ Alliance Française
5:30-7:30 Dinner @ Brasserie Jo
Expect to spend $5-8 at Vanille, $10-$12 at Cyrano's on the Riverwalk, $3-5 at Hot Doug's and $15-$20 (depending on what you drink) at Brasserie Jo. You could easily spend no more than $40 for the whole day.
---------------------
FINAL DIRECTIONS
(Updated on
Tour map
; we'll have printed copies of these directions to share on Saturday)
**During the Tour we will cross multiple bridges and RR tracks. Proceed with extra caution in these areas. Cross tracks at a 90 degree angle.**
Vanille Patisserie to Cyrano's on the Riverwalk
(~5 miles)
South on Clybourn (~350 ft)
L on Webster (~1 mile)
R on Lincoln (~.6 miles)
Soft R on Wells (~2 miles)
L on Wacker, follow soft left (<.5 mile)
Stop at Michigan, walk bikes across Michigan to NE corner
At NE corner of Michigan & Wacker, carry bikes down to Riverwalk
Walk about a block
Cyrano's to Hot Doug's
(~6.15 miles)
Carry bikes back up to Michigan Ave & Wacker
W on Wacker (~.3 miles)
R on Dearborn (~.3 miles)
L on Grand (~1 mile)
(Grand just before Milwaukee, very uneven road)
R on Milwaukee (3.35 miles)
R on California (1.3 miles)
Stop at Roscoe & California
Hot Doug's to Alliance
(~5.25 miles)
S on California (<.25 mile)
L on Elston (~3.25 miles)
L on Division (~1.25 miles)
R on Wells (<.5 miles)
L on Chicago (~.5 mile)
L on Dearborn to Alliance entrance
Alliance to Brasserie Jo
(<1 mile)
E on Chicago (<.25 mile)
R on State (~.5 mile)
R on Grand (1 block)
L on Clark (2 blocks)
L on Hubbard (.5 block)
TOTAL: ~18 miles
---------------------
PUBLIC TRANSPORT TO THE FIRST STOP OR HOME AFTER DINNER
You may choose to ride your bike to the first stop or home from the last stop. To get to Vanille Patisserie, you can either get off at the Fullerton Red/Brown Line stop or the North/Clybourn Red Line stop. The Grand Red Line stop is closest to Brasserie Jo if you'd like to use public transport to get home after dinner. Below are links to CTA, Pace & Metra bike policies.
CTA
http://www.transitchicago.com/welcome/biketran.txt
Pace
http://www.pacebus.com/sub/bus_system/bicycle_racks.asp
Metra
http://www.metrarail.com/general.html#Bikes
---------------------
SAFETY
In addition to the guidelines below, please bring a water bottle as it may be very hot on Saturday. It's important to stay well hydrated. Also, it'll be helpful to have a bike lock.
Hellodali wrote:THE SAFETY GEEK'S GUIDE TO RIDING IN GROUPS
*Stay alert – Much as you would like to be mentally savoring that last taste of gelato or thinking ahead to the next flavor you will try, pay attention to everything going on around you and try not to let your mind wander.

*Be predictable - Other riders will expect you to continue straight ahead at a constant speed unless you let them know otherwise. Avoid sudden turns, stops, or erratic moves.

*Use hand signals - Use hand and verbal signals to communicate with riders and other traffic: Left turn - left arm straight out to the side; Right turn, left arm out and bent at the elbow pointing up; stopping or slowing: left arm pointing down with your palm to the rear, or call out "slowing" or "stopping."

*Only pass other riders on the left – When passing another cyclist or pedestrian, call out "on your left" to warn them that you are passing.

*Announce hazards – Riders behind you may not have a good view of the road ahead, so point out and loudly announce potholes, glass, gravel, grates, and other hazards. Also, if a parked car looks like it's about to make a move (turn signal on to merge into traffic, driver looking like they might be about to open the door), point them out to riders behind you.

*Be super careful at intersections - When approaching intersections requiring vehicles to yield or stop, call out "slowing" or "stopping" to alert those behind you. When passing through an intersection, look to your left and right and loudly warn the cyclists behind you if there is a car near the intersection by yelling "car left" or "car right". If there is no car visible, you may yell "clear." However, everyone is responsible for making sure they are clear to go through the intersection. Even if someone ahead of you yells "clear", that doesn't mean you should just breeze through. You should still slow down and look both ways before crossing the intersection.

*Move off the road when you stop - Whether you are stopping because of mechanical problems or to regroup with fellow riders, move well off the road so you don't interfere with traffic.

*Ride single file – Most of the streets we will be riding will have pretty consistent traffic so you want to stay single file and not weave back and forth between riding single or double. The only exception to this is when we are merging as a group into the left hand lane in order to make a left hand turn. We can then bunch up a bit to "take the lane."

*And lastly, don't forget your helmet!

Again, it's not that we're fussbudgets trying to restrict your freedom and fun on the ride. It's just that after logging so many miles over the years, we've seen many a close call (and had a few ourselves) and so appreciate that following the rules for riding safely will make it more likely that we'll all finish the ride safely. Again, don't hesitate to post with any questions. Look for a PM from Sharon with our cell phones and a weather update later in the week. I am so looking forward to our adventure on Saturday!
---------------------
PEOPLE
Please let us know if you are on this list and cannot make it since we'll wait for everyone to arrive at the first stop. If you haven't signed up and would like to join us, it's not too late! We could still take quite a few people--the more (up to 15 on bicycle), the merrier!
Hellodali (bike)
happy_stomach (bike)
dansch (bike)
Octarine (motorbike)
Pie Lady (car/el - lunch @ Cyrano's only)
Greenfish (bike)*
*=tentative
Last edited by
happy_stomach
on July 25th, 2008, 11:35 am, edited 2 times in total.