And
Resources!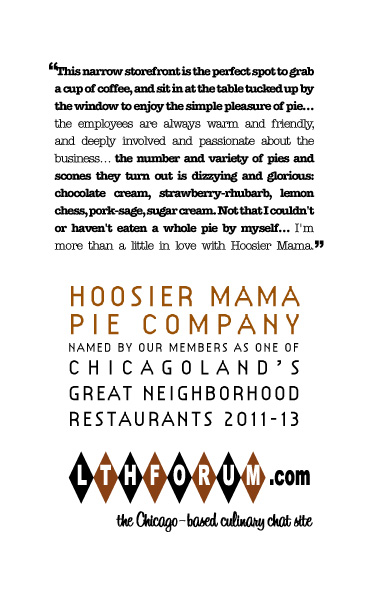 LTHForum Great Neighborhood Restaurant Awards, Announced October 19, 2009
What is a restaurant and what makes it great? Easy to know when you experience it, but a little harder to define in the abstract. However you do it, the results are the same - this year's new Great Neighborhood Restaurants and Resources are another excellent and eclectic collection of places with good food and even more character. From old school to no school to new school; from American as apple pie to wonderfully exotic; from Milwaukee to Naperville, they cover a range of styles and geography that just keeps on growing. But there are some things they have in common - we love them and they feed our bellies, our hearts and our souls in ways that delight, amuse and even touch us. We hope you will visit them and share our pleasure.
With this year's economic conditions, we are all focusing on how to eat well, healthily and economically, and these new GNRs deliver all that with a heaping serving of character to boot. Hoosier Mama provides great pies at a price that is competitive with what you would spend to make them yourself. Mado provides creative and top flight food in a BYO setting for a price that is half what you might pay for similar fare almost anywhere else - not cheap, but a great deal. And the new Great Neighborhood Resources are all places that can help you prepare wonderful food at home.
Most awards in the food world draw a clear distinction between fine dining
chefs
and everyone else who cooks for a living. But not the LTHForum Great Neighborhood Restaurant awards, which honor restaurants of every kind and price level-- from fine dining to dives and delis-- where the commitment to quality is palpable and the hand of a dedicated cook with a vision of what their food should be is evident in every bite. If you believe that great food can only be found in a fancy place with a world-renowned chef, this is not the guide for you. If you believe a hot dog can be every bit as delightful a meal as a 25 course degustation menu, welcome home.
The relationship between LTHForum and the GNRs is a close one - these are, after all, places that we love. We visit them frequently, discuss them often, and are free with our suggestions and feedback. Some places thrive on this attention and have become active members of our community, while others prefer to maintain a little more distance. Either way, so long as we love what is on the plate and the experience, they are great in our eyes.
But it isn't just outside publicity and the discussion here that draws attention to the Great Neighborhood Restaurants-- thousands of people have downloaded the site's
pocket guide PDF
listing all the restaurants with phone and address, for use while traveling all over the city. And we do mean
all
over the city—in our book culinary tourism begins close to home - what better way to experience different cultures than exploring different towns and neighborhoods in and around this great city? So whether you are looking for good food in your neighborhood, planning a day trip to a beautiful park and eating on the way, or just looking to explore more of the diverse neighborhoods of Chicago, this year's crop of Great Neighborhood Restaurants offers delicious food, amazing variety and a warm welcome.
The 23 new restaurants and resources honored are listed by type of cuisine below, with a link to the thread in which the restaurant was nominated by an LTHForum user.
For the complete list of all 128 LTHForum Great Neighborhood Restaurants, go here.
RESOURCES
J.P. Graziano Grocery
-- If you love Italian cooking… impeccable products, great selection, and knowledgeable, friendly staff.
Northwestern Cutlery
-- Quite simply, the place to buy knives and get them sharpened in Chicago. Nothing fancy, except the knives.
Pastoral
-- High quality cheese and very knowledgeable staff combine to make this a very good choice for cheese shopping. They also offer some good charcuterie and sandwiches, but the cheese is the draw.
Peoria Packing House
-- A glorious throwback to when Chicago was the meat capital of America, if not the world, and packing houses blanketed much of the near south and west sides. There is no finer sight than a table laden with pork bellies, pork ribs, pork shoulder, picnic hams and pork loins. Piled up and ready for your inspection.
The Spice House
-- A vast range of top quality spices and herbs, all of impeccable freshness. An invaluable resource for any cook.
AMERICAN
Mado
-- Fine dining without ego or stuffiness. A commitment to the best, local Midwestern, seasonal products prepared with a Mediterranean slant. A great place for nose to tail adventures, too.
That's-A-Burger
-- Fresh Ground beef (or turkey) and a crazy range of toppings come together to deliver a delectable, advanced seminar on burger design and execution.
BAKERY
Argo Georgian Bakery
-- Delicious breads and a range of dumplings and savory pastries all done to perfection. Be sure to try the hachapuri, and get them while they're hot.
D'Amato's Bakery
-- Tiny, vintage, storefront, oozing charm. Signature breads, from baguettes to foccacia, tasty sheet pizza and pastries. Who's next?
Delightful Pastries
-- Excellent Paczki and Pierogi are just a start. Dobra is a dedicated and talented baker whose cakes and pastries, savory and sweet, Polish or not, are an irresistible treat.
Hoosier Mama Pie Company
-- They have been selling pies to local restaurants and at Green City Market for years, and now you can buy them every day. Grab a cup of coffee and a piece of pie or two and be sure to take some home, too.
CHINESE
Shui Wah (Dim Sum only)
-- Serious Dim Sum and tea service, prepared to order. Reliably high quality, and darned good.
DRINK
Bar DeVille
-- A quiet, comfortable corner bar (except on Friday & Saturday when the atmosphere can be quite different), that just happens to serve some seriously excellent cocktails. Great ingredients – both whiskeys and mixers, traditional or innovative, just world class.
ITALIAN
Bari
-- An icon for great, Italian subs, and a pretty decent deli, too. But the sandwiches are the draw, from the light summery Caprese to the juicy Italian sausage and meatball subs to the classic Hot Italian.
Gaetano's
-- Trust Chef Gaetano and let him share today's creations - he has been pleasing diners for years. Italian with inspiration, and a great deal for a creative and delicious meal.
JAPANESE
Ginza
-- More in the spirit of the side streets of Tokyo than the glitz of River North, serving excellent sushi, and hot dishes (but we love the fish best). Traditional Japanese in every sense.
Tampopo Japanese Restaurant
-- Generous and friendly owners, pristine ingredients, solid, traditional Japanese cuisine, and terrific Udon and Ramen. Delicious, friendly and a bargain.
MEXICAN
Birreria Zaragoza
-- Be welcomed into a warm, family business where they specialize in one thing, and do it to perfection. Culinary fashions come and go, but the Mexican tradition of Birria (goat stew), Tatemada in this case, is long, storied, and deliciously done here.
Huaraches Dona Chio
-- A hidden gem off Clark in Andersonville, serving a range of antojitos, but the large, fresh huaraches – homey, earthy masa with tasty toppings – should not be missed.
MIDDLE EASTERN
Al Bawadi Grill
-- Flavorful meats grilled over lump charcoal, fresh Motawma (garlic-potato spread), and all the other Middle Eastern classics. Consistently of the highest quality.
Naf-Naf Grill
-- Authentic, fresh, Israeli food in a little fast food spot made homey and welcoming by the hard-working staff and the great food. Fresh pita and many other little touches make it clear they are serious about the food they deliver.
PIZZA
Great Lake
-- Extraordinarily good pizza made with simply perfect dough, excellent toppings and near perfect technique. Call ahead, though, as hours and wait time can vary.
VIETNAMESE
Nhu' Lan Bakery & Sandwiches
-- Delicious Bahn Mi and other Vietnamese specialties served by extremely outgoing and helpful proprietors. If you have not yet sampled the glory of these Vietnamese sandwiches, there is no better place in Chicago for an introduction.
* * *
Why Great Neighborhood Restaurant
Chicago is a city of great neighborhoods, made distinctive by history, ethnic mix, and vibrant street life and culture. The Great Neighborhood Restaurant awards honor restaurants all over the Chicagoland area which contribute to their neighborhoods' and the city's character by offering outstanding food, an authentic experience of their ethnic culture, and/or a welcoming (or in some cases, belovedly cranky) atmosphere for guests. In a world of generic dining experiences, these are the ones we remember.
Restaurants are nominated by registered members of LTHForum.com, the Chicago-based culinary chat site, and ratified by a group of member volunteers and moderators, based on the degree of discussion and community-wide enthusiasm evidenced on the site. Each restaurant receives a certificate similar to the one shown above, highlighting (in quotes from the board) some of what makes it special-- and in many cases, recommending specific dishes to try.
Thanks to the volunteers who do a lot of work for the GNRs - including Ramon, SteveZ, Ronnie Suburban, Mhays, Santander and GWiv. Special thanks to the moderators and members of LTHForum whose contributions, support and, guidance make the GNRs what they are.
d
for the GNRs
About LTHForum.com
LTHForum is a chat board based in Chicago and devoted primarily to exploring this great food city, but with discussions ranging worldwide and on every subject relating to food. With over 5000 registered members and some 200,000 posts (the equivalent to a couple of long shelves of books, fortunately searchable!), it's by far the widest-ranging and most learned source for information on Chicago's cuisine scene. Membership is free and open to all who are willing to share what they know-- and taste.