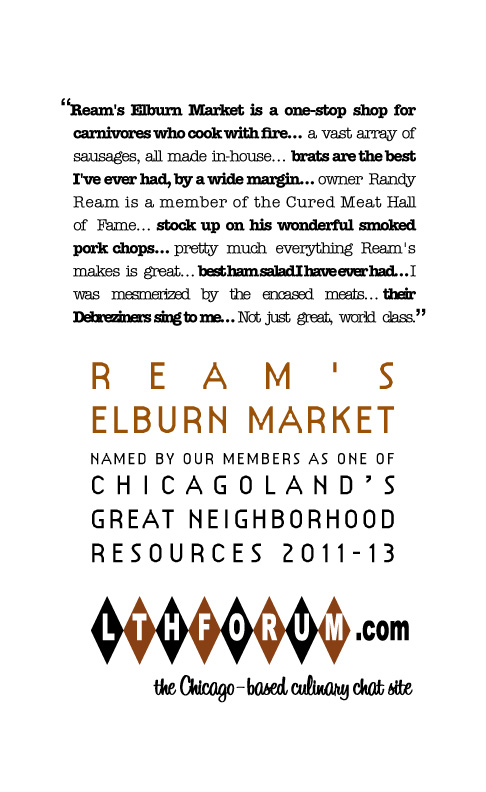 LTHForum New Great Neighborhood Restaurants & Resources, Announced March 22, 2011
Of the many restaurant awards handed out in Chicago, only one represents the heartfelt opinions of a broad base of ordinary food enthusiasts spending their own money on the food they truly love. That's the LTHForum Great Neighborhood Restaurant/Resource designation, nominated and selected by the members of the popular Chicago-based culinary chat site. Its contributors run the gamut from four-star chefs to hot dog stand proprietors, lawyers, writers, musicians, college students and everything in between, all united by a love of food-- and a willingness to share and discuss their finds on the internet.
LTHForum is pleased to announce that 21 restaurants and resources have been newly designated Great Neighborhood Restaurants/Resources, following a lengthy period of trial, discussion and careful evaluation-- to make sure each of these places have the magic necessary to captivate the LTHForum members. Each restaurant will receive a certificate similar to the one shown above, highlighting some of what makes it special-- and in many cases, recommending specific dishes to try.
Why Great Neighborhood Restaurant and Resource
Chicago is a city of great neighborhoods, made distinctive by history, ethnic mix, and vibrant street life and culture. The Great Neighborhood Restaurant/Resource designations honor places all over Chicagoland that contribute to their neighborhoods' and the city's character by offering outstanding food, an authentic experience of their ethnic culture, and/or a welcoming (or in some cases, belovedly cranky) atmosphere for guests. Many of these are not merely great places to eat but true cross-cultural meeting places, where power brokers and city workers, cops and perps can bump elbows or trays while enjoying honest, handmade food.
Restaurants and Resources are nominated by registered members of LTHForum.com, the Chicago-based culinary chat site, and ratified by a committee of board members, based on the degree of discussion and community-wide enthusiasm evidenced on the site.
Click on each restaurant's name to read the nominating thread for more details. Or you can see all the places on the
GNR Google Map
.
New LTHForum Great Neighborhood Restaurants/Resources for 2011-13
Anteprima
-- Combining spot-on Italian cooking with a focus on the local and seasonal results in an Italian restaurant that stands with the best in a city full of great Italian restaurants.
Aroy Thai
-- Aroy means "delicious" in Thai and this neighborhood favorite is well-named. From the exotic to the classic, Aroy Thai captures all of the essential flavors—funky, tart, spicy, savory and sweet—with loving care and consistency. Crave-worthy!
Art of Pizza
-- Do you revel in Chicago's reputation as the place for stuffed crust pizza, or just view this genre as a cheesy mess that you wish would go away? Either way, this may just spoil all other versions for you.
Avli Estiatorio
-- Greek beyond Greektown, both in location and concept. Combines traditional dishes with creative touches that give it a contemporary vibe. Go beyond your Greek comfort zone…
Big & Little's
-- A not-so-humble sandwich shop, serving fare that goes way beyond what you would expect. Hard to choose between the perfect burgers, wonderful seafood options, foie and fries, so just order everything and take a bag home.
The Bristol
-- Sets out to be your warm, friendly, neighborhood restaurant and pulls it off. Creative, distinctive, delicious.
Carniceria y Taqueria Tierra Caliente
-- A great taco starts with delicious meat, usually cooked long, slow, full of flavor, then chopped and piled on a tortilla. They love the meat here, and it shows.
D'Candela
-- Excellent Peruvian fare, with the charcoal-grilled chicken headlining, but each dish, down to the simple, white rice on the side, is done with care and skill.
Edzo's
-- How many burger places offer you a choice of grilled or griddled? How many offer a toasted almond milk shake that may change your whole idea of a shake? We know at least one.
Great Sea
-- If you go for anything other than the chicken wings – crisp, sweet, sour, spicy nirvana – you are on your own. Thing is, we can't imagine why you don't go for the chicken wings. Soon. See you there.
Italian Superior Bakery
-- Nice people at this family-run spot, and good sammies made from excellent ingredients. Save room for a sweet and be sure to take a little pizza bread home for later.
Kabul House
-- Warm, welcoming, BYO spot serving big, bold flavor, intoxicating aromas, and a fascinating variety of textures - a feast for all your senses.
Lincoln's O
-- A trip back in sandwich time to a simpler era of delicious themed sandwiches – care for a Cal City Special? – will amuse and delight. Portions and prices are hard to beat, but be sure to leave room for some pie, hon.
Mr. D's Shish-Kabobs
-- Mr. and Mrs. D care, and it shows. A counter, a few booths, and a linoleum floor us are what they call décor. Fresh cut, chunky fries and tasty, meaty kabobs are what we call perfect. Not a bad steak sandwich either.
The Purple Pig
-- Yeah, yeah, it's a bit of a celebrity spot, but it delivers. And not just the pork products - the vegetables are delicious, too. Really, we wanted to hate it, but it is too good.
Ream's Elburn Market
-- A mecca for fans of sausage, and cured meat of many flavors, all made in-house. Truly world class.
Three Floyd's Brewery
-- A temple of beer hidden in an industrial park. Always worth a visit to see what these master brewers are thinking, doing and brewing.
Toon's
-- Old school bar food, lots of TVs showing the game(s) of the hour. From classic hand-formed burgers to homemade soups and stews, Toons shows that bar grub can be damned good.
The Whistler
-- Comfortable space, creative (and well researched) cocktails, good music, friendly vibe – come in, grab a seat, let them surprise and delight you. Is there anything more satisfying than the first sip of a masterful cocktail where the end of a day meets the start of the night?
Xoco
-- Bayless' newest venture has pristine ingredients, attentive service, and an unflagging attention to what ends up on the plate. Mexican-inspired or Mexican? Who cares when the soups, sandwiches, chocolate and everything else is so good?
Zenwich
-- What comes first – the friendly, involved owners and staff, or the creative, Asian-inspired sandwiches? A place to be treated well, try something new, and eat very well.
Many thanks to the GNR Committee for all their excellent work, particularly, but in no particular order, SteveZ, Santander, pairs4life, turkob, JoelF, RAB, boudreaulicious, and Suburban Ronnie. Also thanks to David Hammond, Cathy2, and G Wiv for their support and invaluable assistance, and of course to all of you for eating, critiquing, posting and caring. It is a great list, a truly idiosyncratic, excellent and at times perplexing list. Most importantly, it is your list, not the expression of one or a panel of so-called expert's tastes, but what anyone and everyone who has become an active member of LTHForum agrees is worthwhile.
d
for the GNRs