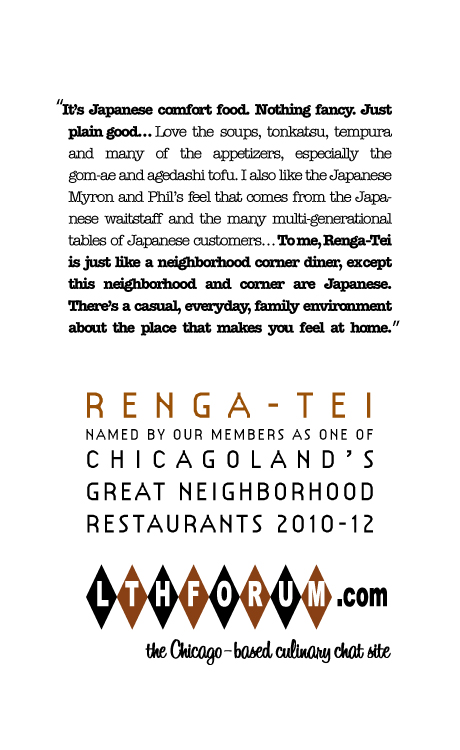 Certificate as awarded to Renga-Tei following this nomination.
I've spent more time thinking about this nomination than I probably should have, and I've decided to submit it for your consideration.
Of all the great restaurants that I have been introduced to by the LTHForum community, Renga-Tei has been the most successful in becoming part of my routine. I find myself returning there time and time again, eagerly anticipating what awaits me on the special whiteboards inside the front door. It's Japanese comfort food. Nothing fancy. Just plain good.
To me, Renga-Tei is just like a neighborhood corner diner, except this neighborhood and corner are Japanese. There's a casual, everyday, family environment about the place that makes you feel at home. Renga-Tei works for a table full of native Japanese just as well as it does for a table full of sushi virgins.
I've ordered a good portion of their offerings and I'm always delighted by the taste, quality, and the variety. My most recent visit included some standard choices (gom-ae, agedashi tofu, assorted nigiri) but also included a couple special items that were excellent: deep fried horse mackerel and blue crab miso soup (I wish I had my camera for the whole blue crab perched atop my bowl of miso).
I'm also fond of the waitstaff at Renga-Tei, particularly the older women on the crew. They take to me with the kind of fondness that I'd expect from my aunt. They just love it when I order some of the more obscure or challenging items. I'm that cute little gaijin who knows exactly what hamachi kama is and isn't sure how to use the multiple different spoons served with the katsu curry.
Katsu
, it ain't, but Renga-Tei fills the need for a moderately priced, neighborhood sushi-joint better than I could expect. A portion of this community has praised it, including myself and a handful of others:
This thread includes some stellar Mike G pics.
including some praise from TonyC, which he does not throw around lightly
Some more Renga-Tei praise (scroll down)
Renga-Tei is mentioned and recommended in other threads, but these two threads are the bulk of the discussion.
Best,
Michael
Renga-Tei
3956 W Touhy Ave
Lincolnwood, IL 60712
847-675-5177