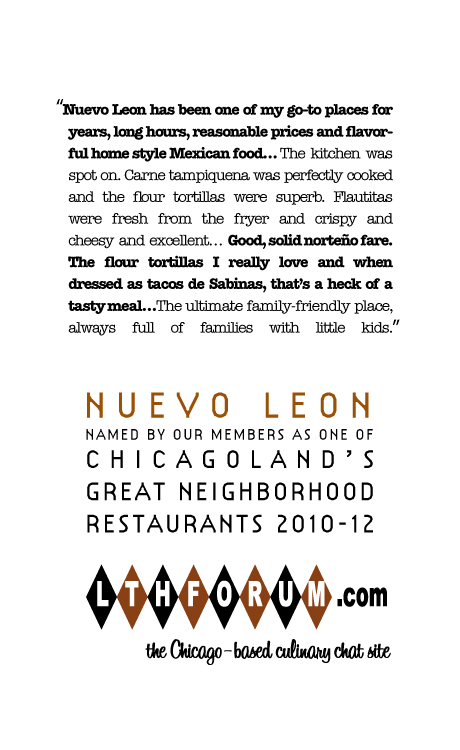 It has always surprised me how few Mexican (and Middle Eastern) restaurants are nominated each year. The list of places that are worthy and unrecognized is very long, and so it's tough to choose just one that really deserves LTH's recognition. But I think, at least for me,
Nuevo
Leon
is it.
It is almost certainly not the best Mexican restaurant in the city. The moles are not homemade (and not particularly good) and the menu never changes. But still, what they do well they do very well.
And the homemade flour tortillas are my favorite flour based anything in the city.
Unfortunately
Nuevo
Leon
has never gotten its own thread on LTH. It was discussed a lot on the old board, and I think that punishes some restaurants unfairly. Even if we haven't talked about it here, we've talked about it.
That said, here are some LTHers talking about NL:
Chilaquiles
:
G Wiv wrote:

Nuevo

Leon

has been one of my go-to places for years, long hours, reasonable prices and flavorful home style Mexican food.
One Week in Chicago
PBAndFluff wrote:

Nuevo

Leon

is a good deal and great Mexican (especially the chicken in Mole sauce, the mexican hot chocolate and Pan Dulce- fresh mexican sweet bread-sugar/cinnamon topping on a flaky roll).
Coming to to Chicago in June
(long post by Amata, which I agree with 100%)
Chinatown/Pilsen Help
Antonius wrote:For such a meal in Pilsen, I would strongly recommend

Nuevo

Leon

. It's good, solid norteño fare (so lots of familiar stuff that's well executed, such as fajitas, burritos, etc.) at reasonable prices.
Report On our Anniversary Weekend Trip
Seanchai wrote:Really, really like that place. The pleasant waitress brought complimentary chips with red and green salsas as well as a small bowl of marinated grilled beef with tortillas. All very tasty, salsas very fresh. We ordered refried beans with chorizo (full of lard probably but oh so good), tacos carne asada and enchiladas with black mole. Prices are extremely reasonable. While I know it's just another good option among many for you folks, I would kill to have a place exactly like this within 100 miles of central Virginia. Sigh.
Which is not to say
Nuevo
Leon
doesn't have its detractors:
Mike G wrote:All in all, a disappointing, cranked-out-by-the-factory meal from a place I had good memories of; less

Nuevo

Leon

than

Nuevo

Leona's.
Nuevo
Leon
isn't the best Mexican restaurant in the city. It might not even be the best Mexican restaurant in Pilsen. But it's a fantastic neighborhood restaurant, all the same.
Nuevo
Leon
Restaurant
(312) 421-1517
(312) 563-0828
1515 W 18th St
Chicago, IL 60608
n.b. this nomination is for the 18th street location only. Although I give enormous weight to A&A's recommendation of the 26th street location, it looks like no one but them has posted about it yet.