Hi,
It has nearly been a year since Brood XIII Cicadas visited us. It was my third generation I have been interacted with and fondly remember their parents and grandparents. The first time I was a teenager, where I largely collected specimens that I have kept in a jar of alcohol ever since. I also used to pick them up and throw them at my sisters. They screamed and I laughed.
The second generation appeared in 1990 was one of missed opportunity. I knew they were edible, but didn't have the support group of people willing to take a chance with me. Later I read of an entomologist at the Field Museum who had a gathering to eat cicadas on pizzas. I felt I had missed my tribe.
The third generation far and away made up for my muddling the earlier cicada opportunities. I had my partner in crime in David Hammond's willingness to do the deed and eat it, too. Of course, it did become a three-ring circus when David made a flip statement on yelp on a thread querying if anyone planned to dine on cicadas. In a long string on yucks, David sensibly replied, "A friend and I intend to cook and eat them." Next thing you know: Good Morning America inquires for an interview, which we participated along with Marilyn Pocius of
Chicago's Cook's Guide
. Right on top of that was Chicago Tonight, Japanese television and David doing a number of radio interviews.
Marilyn Pocius was inspired to party like it was her last chance for another 17 years: Cicada Cooking and Eating Party. David, his wife Carolyn, Marilyn and I had already created cicada tempura, cicada sushi rolls, cicada variants of 'Ants on a Log' and the long imagined cicadas on pizza. Until this time, we had mostly confined our efforts to the newly emerged cicadas who didn't have the big red eyes ("All the better to see you!") or those long wings. This was a unique event, I was inspired to do something special.
My friend Helen had joked her Mother had suggested I collect cicadas and freeze them, upon her next visit she would make Cicada adobo. This was a new direction in our culinary efforts, which I decided to try at Marilyn's party. I found it was not too difficult to collect newly molted cicadas who were resting after their transformation. My home seemed to be the neighborhood locus for cicada activity, which allowed me to quickly collect 300 cicadas from my front yard. Cicadas lacking much in experience did not quake or try to get away when I collected and deposited them in a plastic bag. In fact they made no effort to get away, just milled around the bag stepping on each other as seen in this
youtube video clip
. I then took them inside and put them into the freezer to kill them. Once dead, I began pulling the wings off the cicadas, which I later put to good use:
As I was more than halfway through the process of de-winging the cicadas, I noticed they were beginning to reanimate. I tucked those whose wings were clipped back into the freezer and continued on until finished. Into a pot, I added one cup vinegar and one-half cup soy sauce and brought it to a boil. I then added the wingless cicadas, brought it to a boil again, then turned it down to a simmer for 5-10 minutes. As these cicadas were cooking, I noticed they began to shrink. Once I was satisfied these were cooked, I removed the cicadas with a slotted spoon to a sieve to drain.
I took out my frying pan, heated some oil and added maybe 5 large cloves of minced garlic. I then returned the cicadas to fry in the oil, which had the interesting affect of causing them to puff up to their original size. It's too bad I didn't have a video running because it looked like they were going to take their revenge. Once they were fried, I returned them to the vinegar-soy sauce they had been cooked in.
Image courtesy of G Wiv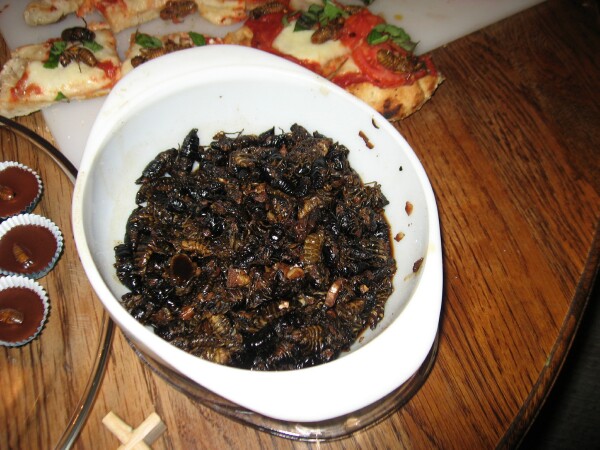 When I cook this again in 16 years, I will serve separately the twice-cooked fried cicadas with the vinegar-soy sauce and rice on the side to be mixed to taste. It would keep the cicada texture more crisp.
My impression of the party was one of the Christians being fed to the lions. Approximately 2/3rds present did not care to eat a cicada in any shape or form, though they delighted in watching the other 1/3rd do the deed. While I am quite inspired by Marilyn's idea and efforts, I would slightly retool the invitation: come if you intend to eat cicadas or stay home! Of course, this is spoken from the perspective of the cicada eating guest.
I have to admit the spring has not been as much fun as last year. I miss those cicadas.
Regards,