Quote from Erik M's post in the Sausage Quest in Milwaukee thread
Erik M. wrote:While perusing

EHSS

yesterday afternoon, we got to conversing with a customer who was kind enough to make another unique recommendation for Milwaukee,

Northern Chocolate

on N. M. L. King Drive. While we didn't have sufficient time to follow up on this reco., I thought I'd mention it here for anyone else who might also be interested. A quick Google search turned up an interesting

article

about this establishment and its kooky owner.
Erik,
Kooky, idiosyncratic, half a dozen of one six of another.
Actually the owner of Northern Chocolate was very nice, in an untraditional fashion. I went to Milwaukee yesterday to visit my grandmother and, like any good LTHer had a printed list of places I wanted to hit as time allowed, including Northern Chocolate and European Homemade Sausage Shop.
Knowing, from reading the
article
Erik linked to in his post, the proprietor of Northern Chocolate was a wee bit idiosyncratic I called at 10am to inquire as to the hours. I heard a polite, if somewhat harried, hello then, due to the vagaries of the cell phones, I dropped the call. When I called back I was received with a less polite WHAT.
Hours that Friday were open at 11:30am, close
whenever
, which meant, as I would be passing by at around 11, I could not stop and pick up candy to bring to my grandmother. When I asked if it was possible I come a bit early his response was,
"no check, no credit cards, cash only and Don't bother me"
Had I not read the Milwaukee Journal
article
I might have found this off-putting, as it was it made me even more eager to check the place out.
Northern Chocolate is located in an area that is just starting, slowly, to recover from years of neglect and it's obvious the owner of Northern Chocolate has great hope and pride in his neighborhood as the building it's housed in has been lovingly restored.
Iron bars at the entry way were padlocked, but one quick knock brings the owner, he checks me out for potential offensive behavior* and then lets me in with a emphatic
"don't touch anything until you are ready to take it off the shelf and buy, don't bother me I'm under the gun"
and goes in back to his Willy Wonka like chocolate workroom. Leaving me smiling with wonderment at the over the top idiosyncratic behavior, which I am really digging.
Upon entering I was greeted by the heady aroma of mint, he was making mint meltaways in back, and shelves of molded chocolate, not an Easter Bunny in sight. Interestingly artistic shapes, Indian Chiefs, motorcycles, badgers, otters and many others. Mint meltaways, orange slices, apricots, both bittersweet and milk chocolate, and chocolate bars. Northern Chocolate is straight-up old school, not a curry scented truffle in sight.
Northern Chocolate**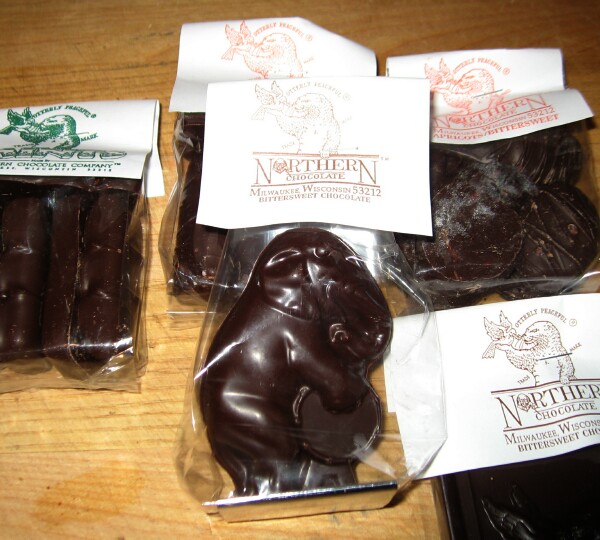 As I was paying for my purchase, as opposed to thanks, come again, I received
"be sure to floss and brush. You DO floss and brush, don't you?
I dearly wish there were more, many more, business run this way, I'd much rather be told to brush and floss than receive a half-hearted insincere 'anks, come again, have a nice day from a bored witless clerk.
Northern Chocolate, a Milwaukee must-stop. Oh, and the chocolate, at least what I have tasted, is quite good.
Enjoy,
Gary
*
I don't mean like robbery, but his own personal list of offensive behavior. Read the linked article
**
I did not take any pictures in the store. I'm guessing the second I pulled out the camera I would have been shown the door
Northern Chocolate
2034 N. M. L. King Drive
Milwaukee, WI
414-372-1885