LTH,
Ellen and I had brunch with the always engaging Peter Daane at Flo Sunday. I had read a few ok to good, but no glowing, reports on Flo and, in general, that's how I'd sum up our meal. Ok to good, but not glowing.
We started with red chili bloody mary's, which were heavy on the vodka, not a bad thing, but weak on chili flavor, and guacamole. Ellen makes excellent guacamole and her comment when she tasted Flo's was she could make better at home in less than 5-minutes. I'm not saying the guac was bad, just that it was just ok to good. I will say a few, ok more than a few, shakes of hot sauce helped immeasurably.
For lunch Ellen had tamale hash, which was the best dish of the day. Chunks of tamale, pan fried, topped with a couple of poached eggs, red chili gravy and black beans on the side. Though the tamale chunks themselves would have been greatly enhanced by additional time spent crisping.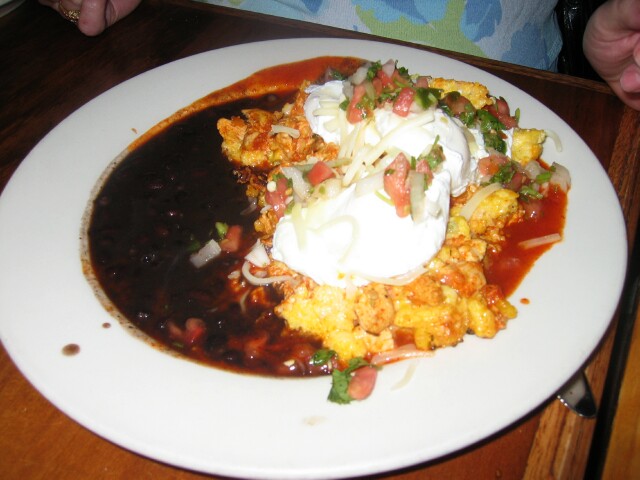 Peter had Knife and Fork steak tacos, basically unadorned steak tacos, topped with a plain 2-egg omelet, red chili gravy and black beans on the side. The meat was slightly tough, cheese industrial tasting and black beans, which were the same on all three lunches, ever so slightly undercooked.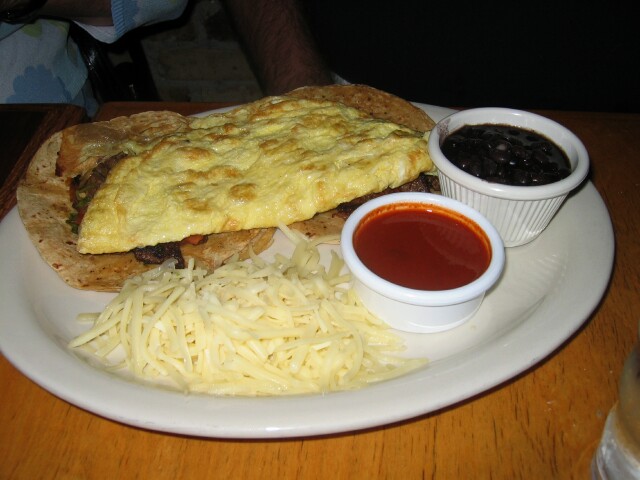 I had high hopes for my chilaquiles, which I ordered with the addition of chorizo, but even though Flo's chilaquiles looked great, no soap radio. Funny, but the chorizo seemed to be the culprit, mainly due to the fact Flo's chorizo tasted like nothing more than hamburger. Odd, I know, and probably not accurate, but there was no flavor 'pop' from the meat, it actually reminded me a bit of Hamburger King's Akutatawa, which is a mix of hamburger/eggs/bean sprouts, served with rice and American style gravy on the side.
(Warning: Image may be less delicious than it appears. )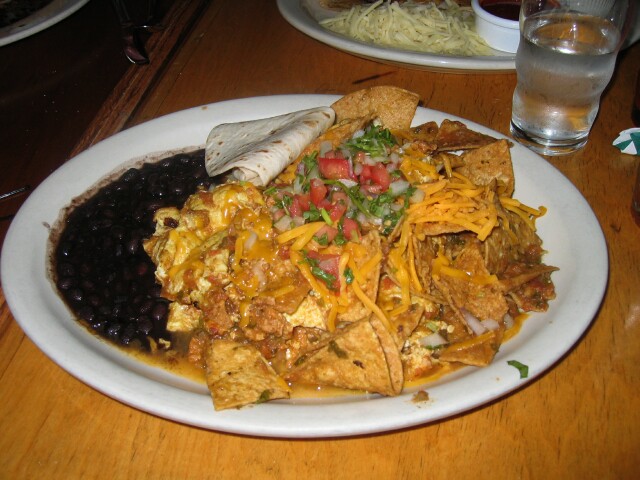 Given it was Sunday noon, we thought Flo would be quite busy, even had a default plan to go to Cafe Central across the street, but the wait was only about 20-minutes. Service is good, the room is nice, food well prepared and attractive, but flavor wise, at least to my palate, flavors seem ever-so-slightly watered down.
Enjoy,
Gary
Flo
1434 West Chicago Ave
Chicago, IL 60622
312-243-0477
Cafe Central
1437 W Chicago Ave
Chicago, IL 60622
312-243-6776
Hamburger King
3435 N Sheffield Ave,
Chicago, IL 60657
773- 281-4452
Opens early and closes early, call.