Mhays wrote:Not going to post a thorough roundup because Gary was taking copious notes and pix,
Mahays,
I took copious notes because some (most) of the combinations were confusing.
Ninefish is cute as a button, attractive room, artistically presented food, cloth napkins, live fish in different styles of clear glass bowls scattered about, attentive well meaning service, interactive Itamae, overall good vibe, but nothing really popped flavor wise.
We started with a gratis green apple salad, tasty but needed a bit of acidic counterpoint to highlight the flavor.
Green Apple Salad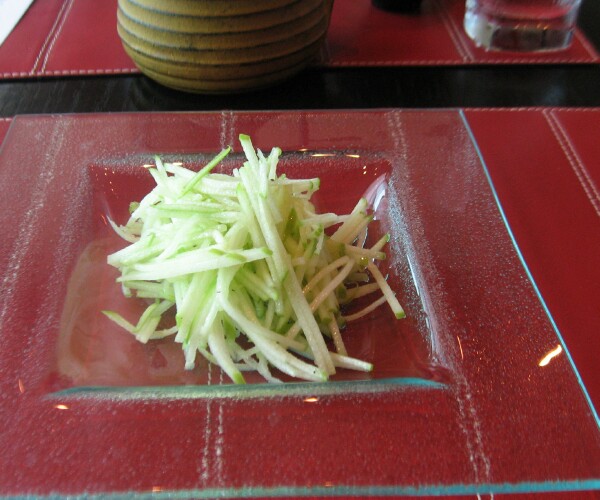 Standard issue miso soup was awkward to eat from the decorative bowl with the accompanying western style spoon
Miso Soup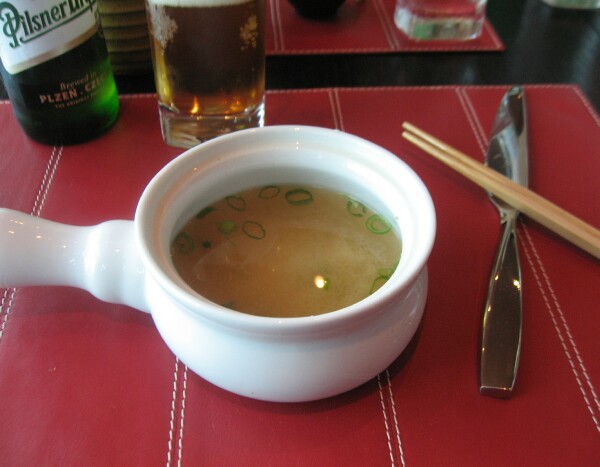 Deep fried skate was dull, good idea, but somewhat bland. Accompanying mango-cliantro sauce a bit sweet.
Skate Wing w/mango-cilantro sauce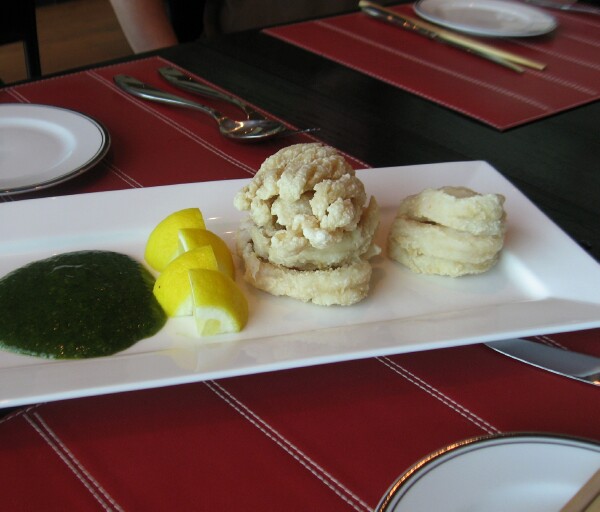 Fish cake w/Thai Sweet sauce was dull flavored, particularly in comparison to Thai tod mun. Any potential lost amongst a pool of bottled
Thai
sweet chili sauce.
Fish Cake w/Thai Sweet Sauce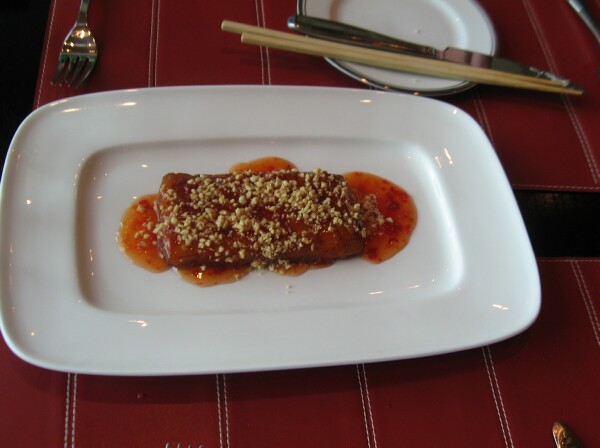 C2 and I had a tasting portion of O Toro sashimi, while attractively decorated, flavor/texture/richness, which is what toro is all about, was lacking. I was particularly surprised there were strands of ropy connective tissue detracting from the overall effect. A puree of watercress and arugula was served along side, interesting sauce, but quality toro needs nothing more than a bit of soy and wasabi root.
O Toro w/watercress and arugula sauce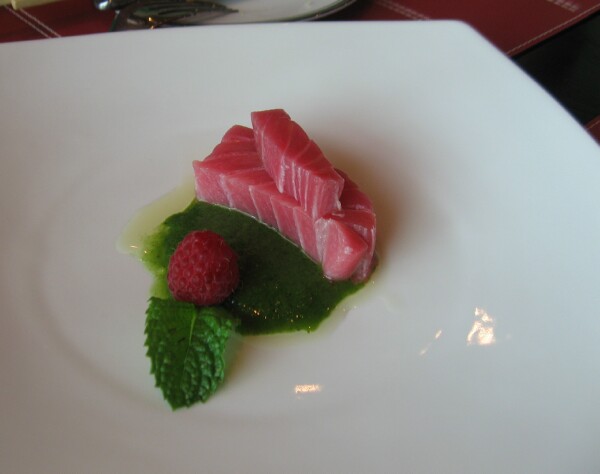 Standard issue yellow tail maki with slivers of low Scoville rating jalapeno do not a Spicy Hamachi Roll make.
Spicy Yellow Tail Roll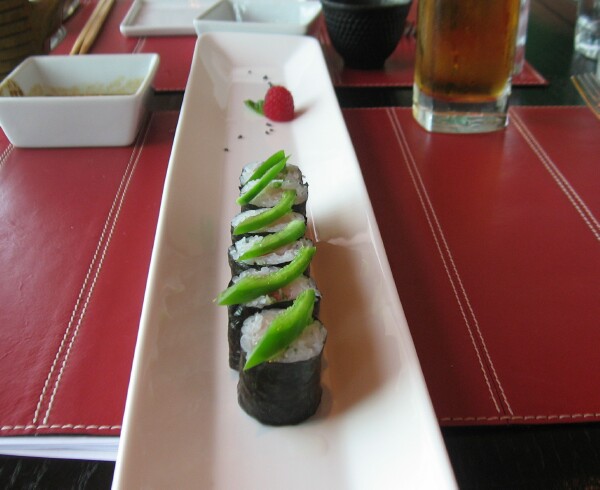 Tuna Jicama Roll seems a good idea, nice jicama crunch contrast, though the jicama, oddly, had little crunch and came across somewhat watery.
Tuna Jicama Roll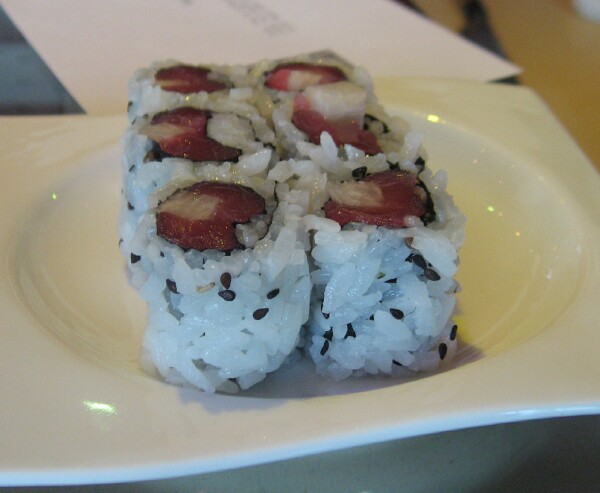 I liked, especially in comparison to the other items I sampled at NineFish, my Sashimi Bento lunch, which C2 had as well. Though was surprised, in looking over the bill, they charged C2 $1 for her requested bowl of plain rice. Seems bento (boxed meal) should include a bowl of rice.
Sashimi Bento
(R to L) Scallop w/green apple syrup, White tuna w/white truffle topped with passion fruit, Salmon w/Alfalfa sprouts, Yellow tail w/scallion, Tuna w/fig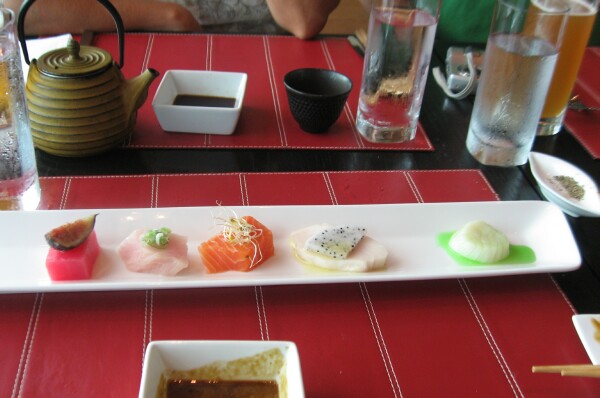 Mhays Nigiri lunch consisted of 4 large size slices of fish and a torched scallop topped with garlic aoli.
Chef w/torch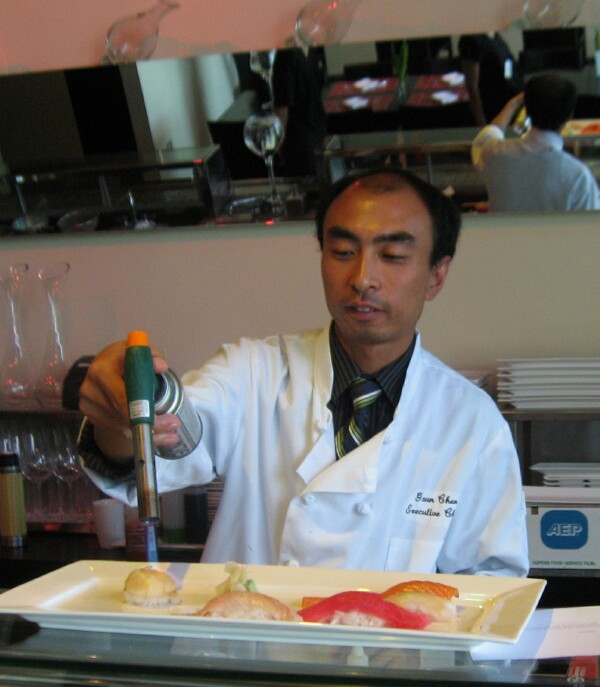 Nigiri Bento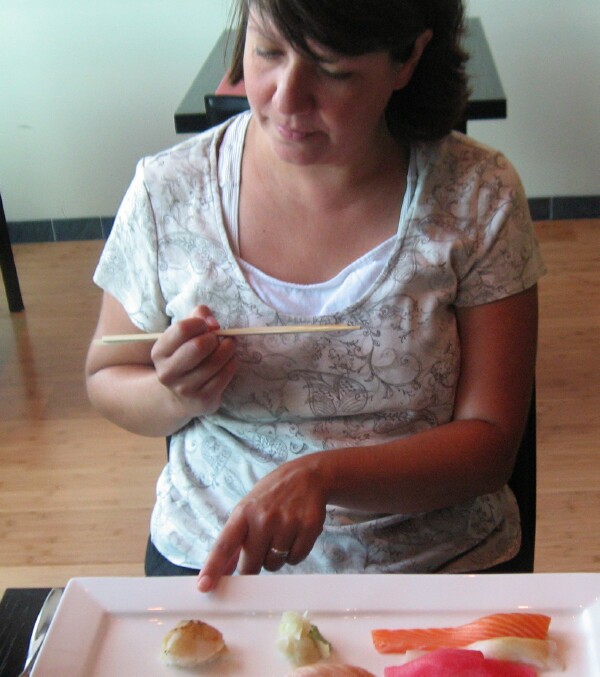 In keeping with the pleasant customer interaction we had experienced throughout lunch we were given a few additional items to sample.
Salmon w/guava juice and green apple.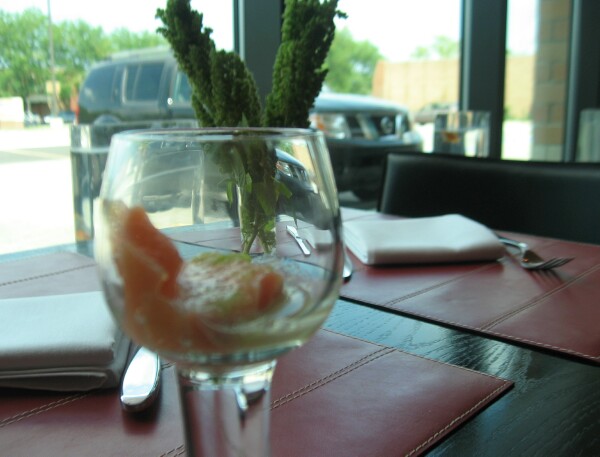 Tempura Strawberry w/chocolate sauce.
All in all a pleasant lunch. Good company, nice to meet ChgoMike of the No-Thai-Ex-Wife variety.
A few additional pictures may be found
here
Enjoy,
Gary
Last edited by
G Wiv
on August 7th, 2007, 9:48 pm, edited 2 times in total.