LTH,
I've read the Zuni Roast Chicken posts, bought the
book
, and made it at home, but was still astounded by the sheer deliciousness of the in-house bird.
But first, late night San Francisco Chinatown. Odd segue, but my first go at Zuni was solo, wife was out and about with our Marin based sister-in-law, and I did not realize the Zuni Chicken was for two and took 45-60 minutes and I wasn't really in the mood to eat a whole solo chicken at the stand up bar. So, after a Sahara dry Gibson up and light appetizer of House-cured anchovies with celery, Parmesan and nicoise olive and crusty bread, off to Chinatown I went.
Midnight SF Chinatown is nothing like the bustling tourist friendly hub of daylight hours, there's an eerie abandoned quality, harsh laughter echos from odd corners, there's a still quality to the air, foreboding. Not one to be put off by common sense, I trekked the desolate streets coming upon a beacon of light and laughter, Red's Place. Slamming bar dice, cloud of cigarette smoke, Red's seems to give as much credence to California's smoking prohibition as Hot Doug does to Chicago's Foie Gras ban, and loud energetic interplay in that slightly pitched tone I tend to associate with spoken Chinese.
Red's Place (San Francisco Chinatown)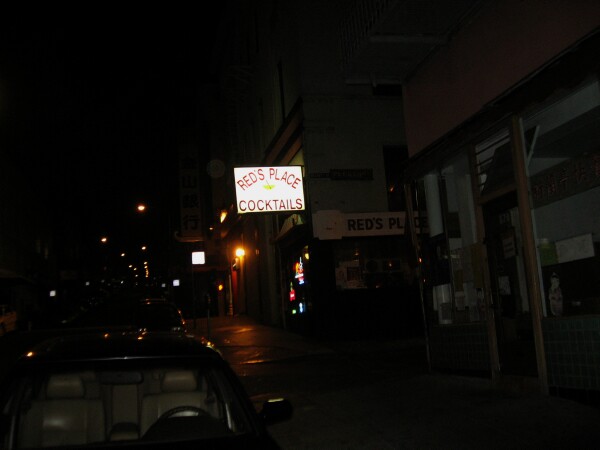 Couple of Heineken's later, the beer choice at Red's, and a detailed discussion on the merits of adding fish bones to pork broth, I was directed to ABC Bakery for a late night fix of shrimp wonton soup w/noodle and roast duck. And a damn good bowl it was.
ABC Bakery, Shrimp wonton with roast duck and noodle.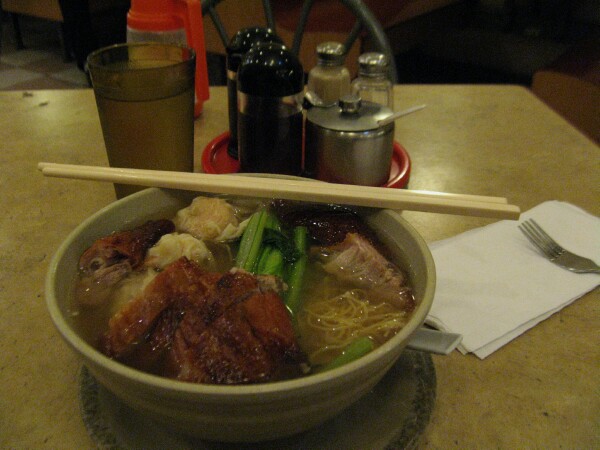 Second go at Zuni, wife's feathers slightly ruffled when she finds out she's locked into chicken for dinner, though Zuni's upbeat energy, open kitchen and floor space, art work, pleasant informed service and general
this is my kind of restaurant
feeling brighten her outlook.
Our appreciation for figs enhanced by tasting 5 types at the Saturday Ferry Market Farmer's market we started with prosciutto with kadota figs, fennel and hazelnut
picada
, nicely composed with small crunches of toasted hazelnut lending textural counterpoint.
Prosciutto di San Daniel with Kadota figs, fennel and hazelnut
picada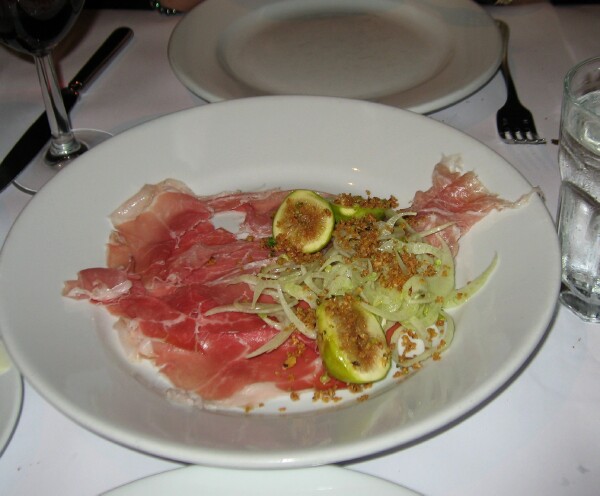 Three types of oysters, Malpeque (PIE), Deep Bay Flat (BC) and Hog Island Kumamoto (Tomales Bay). Oysters were fresh, briney and quite good, but even so Zuni's Kumamotos paled in comparison to the the hours old Kumamotos we had earlier that morning at the Ferry Building Saturday farmers market, which had a soft buttery backnote.
Zuni Cafe Oysters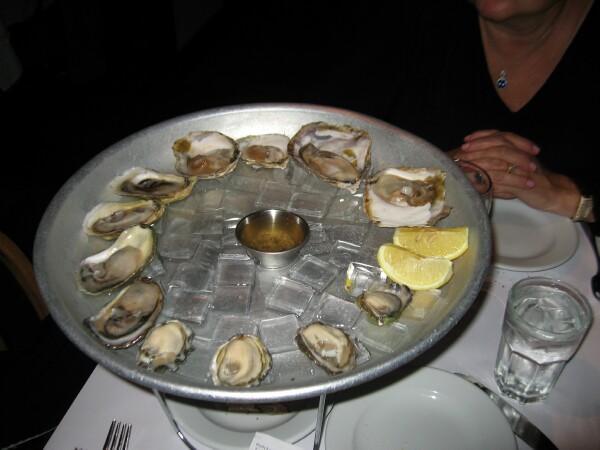 Ferry Building Saturday Farmer's Market Hog Island Oyster Vendor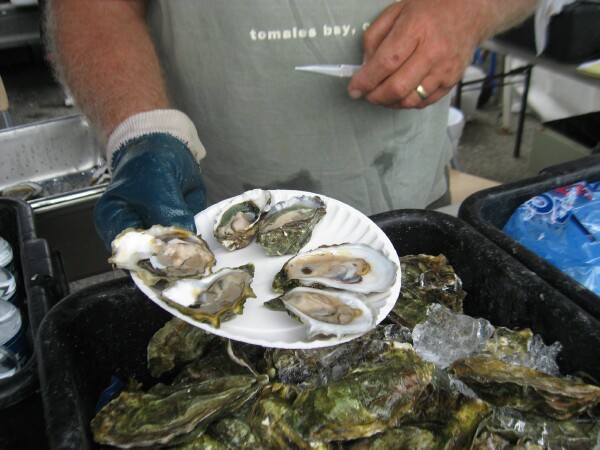 Our view as we slurped oysters at the Ferry Building Saturday Market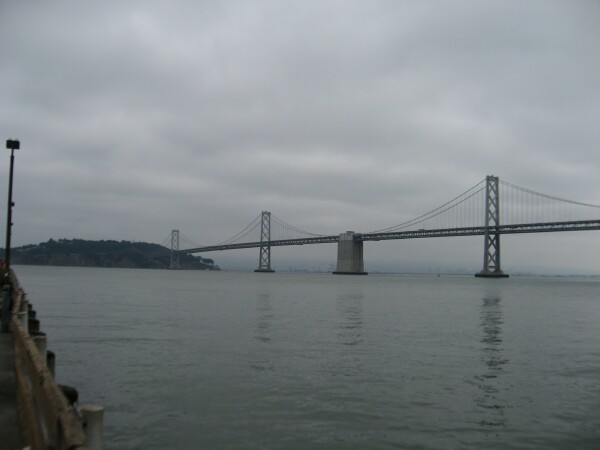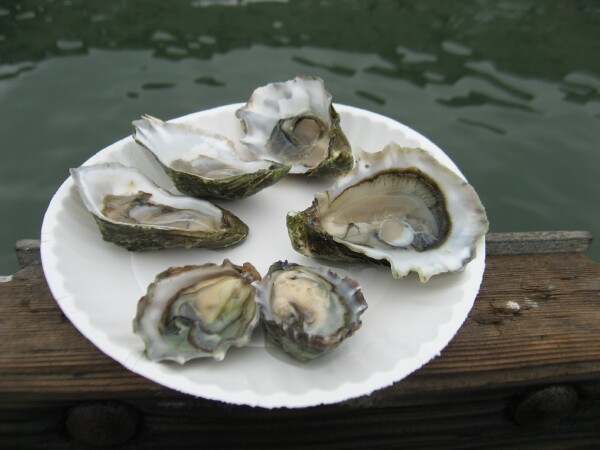 Zuni Caesar salad, classic in construction, split at the table for two. Remembering the house cured anchovies from the previous evening, I was mildly disappointed to find the anchovy incorporated into the salad as opposed to laying seductively across the top, but managed to eat the Caesar anyway.
Zuni Caesar salad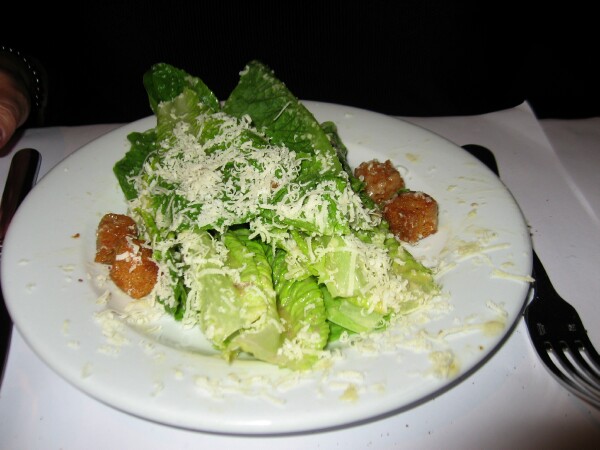 Chicken for two is roasted in a wood burning oven with a mix of almond, maple and oak. Crisp skin yielding to moist juicy intensely flavored flesh set atop a bed of bird juice enhanced warm bread salad with scallions, currants and pine nuts, edges of wood toasted bread adding depth and character to already stellar flavor. My wife, ever patient, explained, as she fork fought me for the last bits, that she liked Zuni's presentation ever so much more than mine as there was "so much going on", not simply chicken set upon a plate. Suitably chagrined, I casually asked if that wasn't Antonio Banderas at the bar and, when she looked, nabbed the last bit of chicken.
Zuni Chicken for two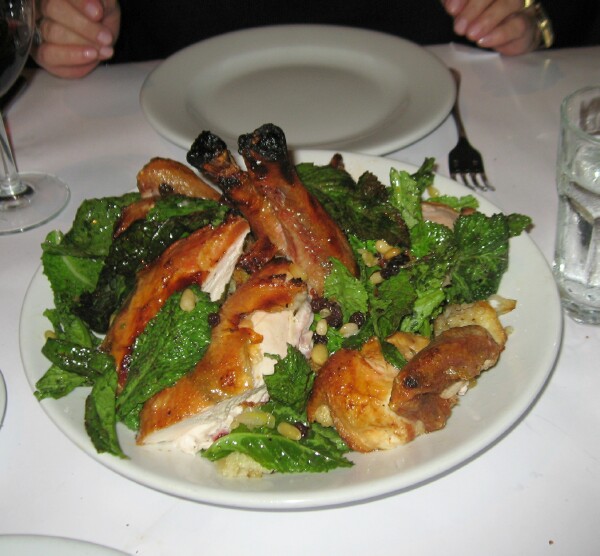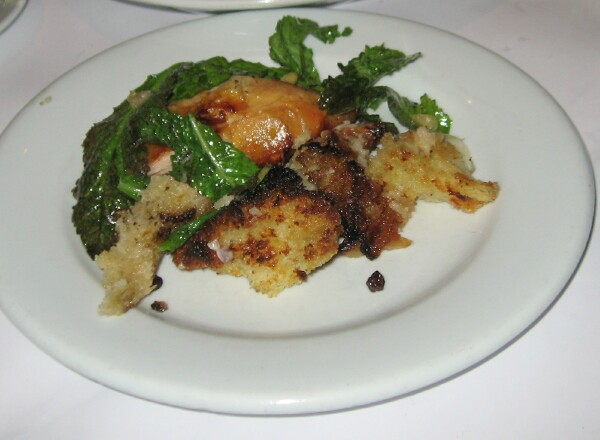 Plum ice cream.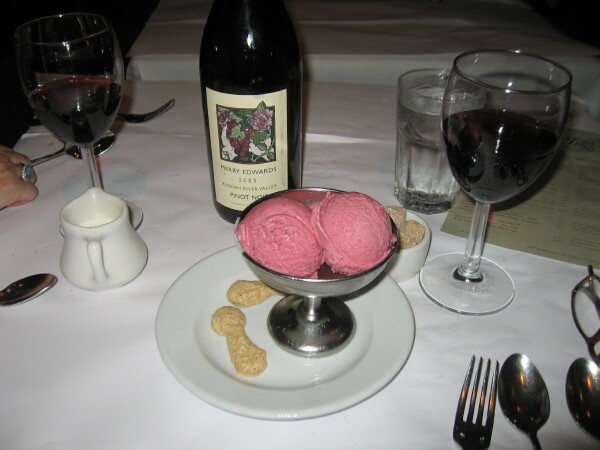 We lingered over the last of our Merry Edwards Russian River Pinot Noir and spoke fondly of our meal, San Francisco and each other. A memorable meal.
Enjoy,
Gary
Zuni Cafe
1658 Market Street
San Francisco, CA 94102
415-552-2522
ABC Bakery and Restaurant
650 Jackson Street
San Francisco, CA 94108
415-981-0803