Before the review starts: I have pictures of a few food items but not of all, sometimes I forgot my camera, and sometimes I wasn't comfortable with taking pictures where we were. Also I will probably repeat a lot of the same descriptive words over and over, sorry about that. This turned out to be much longer than I expected.
The wife and I took an extended Labor Day weekend and went to Tulsa to visit some of our good friends. My main goal for the trip, other than seeing my friends, was to eat good food. Since my friends are long time residents of the Tulsa area they were able to deliver the goods. We did not do a lot of "fine dining" but we did eat a lot of food, ok I ate absurd amounts of food, others maintained their dignity.
The first stop of the trip was the infamous White River Fish Market. You can find a few food blogs out there who have covered this spot, as well as an article in Gourmet about six months ago. I demanded we go straight from the airport to White River or White Trash Fish Market as my friends lovingly call it. This place did not disappoint. I ordered the broiled orange roughy and shrimp platter along with a cup of gumbo. For sides I had French fries and coleslaw, along with the included hushpuppies. The shrimp and roughy were cooked perfectly and their seasoning was delicious. The hushpuppies were incredible, crunchy and delicious. I thought the gumbo was only decent, not great or good. After I cleared my plate I started stabbing at the plates of others. My wife ordered the broiled scallop platter and I was stunned at the portion size. Seven or eight very large scallops that were possibly the best I have ever had. The onion rings I sampled were delicious and my buddies stuffed crab tasted like great Thanksgiving stuffing but with crab in it. The food was so good that I insisted I be taken back before I left. This time I got the fried catfish and shrimp platter with some potato salad and coleslaw again. The potato salad was good, as was the catfish and shrimp platter, but I preferred the broiled platter I had a few days earlier. If you go, do not miss the buttermilk pie. I had three slices in two trips, it was perfect. The service at White River was also amazing, you order at the counter and somehow, without asking questions the wait staff magically brings you your food, without running around the restaurant asking "Who ordered this?" If I lived in Tulsa I would eat here all the time, I want to go back right now; I'm starving just thinking about it.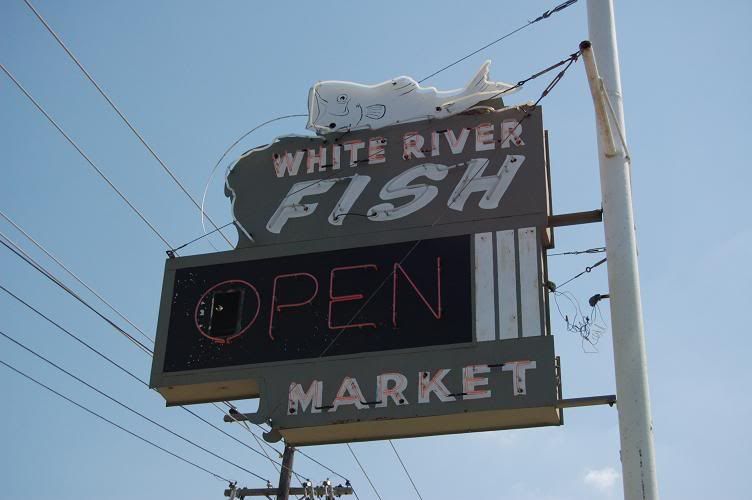 Orange Roughy and Shrimp
Stuffed Crab
For dinner on our first night we went to the favorite Mexican restaurant of my friends, El Rio Verde. I thoroughly enjoyed my meal at this place also. The chips and salsa were great, the salsa had a spice/flavor to it that I just couldn't put my finger on but it was good. On the recommendation of my friend I ordered their signature "smothered burrito. It is a huge burrito covered in sauce, cheese, sour cream and guacamole, I had mine filled with carne asada steak. It was a great burrito, the sauce was excellent. Their homemade guacamole was also delicious. To go along with my burrito I just had to try a taco because they offered beef tongue as one of their standard meat choices. This was my first time eating tongue and it was not a disappointment. The tongue was tender, and tasted like an extra flavorful Mexican spiced roast beef. My wife was still full from her lunch so she ordered a single cheese enchilada. It was sprinkled with parmesan cheese which I found odd, but tasted good when I ate it. It had lots of cheese with a nice red sauce, a good little enchilada. I did not get dessert here because of the two pieces of pie I had consumed earlier in the day. I was seriously full after these two meals. The service here was fine, and the décor was what you would expect for a hole-in-the-wall Mexican restaurant.
The next day we at lunch at a new restaurant called Local Table. This restaurant sources almost everything they offer locally. I'm not sure of the percentage, it's not 100, but the goal is as much as possible. Local Table has a trendy/hip look inside and the wait staff is in black t-shirts and jeans, casual but hip. The menu was diverse and did not focus on any one style of food. I ordered a pulled BBQ chicken sandwich topped with their "Napa Valley Slaw" and served with fries. The sandwich was good, although the pulled chicken was all white meat which I found a bit disappointing, I'm sure the flavor could have been better with some dark meat in there. The slaw was good, and so were the fries. My wife ordered a chicken and bread salad dish which was obviously a riff on the Zuni Café Classic. The chicken was nicely oven roasted and had good flavor. The salad dressing was creamier than the one you will find at Zuni and instead of dried currants (I think that's what they have at Zuni) they had these incredible dried cherries in the salad. I was eating them off of my wife's plate like a fiend, they were sweet and delicious. On the whole it was a good little dish for ¼ of the cost of the Zuni original, but you also don't get the whole chicken. We had no dessert here, but their homemade bread that you get before your meals was excellent, it was also served with warm butter which is always appreciated. I hope that this place is still open and going strong next time I get back to Tulsa. I'm wondering how their menu will change to reflect the rotating seasons.
After those three in a row I am somewhat unsure of the order in which we ate at the following places.
One afternoon we stopped at Steven Howard's Kokoa. This little place is a high end chocolate and dessert shop. Apparently they also serve dinners sometimes, but we did not go for that. We ordered three chocolates from the display case, an espresso type, a cashew and caramel type and a champagne type. All dark chocolate based and all of them were exceptional. To go along with that we ordered their Chocolate Pot De Crème. The pot de crème was beautiful to look at, as were the chocolates, and tasted incredible. The marshmallow toping was nicely baked browned and the chocolate underneath was rich, creamy and flavorful. These treats were easily some of the best chocolates I have ever tasted, a "can't miss" for chocolate fans.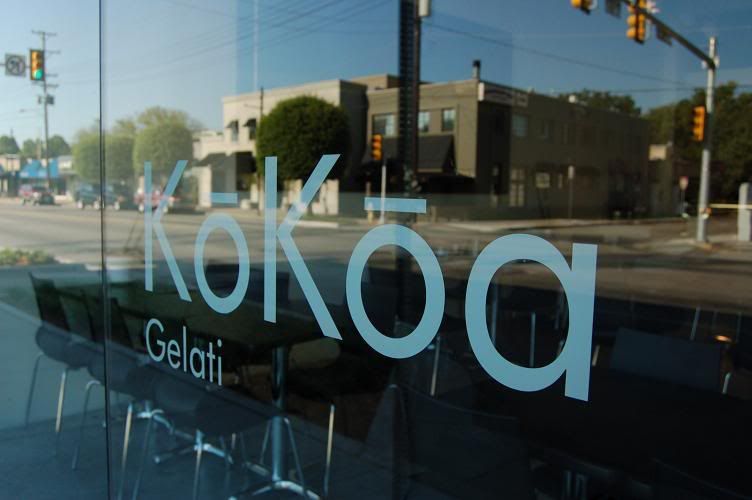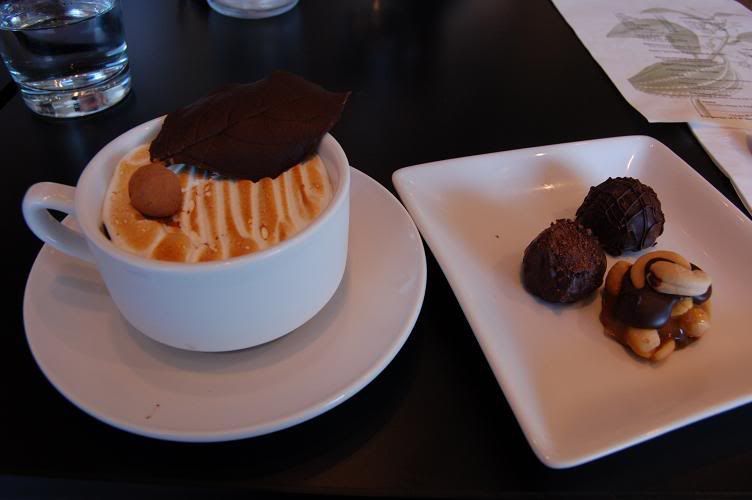 Chocolate Pot De Creme and assorted chocolates
For dinner one night we went to one of the two good Thai restaurants that exist in Tulsa, according to my friends. We went to Lanna Thai (midtown location) and ordered up a good amount of food. For appetizers we ordered the ground pork dumplings and chicken satay. Both of them were excellent. The pork dumplings were light and delicious and the chicken satay might have been the best I've ever had, however I don't have an extensive history of eating Thai. The satay sauce was creamy and full of peanut flavor. The chicken satay also came with a fresh little salad of cucumber, red onion and a vinegar sauce which I could have eaten a large bowl of. For main dishes we ordered up four of them and shared with each other. I ordered a shrimp dish with fried rice and a fried egg on top where you pour chicken broth onto the dish at the table. I ordered it spicy, it had some ok heat, but was not as hot as I would have liked. We also ordered a red curry dish, a pad Thai dish and a chicken dish that I can't really remember as it was the worst of the bunch. The red curry was soup like coconut sauce with chicken in it, it was tasty. The Pad Thai was excellent and full of flavor. For dessert I ordered bananas fried in won-ton wrappers served with honey and powdered sugar, they were delightful. I wish I could remember some more details from this meal, but this whole post is from memory, I need to start writing things down.
I think that it is it for meals at real "restaurants" as we had a cookout with my friends family one day and grilled steaks another night at my friends new house.
However I did do some other eating out. In Wisconsin we do not have Sonic, and I had been to Sonic the last time I was in Tulsa and wanted to go back. Sonic has chili cheese tater tots, and these are a junk food straight from the hand of god. They are not a culinary masterpiece and I could understand people being repulsed by them, but I love them. I ordered the Sonic size and don't regret a single bite. The burger and shake were ok, whatever, next time I'm just getting two orders of the tater tots.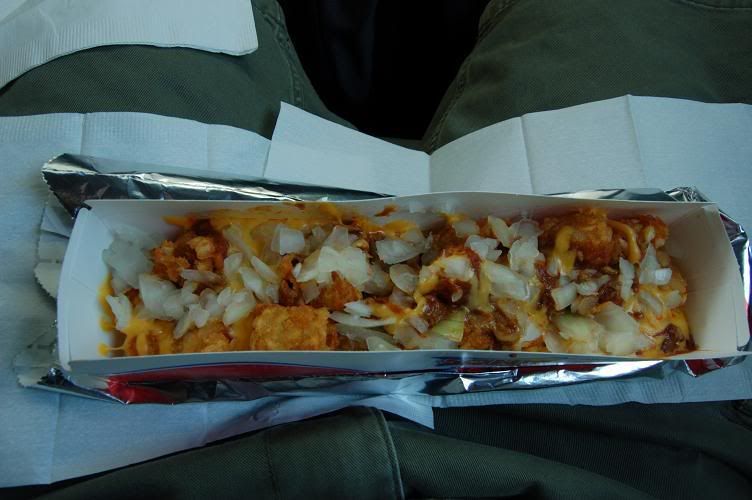 Chili Cheese Tater Tots
Also in the realm of fast food, my buddy was hungry and wanted a snack so we stopped by Taco Bueno, also not in Wisconsin. I couldn't resist trying the deep fried cheesecake chimichangas. These things were also a really good junk food; I probably could have eaten two or three orders.
Daylight Donuts is, as Tulsa based Donut chain that has 900 retail outlets. We could not locate an independently owned donut shop, so I settled for Daylight Donuts. They make a fine little donut; I ate four or five of them one morning and enjoyed them all. Bavarian cream filled and devils food cake were my favorite.
Quick Trip gas stations also have one of my favorite treats for when I am in the Tulsa area, the Quick Shake. Chocolate is my flavor of choice. It's not that they are great or anything (they are enjoyable), I just kind of like to use the little machine that stirs it up for you, and they are cheap.
Now back on track to some people and places that are trying to do respectable things with food.
While at the farmers market near my friends house we picked up a loaf of Farrell Family Organic Bread. I picked out the jalapeno, corn, and cheddar cheese bread. The guy selling suggested eating it with BBQ chicken, but I just ate it plain, and toasted. This bread was awesome. You can pick it up at a quite a few locations in the Tulsa area and it makes really good "snacking" bread. I'm sure the other varieties they make are just as good.
Center 1 Market. While we did not buy anything at this place, we did stop in to look around. It is a grocery store that is selling all local produce and meats. Kind of like a farmers market that is open everyday, it does feel kind of upscale though. They were handing out samples of cashew brittle that was pretty amazing. I would have tried more samples around the store but we had just finished up at Kokoa and I was stuffed. They had some huge ribeyes that were still attached to the huge rib bones, they looked really good. They sell Farrell Family Organic breads too. Along with offering these local foods to the public, restaurants in the same building (fancy strip mall?) will be purchasing ingredients from them so they can offer some local fare (Local Table is a few blocks down, from here also).
White River Fish Market
1708 N. Sheridan
Tulsa, OK 74115
918-835-1910
Farrell Family Organic Bread
8034 South Yale
Tulsa, OK
http://www.farrellbread.com/
El Rio Verde
38 N Trenton Ave
Tulsa, OK 74120
(918) 592-2555
Daylight Donuts
http://www.daylightdonuts.com
Lanna Thai
3535 East 51st Street
Tulsa, OK 74135
Phone: (918) 712-3273
http://www.lannathaitulsa.com/
Kokoa
3410 South Peoria Ave Suite 200
Center One
Tulsa, OK 74105
Toll-Free 1.866.375.6562
http://www.kokoachocolatier.com/
Local Table
4329 S. Peoria Ave.,
Tulsa, OK
918-794-8013
Center 1 Market
35th Place and Peoria
Tulsa, OK
Last edited by
brandon_w
on June 29th, 2009, 8:12 am, edited 1 time in total.