After discovering that nr706 and I had not only Kentucky roots in common, but also the Louisville Courier-Journal (his mother was a food writer there, and my husband's grandmother had passed down her collection of vintage Courier-Journal cookbooks to me) Naturally, this could only mean one thing: a Derby Day party with authentic "Kentuckiana" specialties! The Louisville Courier-Journal has long been known as a repository for Kentucky's culinary history. Under the guidance of food editor
Mary Cissy Peterson Gregg
, historical home recipes as well as those made famous by hotels were collected during her tenure at the Courier-Journal (where her colleague, nr706's mother also worked.) Ms. Gregg's collections of recipes are prized by many native Louisvillians, including my husband's grandmother – whose collection of well-worn Courier-Journal books dates from at least 1953 (shortly after nr706's mother's time there) Most of the remainder of the menu is the centerpiece of one cookbook, entitled "
Oh, Do-Dah Day."
(although the recipes online are "easy" adaptations of the ones in the original article, which follow.)
As Nr706 graciously volunteered to bring a Kentucky ham, I researched: Derby recipes, are so codified that the 1988 Courier-Journal lamented "It must be Derby time again and you're wondering why we're printing them again." Many of the dishes are made famous by Louisville-area hotels, needing a hook for the out-of-towners who flock to the Derby each year, and who, as LAZ pointed out, have the capability to promote them.
Louisville culture is food-based: the articles contain an odd collection of culinary traditions as disparate as Burgoo and Lobster Thermidor: in one of the books, I was surprised to find a recipe for Argentine Carbonada Criollo. A Derby celebration seemed to be the perfect way to gather up all these culinary odds and ends and enjoy them together. While everyone knows that a traditional Derby celebration includes Mint Juleps, also required are Benedictine Dip and Asparagus vinaigrette. Beaten Biscuits (though I can't imagine taking on this time-consuming task along with such a huge meal) are also a must. Commonly, Bibb Lettuce salad, Kentucky Ham, lamb, or beef tenderloin are also served.
(Photos courtesy of nr706)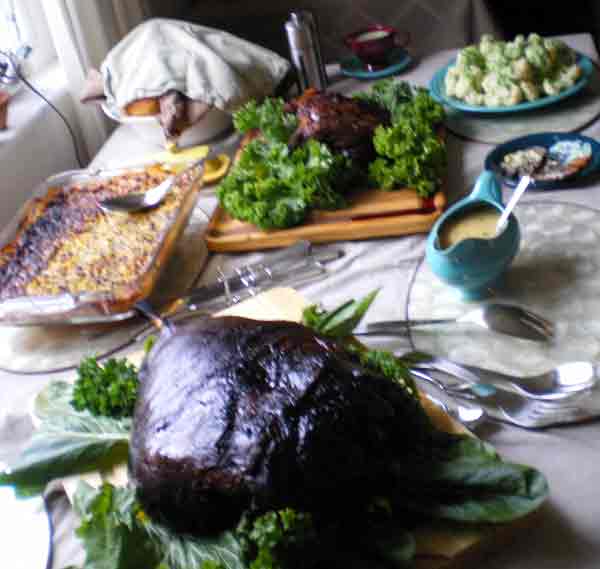 The Menu:
Tea Sandwiches
Benedictine Dip and crudités
Lengua a la vinagreta (– hey, it's southern – and there was a recipe for spiced tongue in one of the cookbooks!)
Kentucky Ham
Leg of Spring Lamb with Caper Sauce
Cauliflower with Watercress Dressing
Asparagus vinaigrette
Sweet Potato Angel Biscuits
Beaumont Inn Corn Pudding
Kentucky Bibb Lettuce Salad
Mini Hot Brown Sandwiches
Mint Juleps
We-aren't-allowed-to-call-it-Derby-Pie (the Melrose Hotel patented the recipe and copyrighted the name, currently owned by Kearn's Kitchen…which doesn't stop anybody from serving Racetrack Pie, Thoroughbred Pie et al.)
Buttermilk Pound Cake and Vanilla ice cream with Kentucky Sauce
Along with civilians, number of LTHers graciously agreed to attend, bringing with them other Kentucky specialties from Bibb Lettuce (courtesy of LAZ, who found that Bibb lettuce, a traditional Derby side,
was developed in Kentucky
) Kentucky moonshine, wine, roses, and wonderful company – thus seeing to it that the lovely swine was celebrated by these pearls of humanity.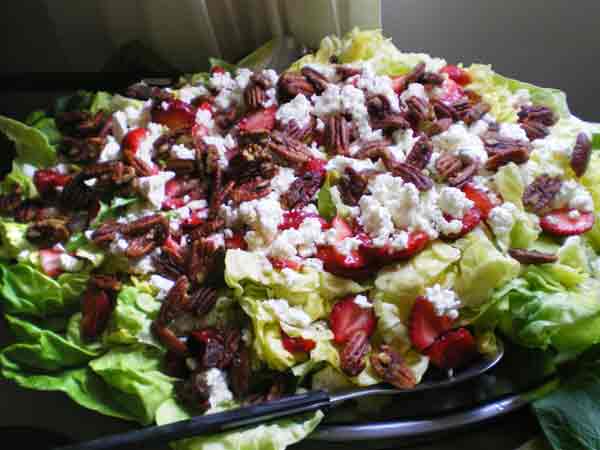 The repast begins with
Benedictine Dip
– which may either be served as a dip for crudite or as a tea sandwich spread. The recipe is simple:
1 medium cucumber, peeled, seeded and chopped
1 8 oz brick of cream cheese
"grating of onion" (I microplaned about 2 tsp of onion into the mixture)
Milk
Green food coloring
Put cucumber in the blender or food processor and chop fine (alternatively, grate it on the fine side of a box grater) Drain thoroughly and squeeze dry. Add cream cheese, onion, a few drops of food coloring, and cucumber to blender or food processor and process until thoroughly blended. Add milk to desired consistency (thin for dip, thick for sandwich spread) Chill and serve.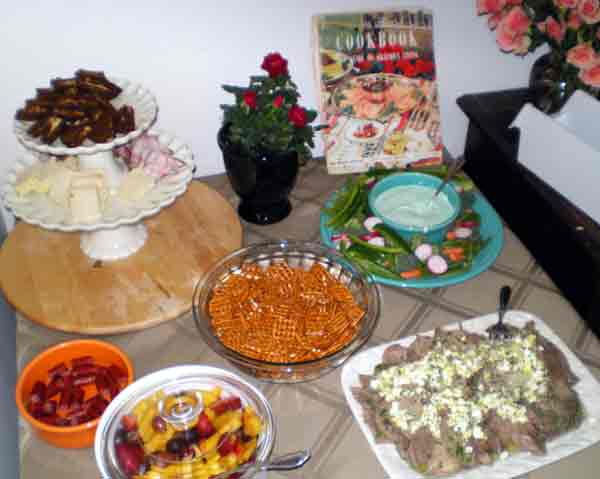 Tea sandwiches
:
Lavender Egg Salad:
(The traditional bread for many tea sandwiches is Pepperidge Farm thin-sliced white bread)
Four hard-boiled eggs, chopped or grated fine
2 tbsp mayonnaise
2 tbsp plain yogurt
½ tsp curry powder
1 tbsp whole dried lavender
1 tsp lemon juice
Blend thoroughly and chill.
Pineapple Cream Cheese
1 cup finely chopped pineapple, drained, juice reserved
1 brick of cream cheese
Boston Brown Bread, thinly sliced
Blend pineapple and cream cheese in food processor or blender to a thick paste. Thin as desired with reserved juice.
Butter and Radish
Radishes
Butter
Pumpernickel Bread
Slice radishes paper-thin on a mandolin. Spread butter thickly on bread, top with radishes; serve open-faced.
Leg of Spring Lamb with Caper Sauce
(The lamb is fairly simply roasted, having been dressed in advance with garlic, butter, salt, paprika and cayenne)
½ bottle capers, drained
½ cup heavy cream
1 can beef bouillon
2 tbsp drippings from lamb
1 tbsp cornstarch
Combine last 3 ingredients in a saucepan and bring to a boil: reduce heat, add cream and capers. Sauce will be thin.
Watercress Dressing
1 cup watercress, large stems removed
½ cup parsley
2 green onions, chopped
1 egg yolk
1 tbsp tarragon vinegar
½ tsp Dijon mustard
½ tsp salt
Pinch of sugar
Pinch of cayenne
½ cup mayo
½ cup sour cream
Put all ingredients except mayo and sour cream in a blender and process until smooth. Beat in mayo and sour cream. Serve over steamed cauliflower.
Asparagus Vinaigrette
Cooked Asparagus
½ cup butter (or salad oil)
1/3 cup lemon juice (or vinegar)
1 tsp salt
¼ tsp paprika
Fresh ground pepper
1 tbsp minced pimiento
1 tbsp minced pickle
1 tbsp minced green pepper
Grating of raw onion
1 tbsp minced parsley
In a small saucepan, melt butter and add lemon juice, salt, paprika and pepper. Remove from heat, add remaining ingredients and pour over hot asparagus.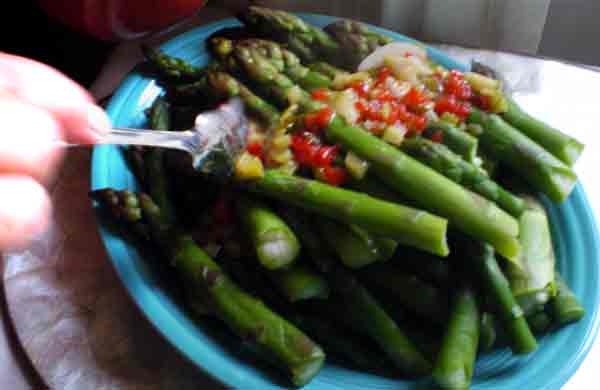 I've had many a Mint Julep on Derby Day, and have found that they usually taste like mouthwash. These worked out very well, with the caveat that they needed a bit of water (on a hot day, the ice alone would have been sufficient) Mint Juleps are traditionally served in a silver cup, to transfer the cold from condensation to the cup bearer.
Mint Juleps en masse
(adapted from Cissy Gregg's recipe)
Make a simple syrup: boil 2 cups sugar and 2 cups water without stirring, until the sugar dissolves. Cool. Pour over a jar filled with fresh mint sprigs (don't muddle or crush them) Allow to steep in refrigerator overnight. A few hours prior to serving, strain out the mint and put the syrup in the freezer for a few hours along with a bottle of bourbon (it should be very, very cold but not frozen) Fill a chilled cup with crushed ice, pour in about two tablespoons of syrup and two ounces of bourbon. Top with a fresh mint sprig (and a bit of water or soda if necessary) and serve.
At this point, I was getting a bit tired of cooking and things I'd planned, like extra buttermilk biscuits and a full-on real mini Hot Browns for the kids went by the wayside.
The Courier-Journal Hot Brown is not a recipe for the faint of heart: first, a béchamel is made and set aside. Then, 2 cups of béchamel (the recipe makes 4 cups, so I have 2 sitting in my freezer for no reason) then go into an eggy Mornay sauce with Parmesan cheese and whipped cream (though I believe Swiss is more traditional) Then an open-faced turkey club sandwich is created with bread, turkey, tomato and bacon; it's topped with the Mornay and more cheese and the whole thing is broiled.
I had my open-faced turkey sandwiches, my béchamel and my cheese, and made lovely little Hot Browns with that – however, the Mornay is interesting, so I include the recipe for your perusal:
Mornay for Hot Browns
2 cups of Béchamel
2 egg yolks
½ cup grated Parmesan
1 tbsp butter
4 tablespoons whipped heavy cream
Heat the Béchamel sauce and combine with egg yolks, stirring until just off a boil. Remove from heat and add cheese and butter, stirring constantly as it starts to thicken. Fold in 4 tablespoons of whipped cream. Place assembled sandwiches in an ovenproof dish and top with a "heaping portion" of the sauce. Broil "until the sauce takes on the glow of a suntan"
I also discovered that my recipe for
Derby Pie
last year was not the real thing, which has flour and sugar and a bit more texture: unfortunately, this year they were a tad undercooked, which led to a graininess in texture that I don't particularly like, but it's still a good pie…
Grandmother Vaughn's Can't-Call-It-Derby Pie
1 - 9 inch unbaked pie shell
2 eggs
1 cup sugar
1/2 cup flour
1 stick butter melted and cooled.
1 teaspoon vanilla
3/4 cup chocolate chips
3/4 cups pecans (or walnuts)  
Sprinkle chocolate chips and nuts into unbaked pie shell.  Combine eggs, sugar, flour, butter, and vanilla. Mix well and spread over chocolate chips and nuts.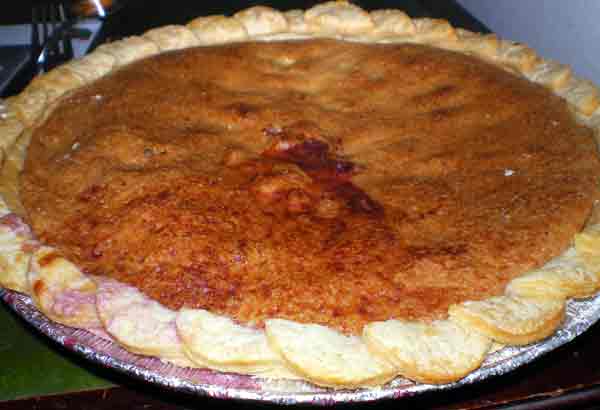 Bake at 350 F for 30-45 minutes.
Another of Ms. Gregg's recipes is called, simply,
"Kentucky Sauce"
a dessert sauce featuring Kentucky Bourbon.
1 cup brown sugar
1 cup white sugar
1 cup water
1 orange
1 lemon
1 cup bourbon
1 cup pecan pieces
1 cup strawberry preserves
Create a simple syrup by boiling sugars and water together until it reaches soft-ball stage at about 240 degrees. Remove from heat and stir in pecans and preserves, and allow to cool. Zest and supreme the fruits, chopping the segments loosely. Add remaining ingredients to syrup (I cooked this mixture a bit to remove some of the alcohol, but it's still not very kid-friendly) refrigerate and serve over vanilla ice cream.
The sauce was also very good over this very plain but delicious pound cake that rounded out the evening.
Buttermilk Pound Cake
3 cups flour
½ tsp soda
½ tsp baking powder
¾ tsp salt
1 cup butter
2 cups sugar
4 eggs
1 tsp vanilla
1 tsp lemon zest
1 cup buttermilk
Sift together dry ingredients, cream butter and sugar; add eggs one at a time, and flavorings. Alternating, add dry ingredients and buttermilk to the butter mixture. Bake in a tube or bundt pan at 350 for 1 hour and 10 minutes.
Again, thanks so much for everyone who attended and helped share a little bit of history with us!