Well, as I've now ordered pizza for the evening it seems safe to close my list for 2004. Here are the ten things that most impressed me this year (see fine print disclaimers):

I've kept the list to things I tried for the first time; of course, there are lots of things I continue to eat that I love dearly and think rank among the best things I am lucky enough to get to eat, so it's nothing against steak at Smith & Wollensky, mole at Taqueria La Oaxaquena, premium fatty toro at Katsu, Dinkel's chocolate bismarcks, the Fish & Chicken Plank platter at LJS, and many other gastronomic wonders that they didn't make the 10 best list. There's also the matter of whether one ought to go by single dishes or entire restaurants; there are places I like a lot, like Tank Noodle or Rudy's Taste, which never made a single thing which totally floored me but make very nice meals overall and would certainly be among my favorite, most recommended restaurants in toto. I bring all this up because someone else may choose to define 10 best some other way; for me it's 10 individual things that I can still taste months and months later, that wowed me enough at the time to be recallable now. Without further ado:

TEN BEST THINGS I TASTED IN 2004
10. Pie made by me with leaf lard and wild blueberries from Evanston Farmers' Market.
9. Fish Fragrant Eggplant at
Ed's Potsticker House.
And I don't even like eggplant!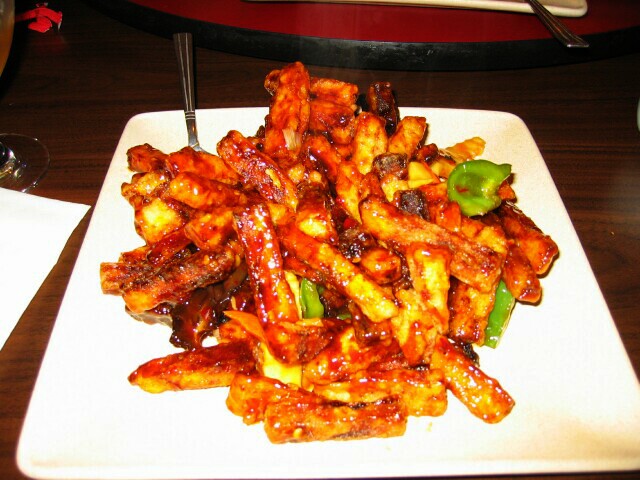 (Photo by GWiv)
8. Chocolate ginger ice cream from the Snooklefritz lady (now reportedly moved to SF), bought at Green City Market.
7. TIE: Vito & Nick's on Pulaski (but add garlic);
and
Candlelite
(photo by GWiv):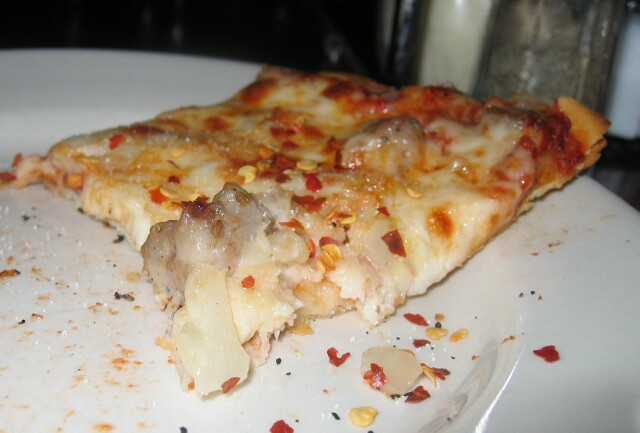 And heck, let's throw in
Bill's of Mundelein,
too. All proof that there's always another good pizza out there that you haven't tried yet.
6. Spareribs made by me under the tutelage of the Wiviott 5-Step program.
5. Caprese at
Follia:
4. A wonderful, buttery small-production merlot, name long since forgotten, which Ivar the World's Greatest Waiter recommended for me and his roommate Wyatt at dinner at Blackbird (which also offered lots of good food-- but like anybody needs me, at this late date, to rave about the pork belly at Blackbird).
3. Tarte flambee, with a side of pork goulash, kilometerwurst and bratkartoffeln, at the
Christkindlmarkt.
2. Kao Mok Kai Yang, and pretty much everything on this board, at
TAC Quick:
1. Yeah, I'm the one who started the raking of
Moto
over the coals, but I've also defended the defensible parts of my meal. And as over the top as some of it was, when it was good it was great, and the tenderloin atop braised oxtail was stunningly good, sublime.
SPECIAL AWARD: This wasn't a tasting but of course the most significant event was: The founding of and, more to the point, the rapid growth of and contributions by so many made to, LTHForum. Huzzah to all!
* * *
TOP FIVE DISAPPOINTMENTS OF THE YEAR
5. The city of Orlando, Fla. I spent a week with the kiddies in Florida, and actually the problem wasn't that the food in the parks was lousy (put some effort into finding the better choices and you can find very acceptable things) but that the food in the fancy restaurants (even the one in town with no park/hotel affiliation at all) wasn't that much better-- indeed, seemed to share a giant-foodservice-provider kind of competency rather than a personal restaurant/chef level of inspiration and creativity. If you need a reason to be glad we have chefs like Cantu willing to risk scorn, an expensive-but-safe restaurant scene like Orlando's is why.
4.
The Hackney's burger.
3. The Redamak's burger.
2.
Kettle corn.
1. Sushi paper gimmick at
Moto.
Next time they should just serve an edible warning label....