After today's stellar lunch here I am kicking myself for not strolling the two blocks and some change down my street more often for their incredible homestyle grub. How could you not love the warm and welcoming vibe of this old school lunch counter:
Without consulting this thread I coincidentally mirrored the order of the OP. Goat stew with beans and yellow rice with pigeon peas: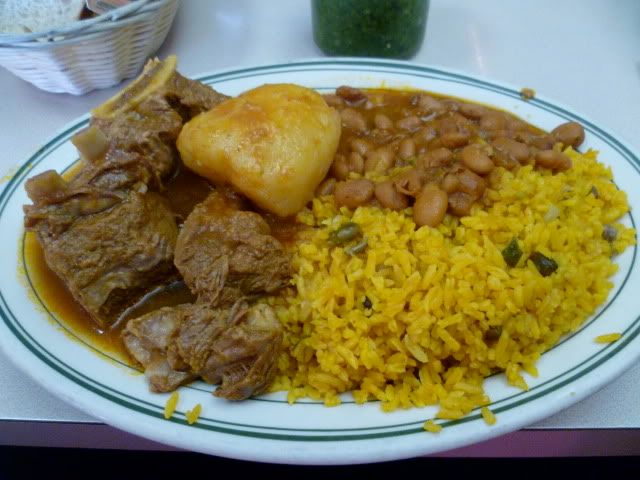 I've had a few rounds of the goat lately and this plate offered the most succulent and fork-tender of recent. Light tomato sauce was goat-flavor- charged, imparting rich gaminess to that hunk of potato (which I might normally ignore). Rice was fluffy and packed with savory flavor. There are subtle and surprising moments to this food that reveal a serious complexity in their recipes (which I can only imagine are time tested), despite their seeming simplicity- an unpitted Spanish olive or two in the sauce, a hunk of rustic sausage in the rice, flecks of salty pork in the beans.
The house made hot sauce is simply pulverized fresh green chilli which provides a bright, hot, and fresh counterpoint to the rich depth of the food.
That's my buddy's order of chicken stew behind the sauce, which although I didn't get a chance to try, he tellingly cleaned the bones real good.
We ordered a side of mofongo. I like mofongo in concept but its starchy density is something I can only eat in moderation (not a softball sized lump). Especially paired with a plate teeming with potato, bean, and rice. To its credit, it had an upfront garlic bite and occasional hints of crispy pork skin. The hot sauce perked it up pretty well.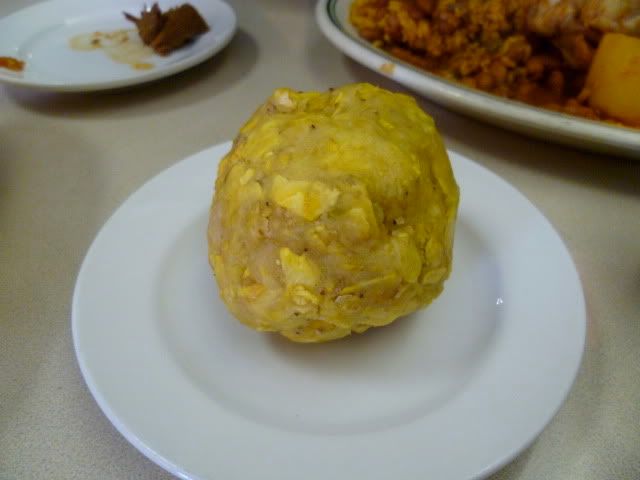 We nearly cleaned our plates, leaving stuffed, wallets shy of about ten bucks each.
Cafe Central is firmly in my lunch- in- the- 'hood rotation. This place is classic.