Well, thanks to all who came along for helping keep me from being bored Saturday-- as always it was great fun conducting this kind of moveable feast across unknown parts of the city. The funny part is, after all that planning about the southwest suburbs, we never actually got out of the city, so there's a whole unused itinerary for another Thon based out there that we'll have to make use of one of these days.
I'm going to post quick notes about each stop here, and poach a few of GWiv's pics but please, I hope folks will continue to follow that with more of the things they found most interesting or amusing along the way:
1-3. Carnitas-A-Sub-Thon
We met up at Don Pedro, where we saw the truly astounding copper pots and the guy stirring whole racks of ribs Flintstones-style with a canoe paddle. Brain taquitos (which Rich4 bought a perhaps overenthusiastic number of) smelled really good, but as it would turn out this carnitas, though perfectly decent, was nobody's #1 that I heard. The contest was between Sabas Vega, which has the great display of carnitas and scored fat on stakes in the window (which I first saw at the Polo's lunch a couple of years ago), and Carnitas Uruapan, home of that wonderful artwork (it's like walking into a tiny chapel in a small Italian town and discovering an unknown altarpiece by Raphael or Tintoretto). Sabas Vega was a little greasier, Uruapan probably slightly the best overall and it had the added benefit of a cactus side dish or topping-- fried nopales strips with crumbled cheese-- that was really good, sort of like a Greek salad. That was probably the best discovery of the day, well worth seeking out: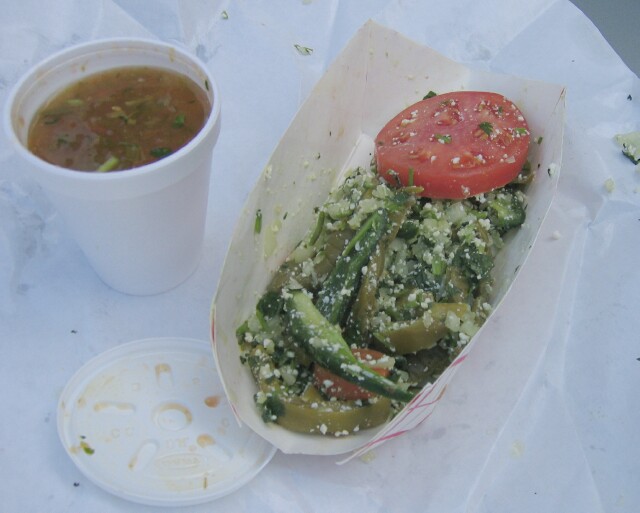 There was also goat at all three stops, I'll let someone else do the goat report.
Carnitas Don Pedro
1113 W 18th St
Sabas Vega Meat Market
1808 S Ashland Ave
Carnitas Uruapan Restaurant
1725 W 18th
No American Girl dolls were harmed in the making of this carnitas.
4a. Bridegport Bakery/4b. Apacheé Grill
As noted, Cathy2, ReneG and I popped over to
Bridgeport Bakery
while everyone else reconnoitered, somewhat confusedly, at a little American Indian-themed Mexo-Italo-coffee place that looks like it'd be fun to take the kids back to, just for its wild west decor. Pizza looked quite decent, as did the big jar of homemade pickled stuff. Here's the best artwork in the place: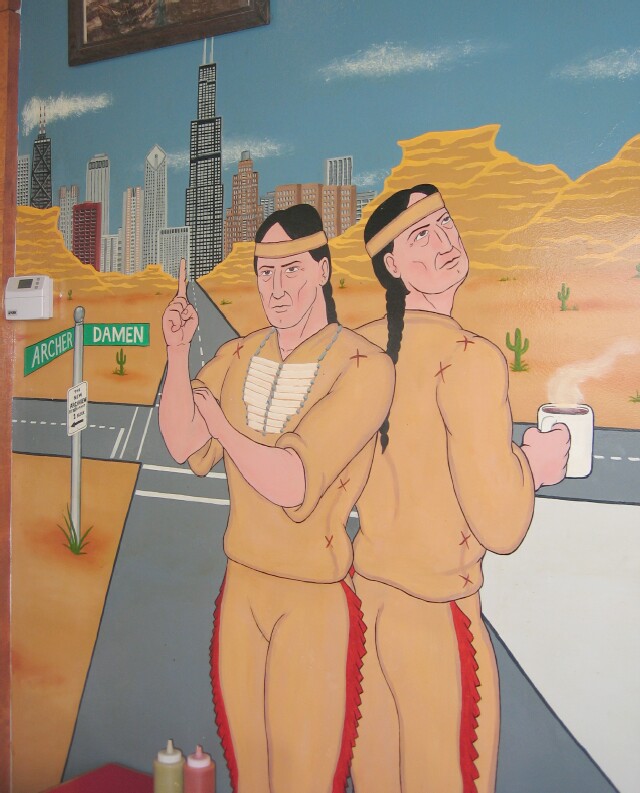 That's pretty much us, right there, trying to find the place after ReneG, of all people, got confused about his South Side directions.
Apachee Grill & Coffee Pizzeria
(773) 376-4015
3429 S Archer Ave
5-8: Sausage-A-Sub-Thon With a Big Baby Chaser
Three sausage shops followed, though with a break in between. The first was the giant Bobak's at Archer and Cicero, a sausage wonderland (the cheap packages of smoked pig tails for flavoring soup were probably my favorite discover, along with an Amish butter made for the Polish market in Indiana). Though the most common purchase of the day turned out to be Old Krupnik, a Polish Barenjäger wannabe for $9.99 a bottle. Cheap honey liqueur? We'll see if that was a bad idea.
We stopped into Nicky's for a
Big Baby
(a very respectable cheeseburger, thankfully mayo or 1000 free) and to read the poem on the wall as you walk in, then went on to Winston's, last of the Irish sausage markets. Just proves that there really isn't that much to Irish cuisine when it can barely even make a shop this tiny look well stocked, but along with things like Cooked Mashed Peas and Weetabix, people picked up sausages and Irish bacon and soda bread (which I'm enjoying a lot).
Finally we headed down Pulaski to Rosario's, home of one of the best neon signs in town. Do we detect the hand of the Master of Uruapan, working in a new medium? The theme is certainly the same, although his work has taken on a new joyous, transcendent quality missing in the earlier work as the pigs eagerly scamper to their sausagey reward: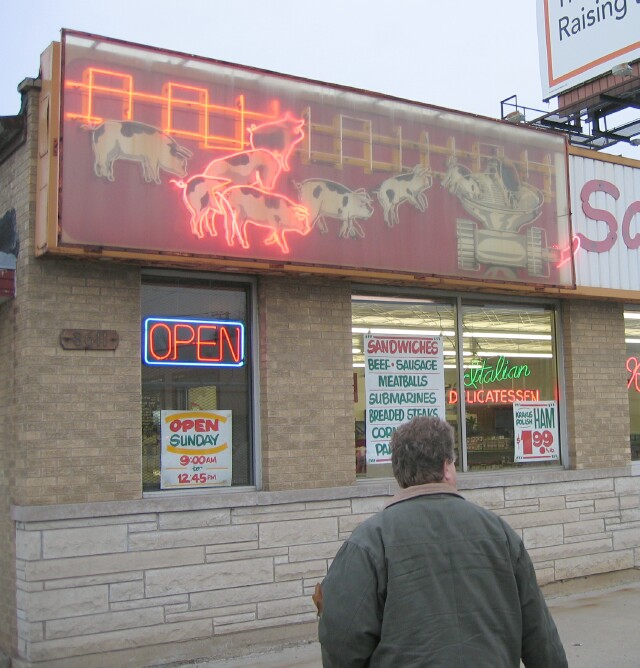 Bobak's Sausage Company
5275 S. Archer
Nicky's - The Real McCoy
5801 S Kedzie Av
773 436-6458
Winston's
4701 W. 63rd St
(773) 767-4353
Rosario's Italian Sausage
8611 S Pulaski Rd
(773) 585-0660
9. City Market; 10. Zacatacos; 11. Vito & Nick's 12. Skylark
We also poked into a cramped middle eastern market just south of Rosario's and picked up some zatar and a homemade byrek-type pastry I actually haven't eaten yet. Then we decided that, a couple of hours behind schedule and still in the city, it was crazy to drive 45 minutes for pizza when Vito & Nick's was literally two blocks behind us. But on the other hand, it was still kind of early for pizza. So we drove back to a taco place we had seen pumping lots of carne asada smoke into the air first.
One unfortunate note is that Zacatacos kind of got hostile when Gary tried to take a picture-- maybe just because they were super busy on a Saturday night (I'd bet people have been killed over parking spaces at this place, it was a mob scene). Hopefully Gary will post the sketch I drew of his encounter... However, I thought the carne asada was pretty decent (Rene says the other outlet, a little further north, is better; it might also be better sometime other than Saturday night) and I liked the pastor, complete with pineapple on the cone, a lot.
Finally, beer and pizza and slow service at a packed Vito & Nick's. Best pizza in Chicago? I don't think anyone was left in the frame of mind to make such judgements. Then, off to Skylark for Guinness and Tater Tots, to mark the 12th hour and more of a great and filling day with good companions.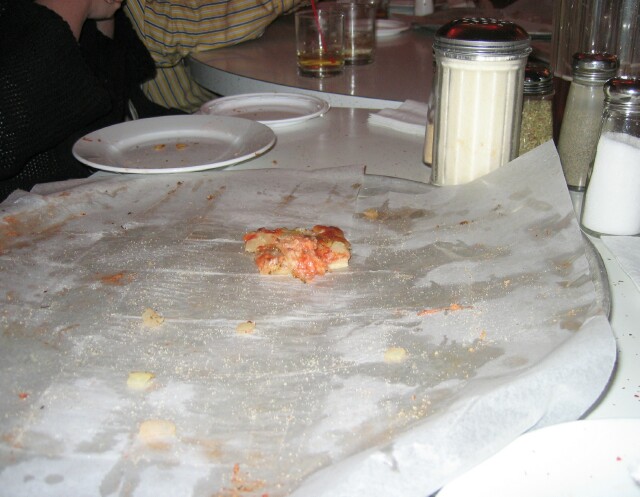 City Market
Pulaski and Columbus
Zacatacos
71st & Pulaski
also 59th & Pulaski
Vito & Nick's Pizzeria
8433 South Pulaski Road
1-773-735-2050
Skylark
2149 S. Halsted St.
312-948-5275
Last edited by
Mike G
on April 25th, 2006, 10:30 am, edited 1 time in total.