gleam wrote:Wait, was that directed at David's piece in the Chicago Reader? Or something else?

It doesn't sound like it's describing Hammond's article at all, so I'm confused.
Ed,
I'm a little confused by this as well, Hammond's
Reader article
on tacos al pastor was interesting, touching on history and the ephemeral nature of a well made al pastor.
Hammond wrote"
Perhaps I got lucky; your experience may vary, because it's clear that the apotheosis of this hearty taco can be elusive, requiring a harmonic convergence of elements and actors: you have to be at the right place at the right time, when the right countermen are working. Of course, any taco al pastor would be even better on house-made tortillas, but that's a vision of perfection I've yet to find here.
Far as laikom's mention of not listing Carniceria Leon, which is now called Carniceria Y Taqueria Tierra Caliente by the way, I would have included it as it's my preferred spot for al pastor, but Taqueria Atotonilco, which he closed with, is in my top few favorites as well.
Speaking of Leon/Caliente, Jazzfood had been a couple of times and was not-so-keen on the place as he went at
non-peak pastor
times. I took it upon myself to take him at 11am for a juicy crisp al pastor right off the wheel. While the al pastor was not quite as perfect as in the following picture, it was near the end of the wheel so farther from the flame and not quite as crisp,* it was still damn good.
11am Saturday Carniceria Leon (7.21.07)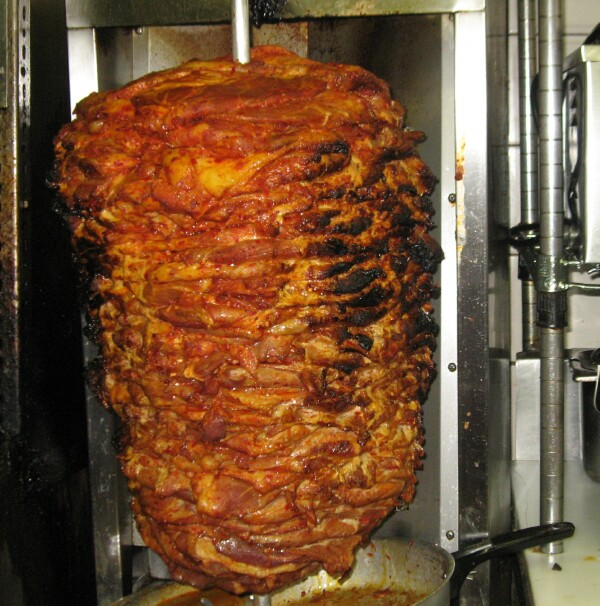 Enjoy,
Gary
*
Giving me yet another data point in my quest for perfect al pastor