Fried Eggs on Everything: Basta!
Rob Leavitt, Mado's main man, said over a year ago that "Anything I put a fried egg on, I know will sell out."
That popular approval of this simple addition has not abated. People love the fried egg on hamburger, hot dog, and loads of higher end platters.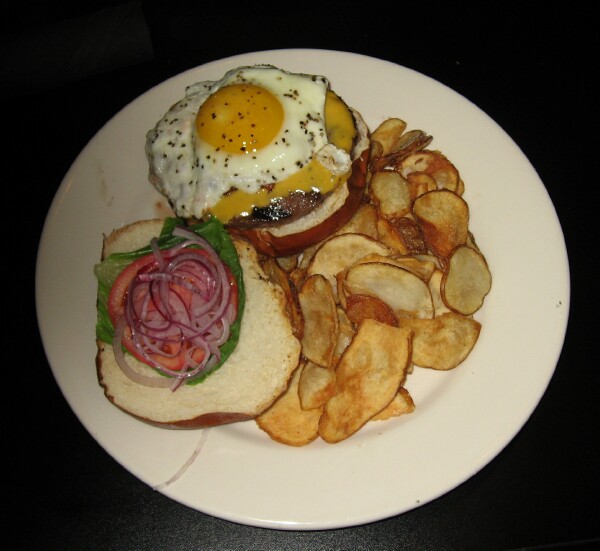 [Photo by GWiv]
[Photo by Hammond]
Me, I'm ready to see a fried egg only once a day: on my breakfast plate.
Used to be, just about the only place you'd get a fried egg on anything other than breakfast toast was at Klas, on the wiener schnitzel a la Holstein. That was no docile surrender to popular taste but rather a time-honored menu item that had been around probably since Al Capone played cards with the owner in the backroom upstairs. Klas isn't the kind of place to go changing their menu, willy-nilly, every 50 or so years.
At Longman & Eagle last week, two of the five or so plates of food that MikeG and I ordered came with a fried egg on top. I mentioned this high percentage of egg toppers to Jill Gubesch, Bayless' wine director as well as a neighbor (and big fan) of L&E, and she said she thought they put eggs on top of many dishes so you could see your food in the dark. That's actually a pretty good rationale, but for me, the egg is becoming a chef's cheat, like adding another stick of butter to the sauce, an easy way to amp up the visuals, the moisture and even the flavor of dishes that need help.
Now, I'm not one of those anti-egg people – I like eggs, take Zocor, and eat many, at home…but please, chefs of Chicago, can we ease up with the fried egg on everything?
"Don't you ever underestimate the power of a female." Bootsy Collins