LTH,
Stopped around Midnight Saturday for a Polish comparison, Jim's Original vs. Maxwell Street Express. Same order at both, Pork Chop sandwich and a Polish with everything and a Coke, which in both cases meant Pepsi. Both were same price, $5.80, both had customers, though Maxwell Street Express was the busier by far.
Jim's Original
: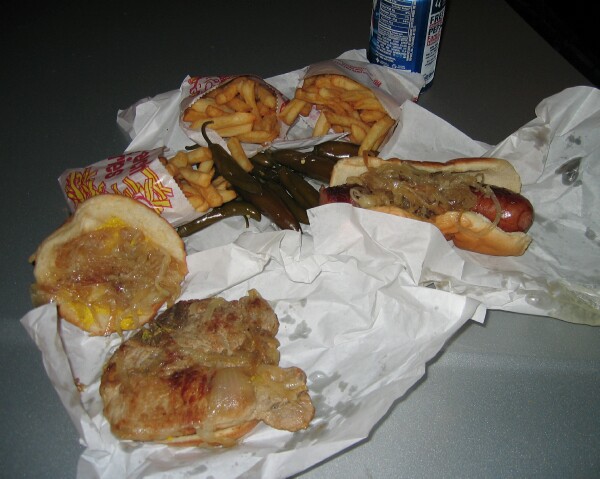 Polish, ~shrug~. No snap, somewhat greasy, no real resistance to the interior, just verging on mealy with a ever so subtle hint of chemical smoke. Jim's onion's were cooked to a slightly sweet caramelized stage, which I thought lent a nice flavor to the Polish. ReneG, in a previous post in this thread, found the more caramelized onions at Jim's, as opposed to Maxwell St Express, not to his taste.
Pork Chop Sandwich, quite good, meaty with a full pork flavor, slight char, onions were same style as on Polish, lent a nice counterpoint.
Fries, slightly crisp, greaseless, and three nice sized pack included with our two sandwich order.
Sport Peppers, large amount in a separate bag, slightly larger size than normal, were very good.
Maxwell Street Express
: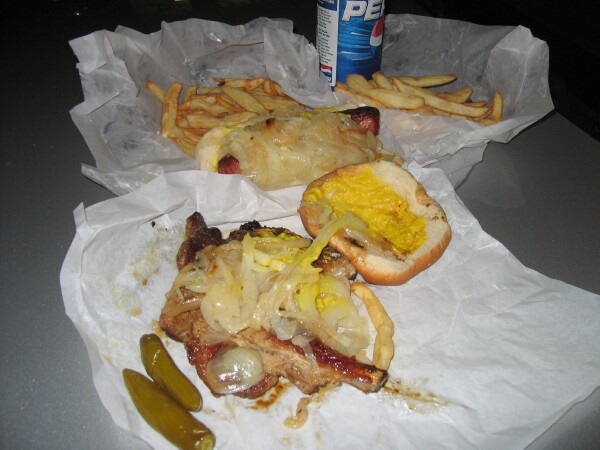 Polish was very good, crisp outside, snap when bit into, nice flavor, good interior texture and not a hint of chemical smoke. Onions were just slightly browned and had a noticeable, but not over the top, onion flavor. Different style than Jim's, but quite good as well.
Pork Chop Sandwich, large meaty chop, but mostly devoid of flavor. Looked like a pork chop, but had little or no pork flavor, also suffered from a slightly mealy texture to the meat.
Fries, greasy, limp, not worth eating.
Sport Peppers, just a few along with the sandwiches, slightly on the large side as well, good sport pepper flavor.
Conclusion
:
Maxwell Street Express, at least Midnight on a late summer Saturday, gets the nod for Polish Sausage, Jim's for Pork Chop Sandwich and fries.
The street scene, with double parked cars, dvd vendors, the disenfranchised asking for dollars and change, moms, pops, families, boppers, coppers all milling about with the average Joe and schmoe get my vote as one of the more interesting, vibrant slices of urban life in Chicago. I should add that, even with the great diversity, and verging on late hour, not a cross word was to be heard or a second glance given.
Enjoy,
Gary