LTH,
Beef-A-Thon IV was the perfect excuse to spend the day with LTHers, not that I need an excuse, and, coincidentally, the perfect day to have five poor excuses for Italian Beef
and one quite good.
Thanks to George R and Dickson the logistics went smooth as silk, maps and score sheets were provided, sharp cutting knives brought along, everything well planed and orderly. Only thing George and Dickson could not plan for was the actual beef sandwiches themselves, which, as has been said, with one exception, were not very good at all.
Our first stop was Damenzo's where, while the beef was in the I'll eat if hungry range, set a somewhat negative tone for day.
Damenzo's Italian Beef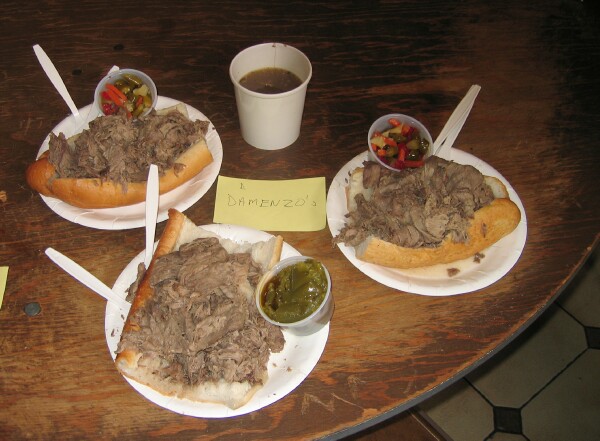 Damenzo's Fries were quite good,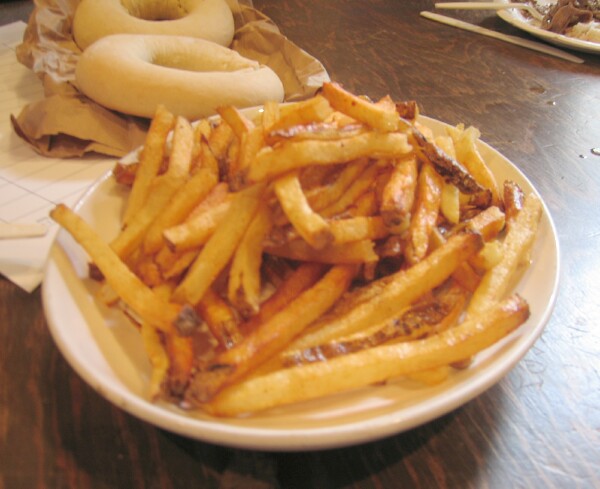 but easily eclipsed by the Taralli from Masi Bakery Amata kindly brought.
Masi Taralli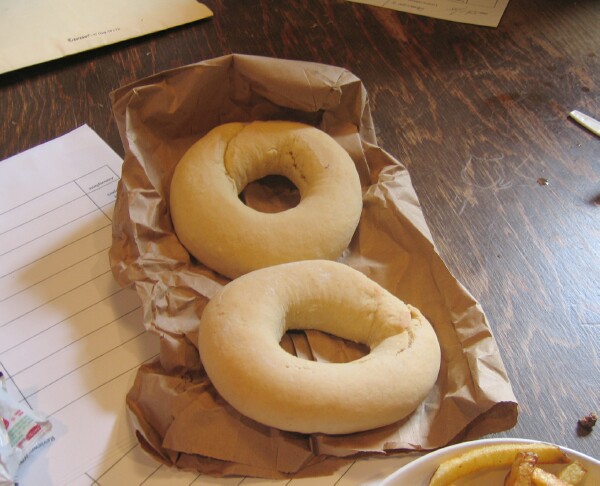 Coincidentally, Frank Masi was crossing the street just as we arrived at Damenzo's.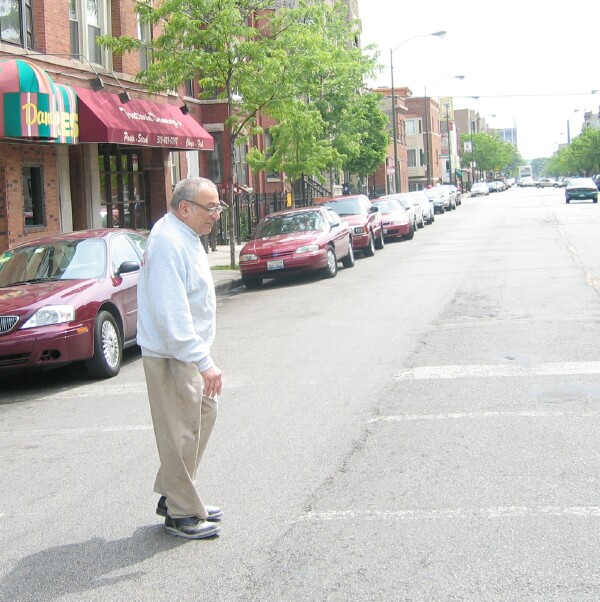 Lu-Lu's Italian Beef
was in the same category as Damenzo's, serviceable.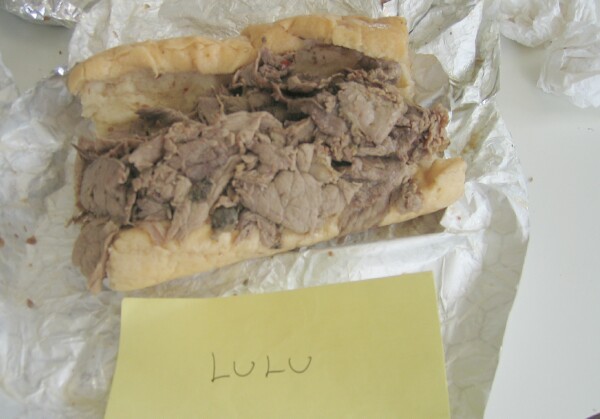 Fries, the middle rung of the preformed category.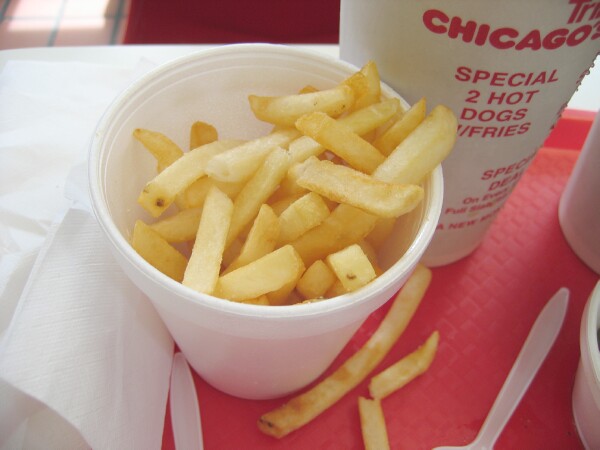 Giardiniera was ok, sweet peppers, not good, beef gravy, bad, as in salty over the top Knor's straight from the jar bad.
Lu-Lu's has two redeeming characteristics, it's across the street from Ferrarra and a very cool wall mural.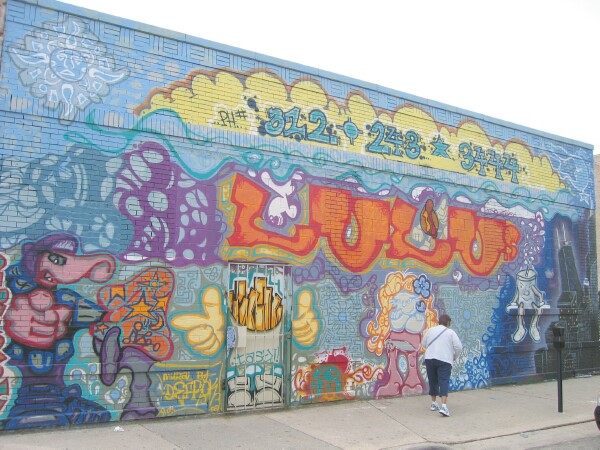 Hammond called an audible on the walk back to our cars and we stopped in
Ferrara Bakery
for a coffee. Ok, not just a coffee, but a cookie or two for Lucantonio.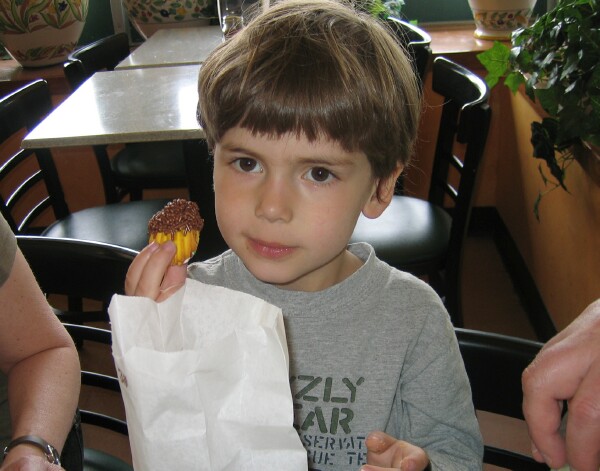 and, my favorite, Sfogliatella.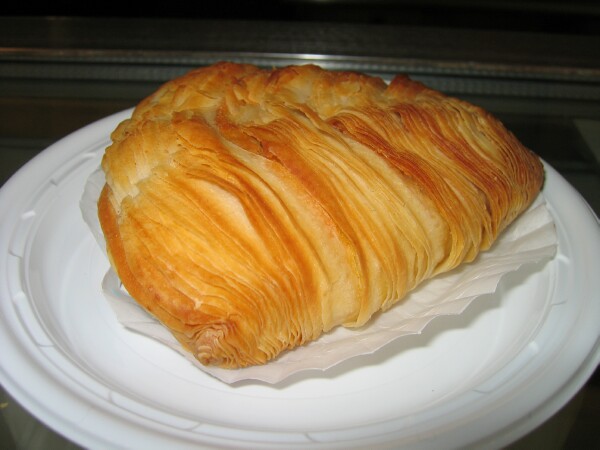 Donald's
proclaims itself Best Beef In Chicago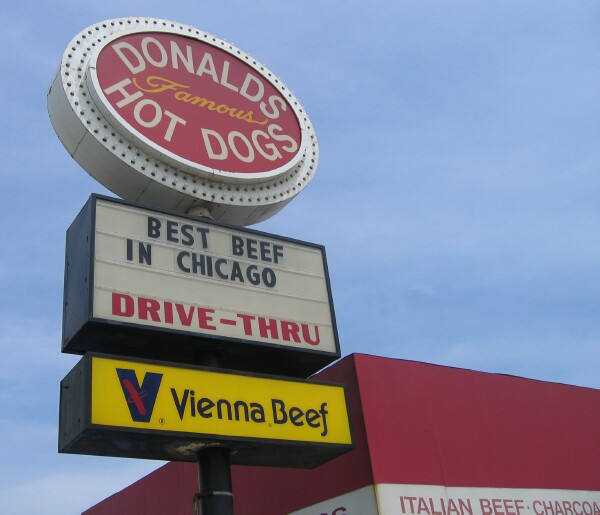 I disagree.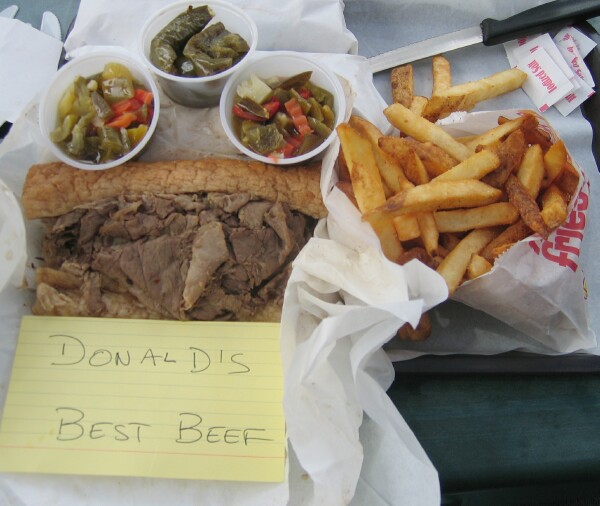 Though Donald's does have the coolest Gyro Cutter I've ever seen.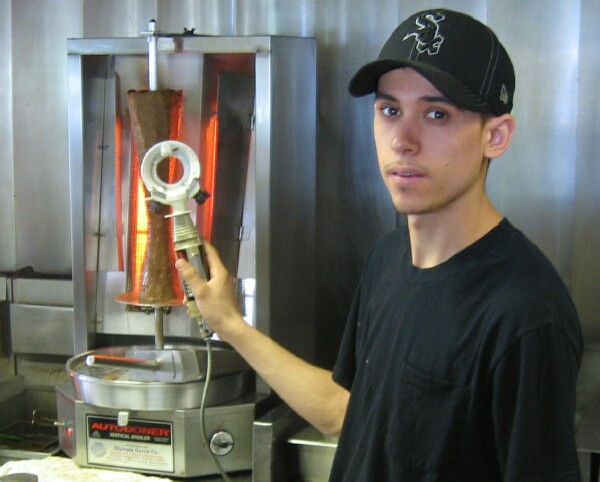 EatChicago poping a Pepcid AC, with Roy looking on, pretty much sums up the day to this point.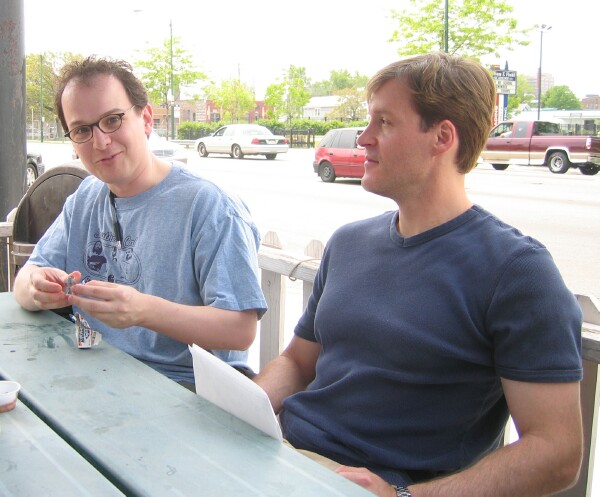 Ricobene's
is a large space with Mangiano's on a budget decor, but I can see the overall package appealing to the quick lunch crowd or people trying to appease large groups or small children. When I say appealing, I mean appealing in the same way Olive Garden does a land office business every day of the year.
Ricobene's Beef was not good, though I did very much like their version of giardiniera, which seemed to be simply jalapeno's steamed and sliced.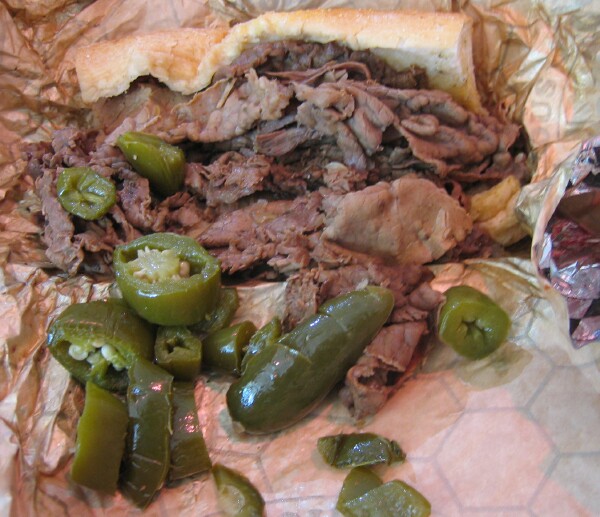 The breaded steak sandwich was, as Erik M mentioned, not good. The tomato sauce sweet, steak tough....feh.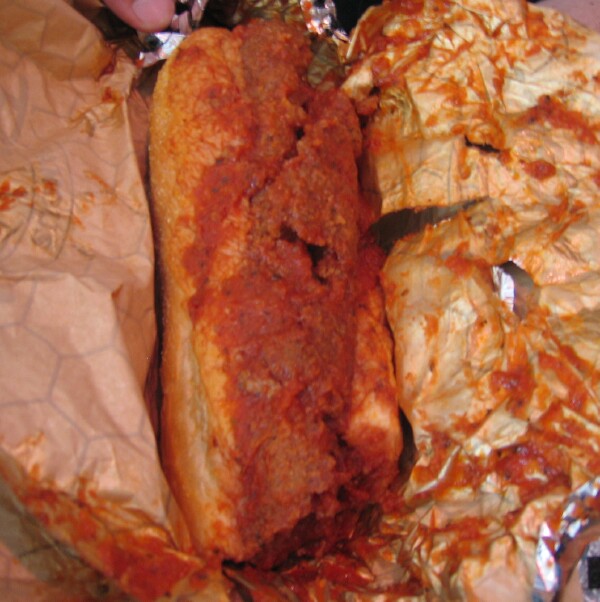 Riobene's one plus, aside from spacious, clean rest rooms, was it's cool parking lot under the expressway.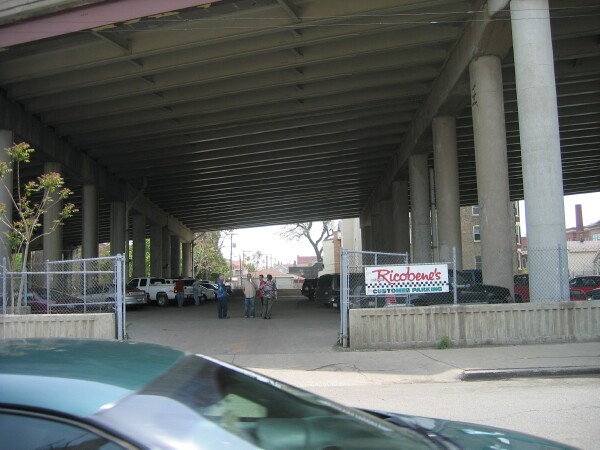 Freddie's
Italian beef was huge, though we did order the large. Beef was ok, on the bland side.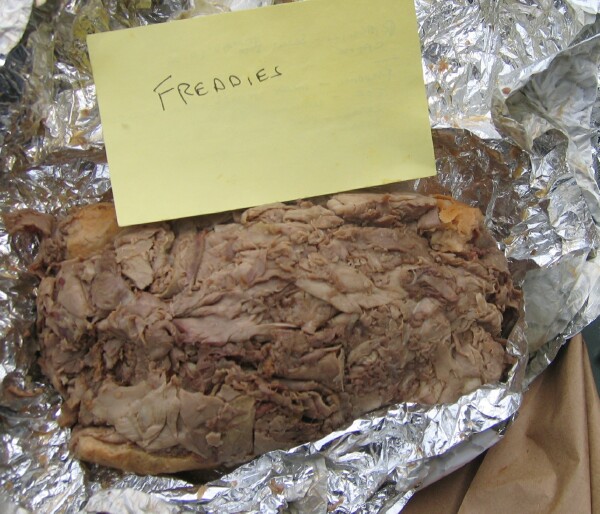 Breaded steak sandwich a major improvement over Ricobene's, but still nothing I ever want to have again.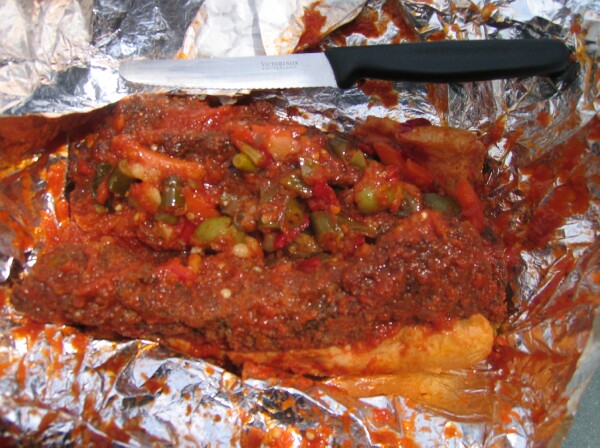 Gravy and giardiniera were good.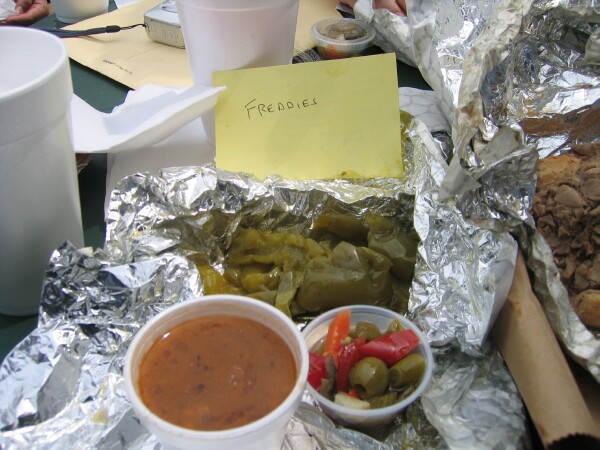 Freddie's fries, ~shrug~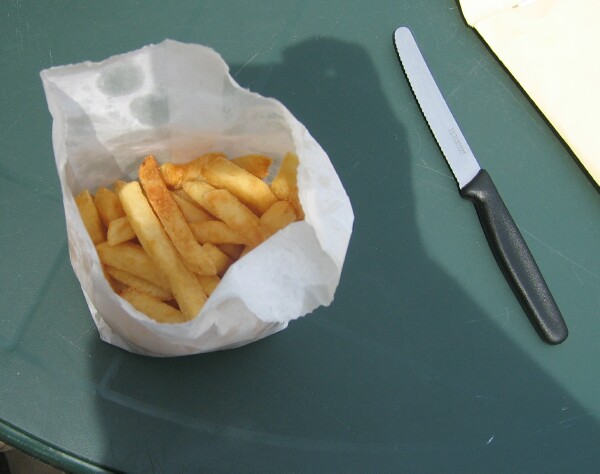 Italian Ice did it's job perfectly, refreshed our beaten down palates and provided a nice pick-me-up.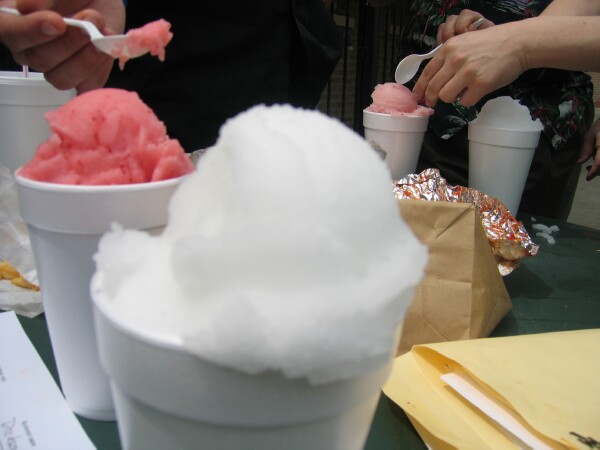 Uncle Johnny's
was a breath of fresh air in our day long search. Not only was Johnny personable, but he actually gave a damn about what he was doing.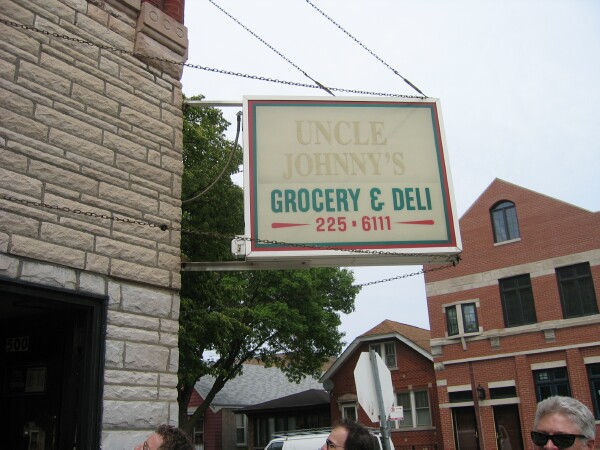 Uncle Johnny's
Best Italian Beef of the Day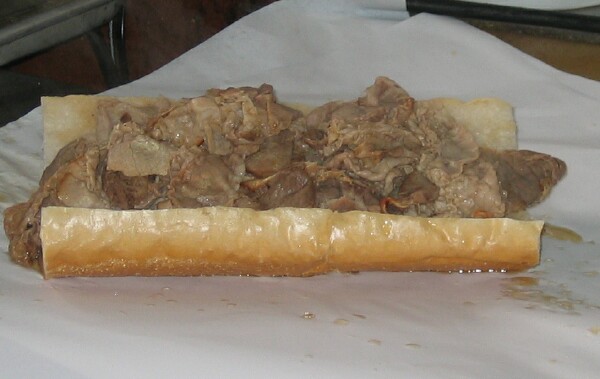 Giardiniera was very good.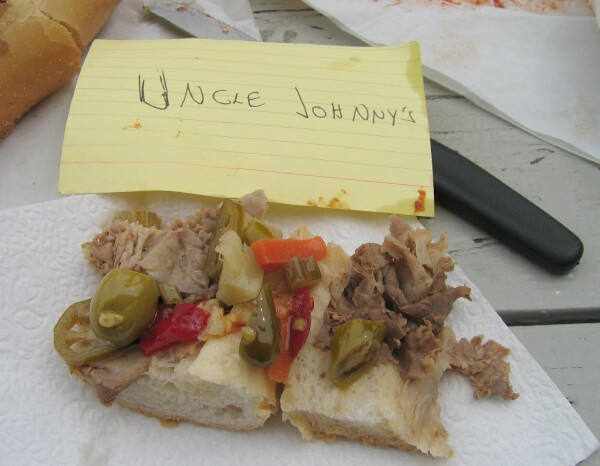 Breaded steak sandwich was worlds better than the first two, but I am simply not a fan of this type of sandwich.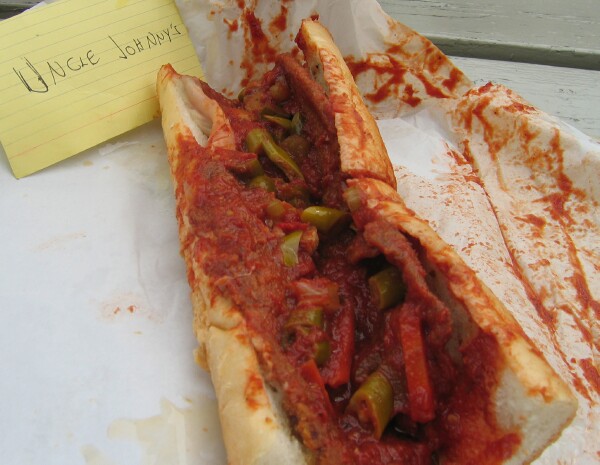 Uncle Johnny's is a cool-as-hell old-fashion, step out of time corner grocery. Everything from canned goods, to penny candy to a few of John, the owners, Elvis photos.
Looking forward to Beef-A-Thon V.
Additional pictures may be found
Here
.
Enjoy,
Gary