dabeef starts & participates on the best threads on LTH hands down(a tip of my white sox hat to my fellow High Life drinkin' homie), glad to contribute and post on this one. Cajun/Creole food is one of my passions. Nothing better than cooking old school all day long.
My lunch today was smoke crawfish boudin, served with saltine crackers & hot sauce. I also dos some pork belly cracklings. I scored the net for recipes, and technique, and kind of did a mix of a few. I used pork belly as I wanted some meat on mmy cracklins.
I started with bone in pork belly, quickly removed the bone. Belly had some belly skin, a fat layer, and a meat layer. I trimmed these into cubes. I brought a stock pot filled with some water to boli, and then tossed in the belly chunks. The idea was to use the water to melt the fat, the water evaporates and you are left with the melted fat to crisp the cubes in time. Worked like a charm.
End result was one of the best things I have ever made, and one of the top 5 things I have eaten this year. Crunchy, tender, popping with flavor. Once out of the hot oil I tossed some of my famous bbq rub on them, and it worked really well. A little Texas Pete on there as well and you have a taste of heaven.
Boudin was good, but didnt hit the high of the craklings. Casing cut open, and spread on a saltine cracker, and a shot of hot sauce. A few cold beers, a Viking s winner and I had a good time before my nap.
cubed belly: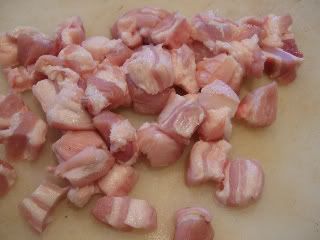 how its done:
Last edited by
jimswside
on October 1st, 2010, 11:44 am, edited 3 times in total.