LTH,
I have revised/refined my smoked turkey method which builds on Lesson 1 in
Low and Slow: Master the Art of Barbecue in 5 Easy Lessons
. Lesson 1 is available for download
-->here
Low & Slow Turkey (revised)
Advanced preparation
- Turkey, not 'enhanced' 12-15 pounds
- Leg/Thigh disjointed (Grasp the turkey leg in one hand, the thigh in another and bend/snap the joint out of the socket. Do not remove leg/thigh from the turkey.)
- Remove backbone. This, in combination with moving the thigh/leg portion higher onto the breast, which serves to slightly insulate the breast from the heat, allows the turkey thigh and breast to finish at approximately the same time.
- Brine for 24-hours, substitute buttermilk for half the water if you wish.
- Thoroughly dry bird.
- Fire building/wood/waterpan procedure same as in Lesson 1
- Lightly oil turkey, dust with rub of choice
- Place open cavity of turkey, where backbone was removed, on grate so bird is in the 'up' position.
- Tuck leg/thigh over the breast.
- Turkey will take approx 3-4 hours, target 165 in the thigh. Juices should run clear
- Let rest 15 minutes before carving.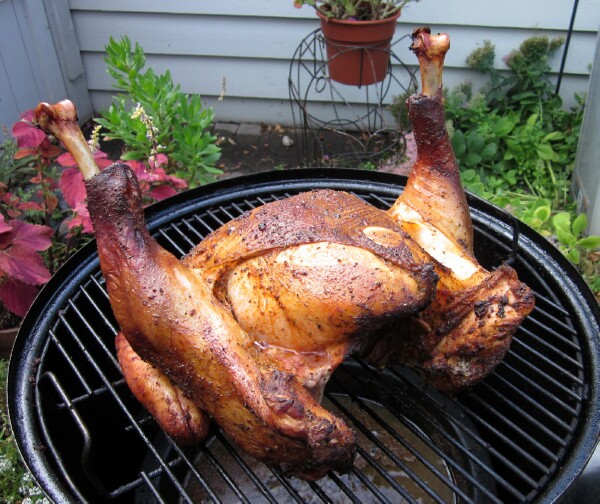 Enjoy,
Gary
- Note: Turkey backbone is completely removed and there is an open cavity underneath facing the cooking grate.