Entering Lao You Ju's startlingly ornate space with its cacophony of lights, mirrors, flat screen tvs and posters peppered with Tony Hu's image Calvin Trillin's inverse ambiance theory of Chinese restaurants sprang to mind. After dining thoughts of ornate, overreaching and quickly shuddered
Mulan
came to mind.
Admittedly a little harsh, three of us were there last Sunday just weeks after opening, but I am a substance over style kind of fellow and Lao You Ju favors style above all.
Bar area modern, swank, stylishly high-tech,incommodious .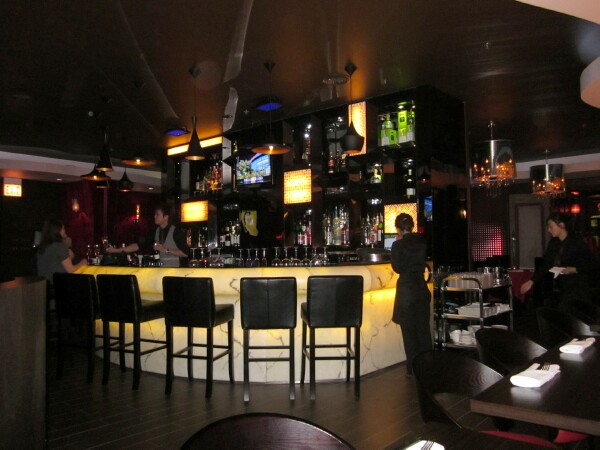 Oversize red velvet chairs, sparkling chandelier, impossibly ornate jade sculptures, install Kevlar panels and Lao You Ju's private room is perfect for the yakuza's next board meeting.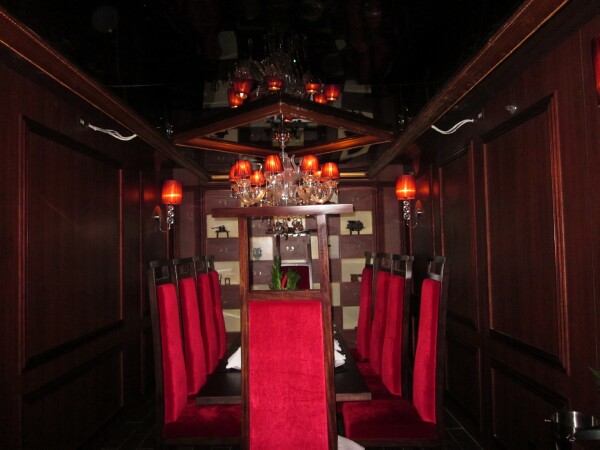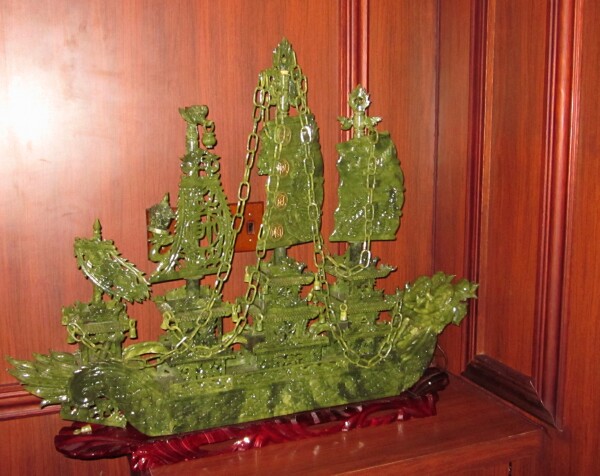 Tried most of the dishes mentioned up thread, nothing popped, with the exception of crunchy gratis peanuts which we used to amp up more than one dish. Even tableside chili oil seemed more white bread than bao.
Radish Cilantro served in two martini glasses. Limp lifeless chili tinted daikon, pretty presentation, little flavor.
Radish Cilantro
Dragon Beard seemed right up my alley, terrifically textured strings of dried beef that oozed chili oil when squeezed between chopsticks, looked delicious, but no gusto, punch, pop. seemed to have a flavorectomy.
Dragon Beard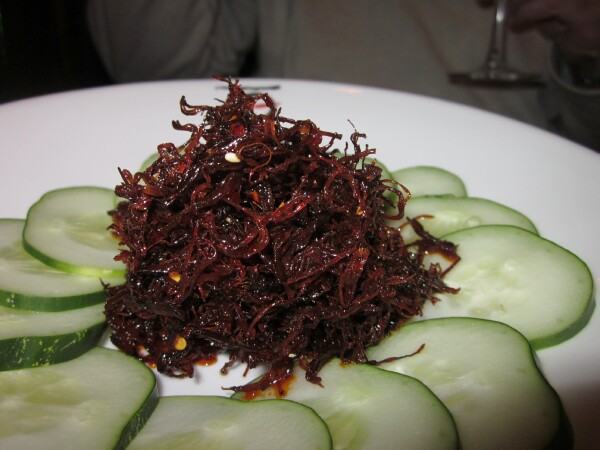 Tofu Duck Eggs particularly uninspired, neutral in the extreme monotonous mouth-feel, took the subtle yet vibrant Cantonese framework of balanced mild spice with quality ingredients and rendered it dull.
Tofu Duck Eggs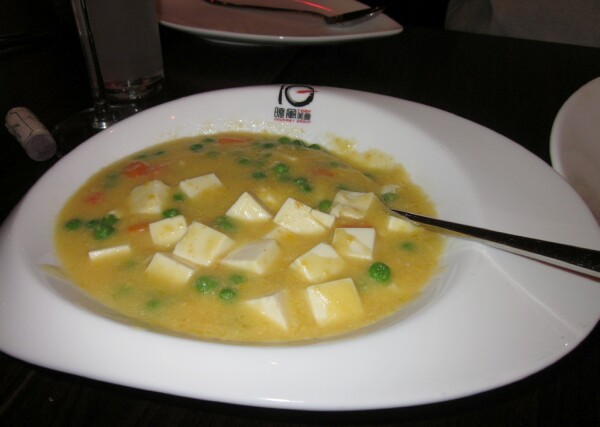 While no one mentioned World No. 1 Ribs in the thread they have been
pitched heavily
elsewhere, cool as hell presentation, hard not to smile at a straw sticking out of a marrow bone, but devoid of flavor with no marrow to be found no matter how hard we sucked or how many encouraging "happens to everyone once in a while" we offered. Lifeless scraps of pork rimming the bone, sauce tasting more of kitchen bouquet than abalone.
'World No. 1 Ribs'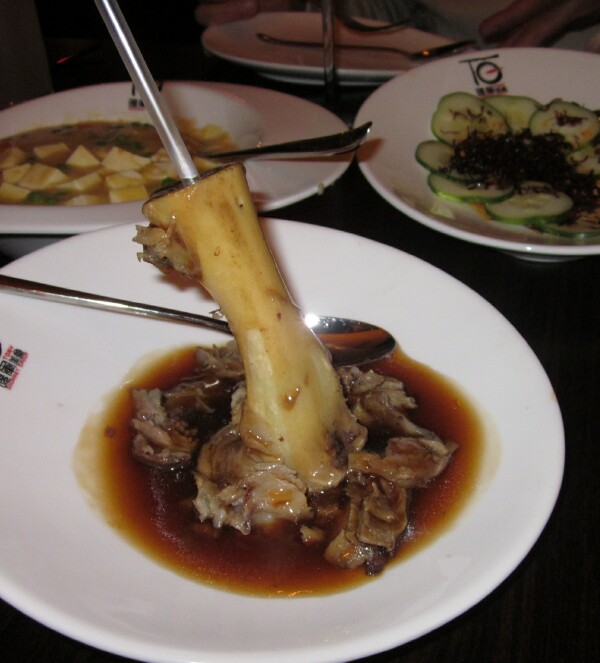 Couple of highlights, though only in comparison to the milk-toast meal overall. Lamb Sizzling Plate, a toned down version of La Szechuan's lamb with cumin.
Lamb Sizzling Plate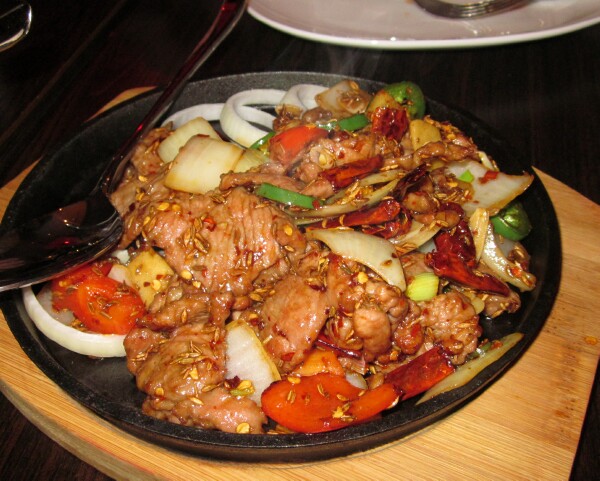 House Chili Chicken, lite version of Tony's Three Chili Chicken served, oddly, with food service french fries mixed in with the chilies and chicken.
House Chili Chicken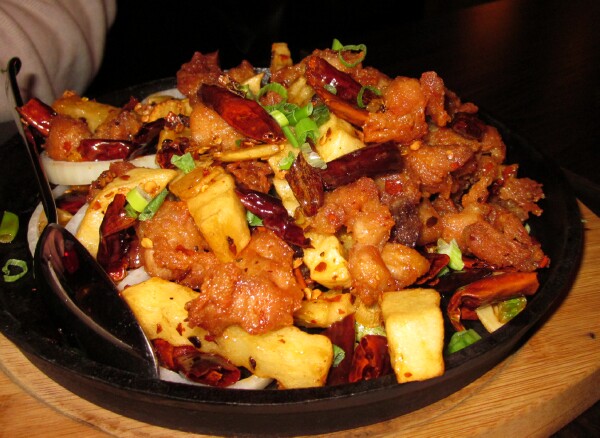 Tony's Prawns, my favorite bite of the night, a mostly faithful rendition of Lao Szechuan's Dry Chili Prawns mixed, once again, with food service crinkle cut fries, presented in an odd awkward bamboo basket. It's entirely possible I am missing the point of the fries, maybe its some hip Shanghai cafe trend Tony picked up on his last trip to China, but to me it seems odd and out of place.
Tony's Prawns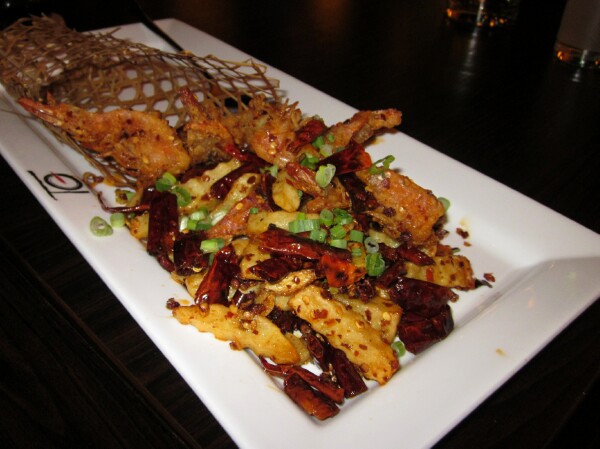 Our sweet, pretty, perfect English professional server Clair, who should be a spokesperson for the Chinese tourism association, kindly bought us dessert. Unfortunately it consisted of still frozen mini cannolis straight from the sysco box, though given a euphemistic name and plated in an attractive fashion. These three dissolute cannoli seemed, oddly, the perfect end cap to our meal.
Triple Flavor Cake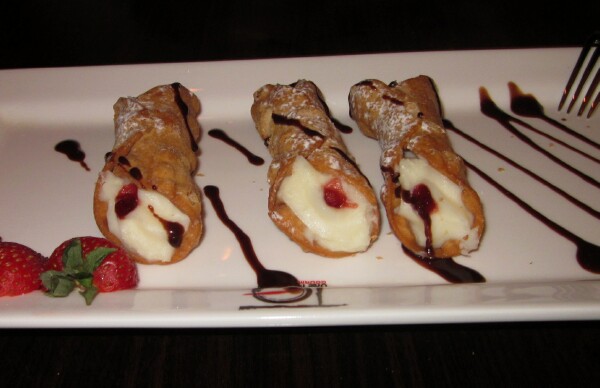 Service attentive, informed, friendly if a little hover prone, though there were only a few people in the restaurant and we were power ordering and asking questions which may be why they focused on us. As an aside, when ordering multiple small plates and entrees piling them up all at once on a smallish table is awkward and not conducive to a relaxing meal.
Tony Hu is capable of astounding full flavor, Lao Szechuan offers some of my favorite dishes in Chicago, having more confidence in Lao You Ju's clientele would go a long way to bringing bread in line with circus.
Enjoy,
Gary