LTH,
Posting about
Fontana
reminded me that I have been meaning to write about a very nice lunch I had with Harry V, and a few other LTHers, at Meisa, a Bosnian restaurant, which Harry V suggested, on West Irving Park. Difficult to spot in a line of storefronts Meisa is, while still modest, a full scale restaurant, complete with a friendly, interactive owner and efficient service.
There were 5 for lunch and we ordered 5 dishes to share. Cevapcici was a nice sized portion of well flavored sausage on a round Bosnian style pita. Served with sour cream, tomato, onion and either spicy, which was not all that spicy, or mild ajvar. Pljeskavica, or Bosnian style hamburger, is the same sausage meat, served on the same bread in patty form. Both were quite good, but I'm a sucker for cevapcici.
Meisa Cevapcici.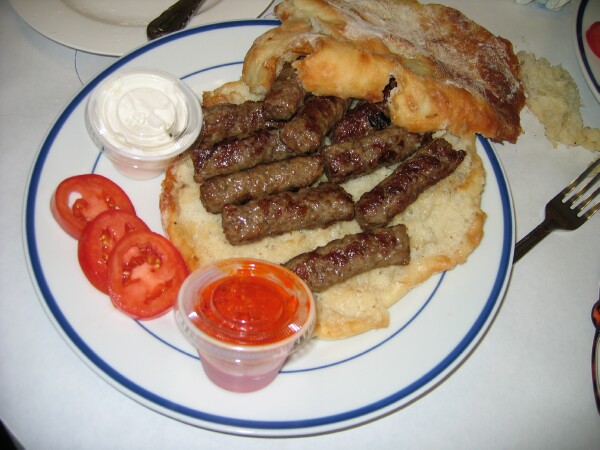 Spinach burek was nicely baked, flaky and quite good.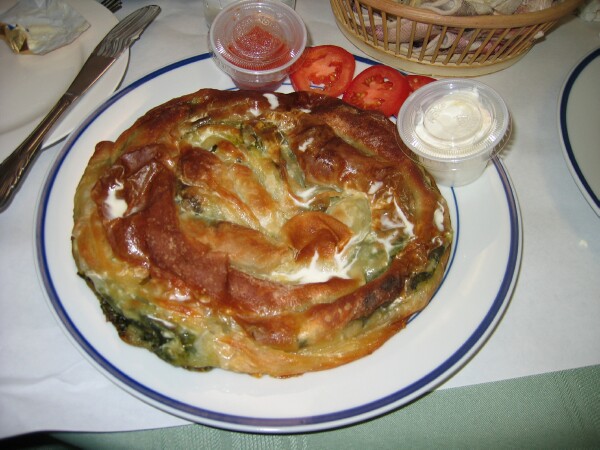 Meisa's goulash was, well, goulash. Good quality meat, rice and a nice size portion.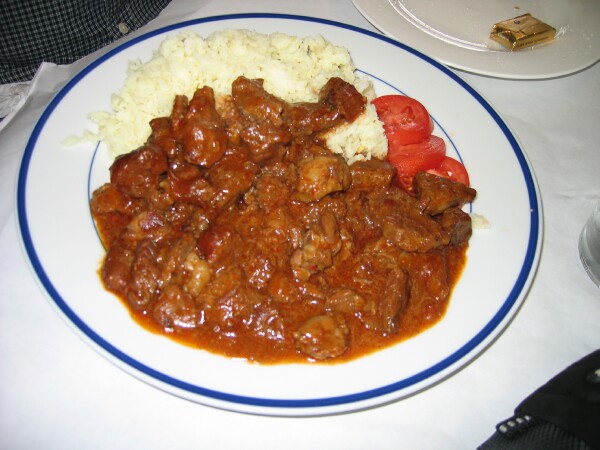 Sarmica, cabbage rolls stuffed with beef, rice and seasonings, were, in and of themselves, quite good, but, to me, the sauce had a slightly odd taste. Not off, simply odd, though I think I was the only one at the table with a mildly negative comment on the sauce flavor.
Meisa Cabbage Rolls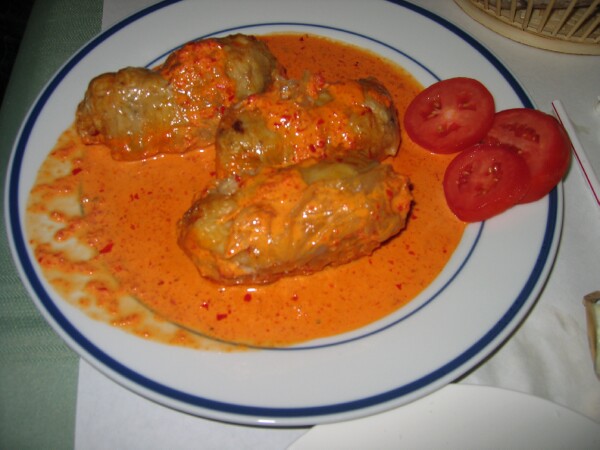 Our waitress Alma, who is the owner as well, didn't seem to mind that we sat and chatted long after finishing lunch. Even restocked our tea, water and bread a time or two. Alma offered she buys cevapcici at Azur Meats, which I intend on trying for our next home cooked cevapcici.
Meisa is very inexpensive, our lunch for 5 came to $33. Meisa opens at 7am for breakfast, but, oddly, closes at 7pm. Thanks Harry V for the excellent lunch suggestion, I'm looking forward to a return visit.
After lunch I went with Erik M to a Polish grocery deli he knew on West Irving, Szmanski. Szmanski is a quite good Polish grocery/deli with a wide selection of smoked meats, sausage and deli meat. Thanks for the tip Erik.
Walking from the car to Szmanski Erik and I could not resist walking into Komis & Antiques, a treasure trove of oddly ornate artwork and collectables. My favorite was an oil painting of a woman in full-on regal dress holding a ferret.
Enjoy,
Gary
Meisa
4908 W Irving
Chicago, IL 60641
773-545-6210
Azur Meats Market
2547 W Lawrence
Chicago, IL 60625
773-784-7350
Szmanski Deli and bakery
6016 W Irving Park
Chicago, IL
773-202-0886
Komis & Antiques
Pictures and Furniture
6032 W Irving Park
Chicago, IL 60634
773-481-080