LTH,
It is my pleasure to nominate Great Sea for an LTHForum Great Neighborhood Restaurant award. I've had a decades long love affair with Great Sea, introduced in the 80's by Korean friends I met playing 3-cushion billiards. First bite of Great Sea chicken wings and I was hooked, sweet, spicy, crispy, dark oily sauce lending depth of flavor to the Frenched drumettes.
Great Sea is woven though the fabric of LTHForum, a few threads.
Link 1
,
Link 2
Its not just me who loves Great Sea chicken drumettes, notoriously picky LTHer Tony C, now living in Los Angeles, has nice things to say, Zim, a man who knows his way around hot and spicy is a fan and Panther in the Den waxed poetic as well.
Panther in the Den
"
Great as expected! They were fried so the skin had a wonderful crunchy bite and the sauce was nicely sweet with a light heat that built up slightly. Also the sauce had caramelized on the wings making them nice and sticky.
"
Tony C
"
Gwiv touted these wings before... and I have to say they were definitely 'ON' last nite. Sweeet! tangy, crunchy, yet moist inside w/ just the right touch of spiciness (we ordered extra spicy).
"
Pump, crispy drumettes, oily chili sauce, subtle note of sweet. Delicious.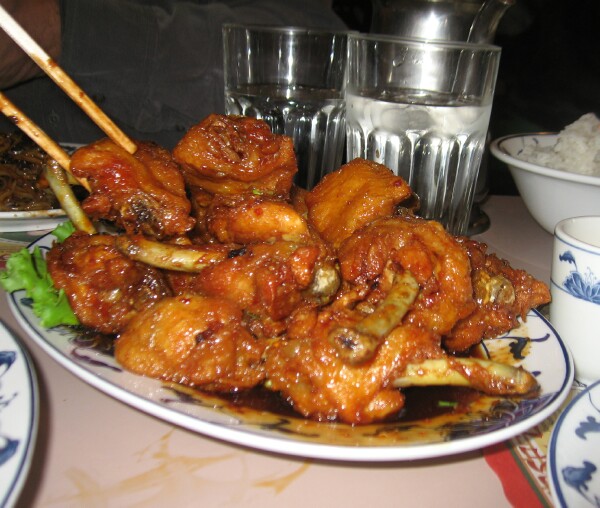 Great Sea has been the site of
LTHForum Events
, LTHers have made the crisp delicious frenched drumettes, gampongi, the centerpiece of parties and Evil Ronnie, executive chef of a Chicago private club, once sourced 500 for a Wedding reception.
Great Sea is unique in that the style of cookery is Chinese Korean and offers cha chiang mian, house made noodle in murky dark rich black bean sauce, comfort food for many Asians, if an acquired taste for those not familiar. The Korean Chinese offerings also include champong, spicy seafood noodle soup, tan su yuk, a less sweet version of sweet and sour pork and liang jang pi, veg, seafood and pork in spicy mustard sauce.
I'm a fan of the house made pot stickers and sauteed cuttle fish w/hot sauce, but in general the straight Chinese offerings are fine, if not exceptional. Chicken wings and cha chiang mian are the key with wings the centerpiece of 95% of diners.
Not surprisingly, given this is LTHForum, some don't quite see the beauty of Great Sea chicken wings, Mike G for one,
Despite the raptures some have gone into about the chicken, I found it one-dimensionally hot that night, and wasn't terribly sold on the black goo, to the point that I can't really even remember what it was.
Sui, owner of Great Sea can be quite accommodating,
one long ago lunch
with Ronnie_Suburban and Jazzfood we asked for spicy, not just spicy, but incendiary, volcanic, liquid plasma and they delivered, so much so the enamel on our teeth started to blister. Though too hot to one is just right to another, here is a picture of Happy_Stomach happily munching on 10x, which were hot, but not nearly as hot as that fateful lunch.
Happy_Stomach w/10x Great Sea wings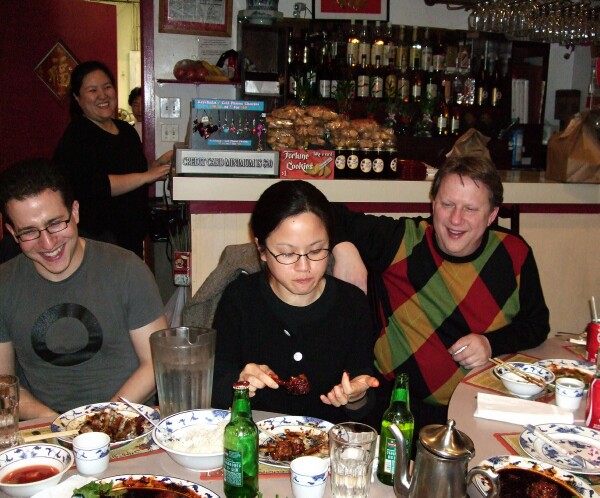 Sui's daughter, Karen Lim, opened
Take Me Out
in Pilsen serving Great Sea wings, though with chicken wing flats (fling) in addition to drumettes.
Thank you for your GNR consideration of one of my favorite spots in Chicagoland.
Long Live Great Sea Chicken Wings.
Enjoy,
Gary
Great Sea
3254 W. Lawrence Ave
Chicago, IL
773-478-9129