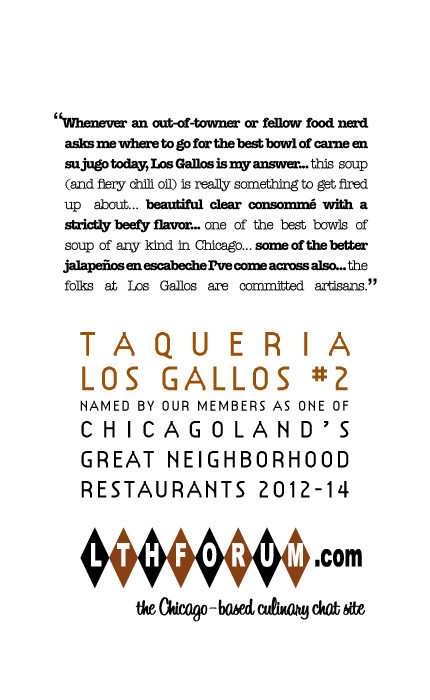 I'd like to nominate Los Gallos #2 for a GNR because:
1) It's the (G)reatest bowl of carne en su jugo in Chicago right now.
2) It's in a (N)eighborhood (Brighton Park).
3) And because it fulfills the requirement of being a (R)estaurant.
(Photos courtesy of ReneG)
I've done my bitching in the recent past about the
Lilliputian-sized bowls
being served at their 26th St. restaurant (but never, as far as I know, at either Archer St. locations) and also grumbled a bit about their raising the price from $7.50 to its present $9 a bowl—the highest in town. But despite these shortcomings, I think Los Gallos serves the finest traditional clear or natural rendition of CESJ in Chicago. As their storefront sign boldly states, carne en su jugo is their specialty and one should yield to that claim whenever visiting. It's what you go there for…along with their fabulous tableside pickled vegetables. Not the tortas or the tacos. Whenever an out-of-towner or fellow food nerd asks me where to go for the best bowl of carne en su jugo today, Los Gallos is my answer.
Los Gallos' clean, pure beefbone-based broth, well-carmelized chopped steak (asada), crispy bacon (eliminate or ask to cut back the bacon - it can be a bit much for some who are salt-sensitive), and just the right amount of bean make for one of the best bowls of soup
of any kind
in Chicago. Many I've dined there with think their outstanding homemade mole-esque chili oil takes this bowl to another level completely.
Nothing strikes a chord more for me than when a restaurant is a specialist creating one particular dish or product that was likely learned back in the Old Country or, at a minimum, a craft learned through years of experience and hardwork. Expert pizzaioli, xiao long bao makers, whole hog BBQ pitmasters--for me, these are examples of the true masters of the culinary world. I believe that the folks at Los Gallos fall into this league of committed artisans.
Here are links to a few threads pertaining to Los Gallos #2:
CESJ Thread
Annual ronnie_suburban Black Friday Food Crawl - 2011 Edition
Da Beef Praise
Taqueria Los Gallos #2
4252 S Archer Ave
Chicago, IL 60632
(773) 254-2081
Last edited by
PIGMON
on March 16th, 2012, 9:38 am, edited 2 times in total.