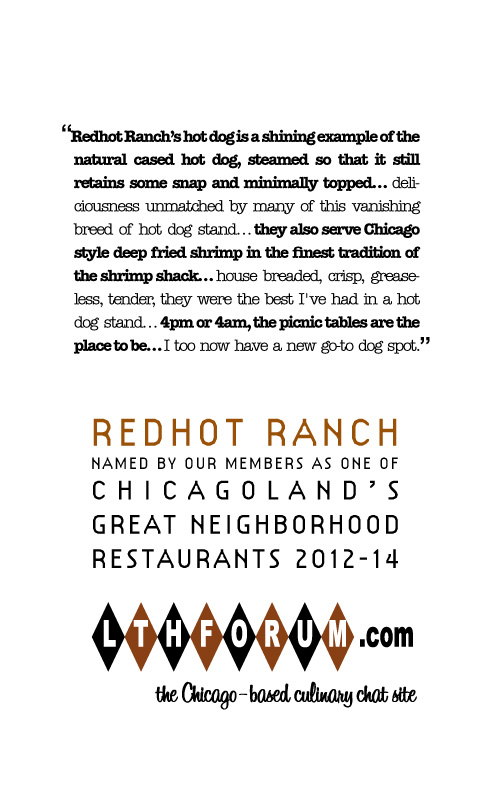 LTHForum New Great Neighborhood Restaurants & Resources, Announced April 11, 2012
Another year, and another chance to make our voices heard. Here are the places we consider to be the newest Great Neighborhood Restaurants and Resources, and some of the oldest, too.
The GNRs are a unique group, both in how they are selected, and in their distinctive character. The GNR process begins when the members of LTHForum go, visit, and share their experiences. Other members follow the first, engage in the discussion and soon, if the place strikes a chord with us, there are many shared experiences, indicating what people like, do not like, and - for the GNRs - love. Each place has been nominated by one of the 11,000 members of LTHForum, and vetted by the many others who chose to share their opinions of it.
LTHForum is pleased to announce that 19 restaurants and resources have been newly designated Great Neighborhood Restaurants/Resources, for 2012. Each GNR will receive a certificate similar to the one shown above, highlighting some of what makes it special-- and in many cases, recommending specific dishes to try, or products to buy.
Why Great Neighborhood Restaurant and Resource
Chicago is a city of great neighborhoods, made distinctive by history, ethnic mix, and vibrant street life and culture. The Great Neighborhood Restaurant/Resource designations honor places all over Chicagoland that contribute to their neighborhoods' and the city's character by offering outstanding food, an authentic experience of their ethnic culture, and/or a welcoming (or in some cases, belovedly cranky) atmosphere for guests. Many of these are not merely great places to eat but true cross-cultural meeting places, where power brokers and city workers, cops and perps can bump elbows or trays while enjoying honest, handmade food.
Restaurants and Resources are nominated by registered members of LTHForum.com, the Chicago-based culinary chat site, and ratified by a committee of board members, based on the degree of discussion and community-wide enthusiasm evidenced on the site.
Click on each restaurant's name to read the nominating thread for more details. Or you can see all the places on the
GNR Google Map
.
New LTHForum Great Neighborhood Restaurants/Resources for 2012-14
The Bad Apple
-- Top quality meat, glorious burgers, great beer selection, a knowledgeable and engaged staff.
Barnaby's of Northbrook
-- Unique, ultra thin-crust pizza -- no deep dish here -- served at the counter, with a little charm and a lot of consistency. A style all its own.
Big Jones
-- Southern cooking gone upscale, along with strong drink of the best sort. Engaged, inspired, and pushing the envelope within the vernacular.
The Butcher & Larder
-- Rob's second GNR is a great place to source top quality meat, and learn about it, too. If the trend continues, will the next place be a ranch?
La Chaparrita
-- Taco heaven. The selection and quality of the fillings is without equal. We can argue all day about best this and best that, but this place is damned good.
Cho Jung
-- Silky tofu in a strong, spicy broth is the star here – Korean health food, really. If only all healthy food could taste this good.
Floriole Cafe & Bakery
-- Everything you want your neighborhood café and bakery to be. Perfect pastry meets delicious light meals in a beautiful space.
La France Cafe & Crepes
-- An accomplished chef, serving sweet and savory crepes prepared with love and skill in a tiny, homey space.
Inovasi
-- A master chef offering a constantly changing menu of creative, and usually delicious dishes. Put yourself in his hands and he will take you on a fun ride.
Jimmy's Pizza Cafe
-- Quality New York pizza, consistently good in a simple, comfortable place.
Lao Hunan
-- One of the most exciting openings in recent years, as we see it. Bright, flavorful, impeccable dishes. Can they maintain the standard they set for themselves? We hope so.
Nha Hang
-- Vietnamese food prepared with love, charm, and good ingredients. They can show why this is one of the healthiest, brightest and just plain wonderful cuisines in the world.
Owen & Engine
-- Are you a sucker for a pub with great food? Yeah, we are, too.
Pleasant House Bakery
-- The savory pies are the draw, in a simple, unassuming space. Okay, that and the fact that the technique, ingredients and taste of everything they serve is just about perfect.
Redhot Ranch
-- The classic, almost naked dog shares center stage with great fries and fried shrimp. Nothing fancy here, except the food, and the tradition.
Rip's Tavern
-- Fried Chicken, French fries, fried mushrooms and a drink or two. Expect to wait unless you go at an off hour, but it is more than worth the wait.
Romanian Kosher Sausage Company
-- Providing glorious meat for over 50 years. Not just about sausage, but great fresh meat as well.
Taqueria Los Gallos #2
-- If you have eaten Carne en su Jugo, go check out one of the best versions you will find. If you have not tried it, prepare to enjoy.
Troha's Chicken & Shrimp House
-- Another Chicago classic, masters of the deep fryer for over 90 years. Troha's does it right.
Many thanks to the GNR Committee for all their excellent work, particularly, but in no particular order, SteveZ, Santander, pairs4life, turkob, JoelF, RAB, boudreaulicious, and Suburban Ronnie. Also thanks to all the moderators for their support and invaluable assistance, and of course to all of you for eating, critiquing, posting and caring. It is a great list, a truly idiosyncratic, excellent and at times perplexing list. Most importantly, it is your list, not the expression of one or a panel of so-called expert's tastes, but what anyone and everyone who has become an active member of LTHForum agrees is worthwhile.
d
for the GNRs