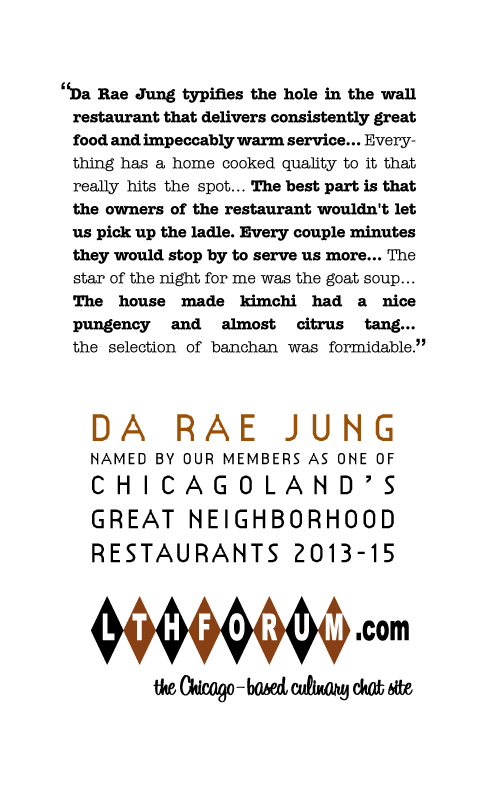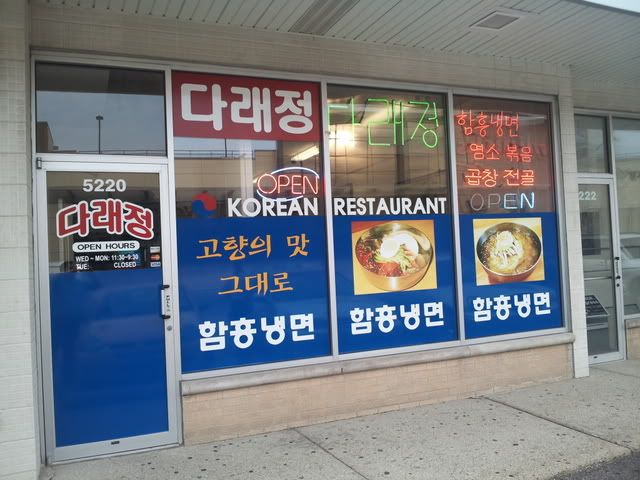 Da Rae Jung typifies the hole in the wall restaurant that delivers consistently great food and impeccably warm service. They may not have their name written in western letters out front, but everything else about the place couldn't be more inviting. It's run by an elderly couple that are enthusiastic about sharing their meticulously prepared food. I usually consider restaurants first and foremost based on their food, but the warmth of the owners really does stand out.
It's easy to tell if you're in a quality Korean restaurant by the quality of the banchan. So many places serve canned or stale dishes, really starting the meal off on the wrong foot. Da Rae Jung only serves freshly made banchan, with a good amount of variety from visit to visit. My particular favorite is the fish cake that has a spongy, almost tempeh like texture, and some sweetness to counter the umami of the fish and the gochujang. Their approach truly shows how important the details can be, and how simply prepared food can really stand out when it's made with care.
Perhaps their most noteworthy offering is the naengmyun noodles that are served cold in a metal bowl. The noodles are always silky and soft. On my first visit, the owner was hesitant to serve me the naengmyun with the raw skate fish, but I convinced him and I'm glad I did. The slimy fish intermingled with the noodles to create a distinctive and delicious dish (watch out, there are bones).
They also offer a number of different hot pots that are meant for two, but could easily feed 4 (pictured is the tofu spicy soup, boodae chigae). My favorite to date was a special they offered that included freshly made dumplings and rice cakes in a neutral, chicken broth. The simplicity of the dish was really brought home by the owner's insistence on serving us the soup. So much so that I had to leave enough food on my plate when she came by to make sure I didn't get another helping. The simple soup, the fresh dumplings, the strategy required to keep from getting stuffed, it all added up to an experience most reminiscent of a visit to a relative's house.
The
main Da Rae Jung thread
reveals a number of happy customers, though their prowess with naengmyun has been mentioned on the board for years.
Zim:
"I like Da Rae Jung on lincoln for naeng myon (i'm told they make it n. korean style, though I'm not an expert)"
DY:
"Da Rae Jung and Cho Sun Ok are probably the two best spots in the city for naeng myun"
kimeetee:
"My favorite place [for naengmyun] is run by an older Korean couple. I know that it's on Lincoln in a strip mall near a Chase Bank. But as I don't speak or read Korean, I can't even begin to tell you what it's called." (It's called Da Rae Jung, and it's fantastic!)
laikom:
"It's not a big place, and it's not flashy. It's run by an older, very cheerful Korean couple (I'm only assuming they're a husband and wife team) who are always there to make sure you're happy. It's really like eating at someone's grandparents house."
GWiv:
"Love the noodles, casual observation puts some variation of naneng myun on every table, and soup. Plentiful panchan and efficient friendly service, even given no common language."
gasto gnome:
"The star of the night for me was the goat soup. It was richly flavored with tender goat. As an entree with 8 accompanying panchan for $10, this is a great cold-weather option."
boudrealicious:
"Highlights were the goat soup (Asian Birria!), perfect mandoo (my pet peeve is that the skins are usually either too thick or too fragile--these were light but with good texture and the filling was very flavorful), a slightly sweet roast pork, a nice rendition of jap chae and the cold noodles with beef"
Da Rae Jung
5220 N Lincoln Ave
Chicago, IL 60625