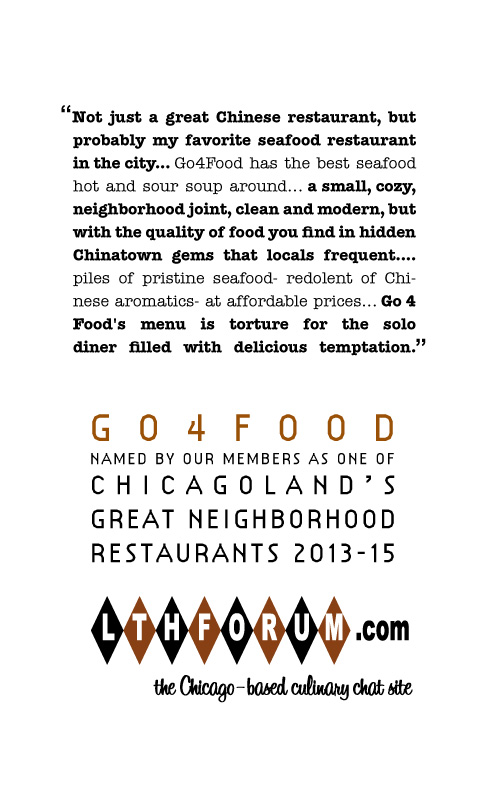 When I crave piles of pristine seafood- redolent of Chinese aromatics- at affordable prices-
which is quite often
, Go 4 Food is my go to.
My baseline order:
Impossibly plump, creamy, Flintstone's sized
Steamed Oysters
with ~my choice~ of (piled on) garlic topped with a nest of vermicelli and plenty of cilantro.
And of course, my favorite of favorites: addictive, instantly craveable
Manila Clams in XO
- tender, sweet clams varnished in archetypal house-made XO which varies in chile heat visit to visit (tellingly batched fresh) but always deeply umami rich.
Their crispy Cantonese poultry preps (with requisite salt/pepper/MSG dip and lemon garnish) are the crispiest, most succulent in Chinatown. Depending on my company I like the "Braised" Pigeon or
Cantonese Crispy Chicken
:
And then, if you're looking to celebrate (or have shown up with more than a party of two
) a fresh crustacean plucked live from the tank is in order. Dungeness crab or lobster prepped with your choice of scallion/ ginger (my fave), salt & pepper, black bean sauce, or (intensely rich) salted egg yolk. A pretty good deal at m.p. $22- $26. Who knew that knob of meat in the lobster tail was the best bit?
Ginger Scallion Lobster
:
Beyond this, I love their veggie preps including some unique dishes such as
Eggplant in Spicy Garlic Sauce with Meat
(pork belly),
Dried Scallop & Mixed Mushroom Cabbage Rolls
, and
On Choy with Jalapeño in Bean Curd Sauce
.
I've heard they make one of the best hot and sour soups in town as well.
Come to think of it, there's not much I don't like at Go 4 Food. By far my favorite Cantonese in Chinatown (and among my top 2 or 3 spots in CT period).
The
thread here
is not as deep as it should be, but among my own hyperbolic posts, some board praise:
"I love this place. Small, clean with a knowledgeable, hospitable owner." -Louisa Chu
"Without a doubt the best hot and sour soup I've had in a long time. Usually I'm reaching for the vinegar, pepper or chili oil. Not with this version. The little chunks of perfectly cooked shrimp are very appealing." -Rene G
"To start, I somehow completely missed from this thread the scale of the oysters with the fried garlic and vermicelli. Somehow I thought they were bite-sized and came on a platter with a few oysters and was therefore confused when asked how many oysters I wanted. The fact that they are boat-sized oysters was a wonderful surprise. It was like eating a really soothing, garlicky, delicious bowl of soup." -happy_stomach
"Almost everything was amazing, and everything came out extremely hot and fresh, and very well cooked." -laikom
"They're not just a great Chinese restaurant, it's probably my favorite seafood restaurant in the city." -turkob
Go 4 Food gets my unequivocal nomination for this year's GNR awards!
Go 4 Food
212 W 23rd St
Chicago, IL 60616
(312) 842-8688
Last edited by
Jefe
on February 10th, 2013, 8:54 pm, edited 1 time in total.