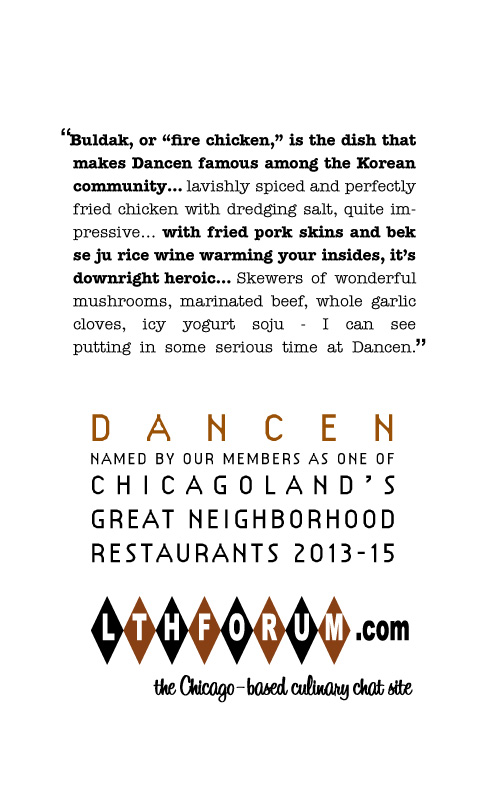 It was through LTH that I learned about a place called "24 hour korean" where I discovered a favorite dish of mine, but I didn't know the dish's name. For years after "24 hour korean" closed down, I was on the search for that dish. I even attempted, to no avail, to recreate it through recipes, soliciting the help of the forum. After years of searching I thought I may never locate that dish again. It turned out that I was looking in the wrong places, it isn't served in Korean restaurants, but rather Korean bars! At the end of that 6 year long mission, I walked through a dark and uninviting door to discover the vibrant and warm bar, Dancen, and finally the elusive dish, Buldak.
Buldak, or translated into English, "fire chicken," is the dish that makes Dancen famous among the Korean community. Char grilled right in front of you by the bartender, the chunks of chicken are rich, savory, slightly sweet, and damn spicy, served with the equally charred bones on the side for you to gnaw on. Its rich spiciness is the perfect compliment to an ice cold pitcher of light Korean lager (or is it the other way around?) or a frosty yogurt soju.
The thing is, as far as the food goes, the Buldak is just the tip of the iceberg. Korean bars serve up a number of unique dishes that you will never find in the typical Korean Restaurant. Dancen quickly proved the best among them all, serving up dish after dish, each outshining the last. More impressive than the fire chicken may be the modestly named "pork cartilage," which is more like tender shaved pork with tiny bits of cartilage attached for a nice textural contrast. Spiced heavily with Korean perilla seeds and served with perilla leaves on the side for wrapping, is has a strong and very distinct flavor that you don't find in many dishes. This is a dish which is a Korean bar staple, yet you'd be hard pressed to find at any other restaurant in Chicago. The "spicy cod roe soup" is another must-order item. Served in a spicy yet clean and bright tasting broth, the cod roe sacks are not like any other I've ever tasted. While others are sometimes fishy or have a grainy texture, I can only describe this one as light and buttery, with a silken tofu like texture. It is a truly remarkable soup, currently fitting in among my favorites in the city.
As for atmosphere, I'll keep it short. With the K-pop music playing at all hours, magic marker drawings of cartoon pigs on the wall, and the tinted windows, once you step inside you are all but teleported directly to a dive bar in Korea. It is a great place to go get lost in the night and forget you live in Chicago.
I recognize that Dancen hasn't had much talk on LTH yet - hell it doesn't even have a dedicated thread (I'll have to start one, I suppose) - but this is a place that I'm very passionate about, and I believe if more people speak up or go out and try it, it'll easily hold its own against this tough crowd. Dancen is an exciting and very unique place, but most importantly the food is astonishingly great.
Main Threads:
viewtopic.php?f=14&t=36838
viewtopic.php?f=14&t=34812
Listed on ronnie_suburban's stand-outs of 2012 "Dancen - Ribs, Skin, Gizzards"
"service seemed naturally, calmly good all yesterday night, and the crowd throughout the place was obviously having a great time. I will not hesitate to return to Dancen or to recommend it to the uninitiated... they brought out some lavishly spiced and perfectly fried chicken with dredging salt, quite impressive." - Santander
"great find in Dancen. I've heard others rave about their fire chicken." - Lemoneater
Timeout Chicago - listed in the "100 best things we ate"
Rated in the "top 10 bars for grub" by Chicago Mag - "This Korean dive looks pretty bleak, but at 1 a.m., with fried pork skins and bek se ju rice wine warming your insides, it's downright heroic. If you order the fire chicken, you may need one of the $14 beer pitchers just for yourself."
The LTH thread may have sparked some external talk as well, most notably:
http://chicago.grubstreet.com/2012/05/k ... tkoff.html
Cod Roe soup
Fire Chicken
[/quote]
Dancen
5114 N Lincoln Ave
Chicago, IL 60686
(773) 878-2400
Part of the secret of a success in life is to eat what you like and let the food fight it out inside.

-Mark Twain