It was time for us to replace our gas grill. We found a lot of good advice in the reviews on this site:
grilladvisor.com
We don't need a huge grill; a smaller one is just fine for our needs. We checked them out in person as well as looking through the reviews on that site. We decided on their top-rated
Char-Griller Grillin' Pro 3001
. We shopped around for good prices and saw $179 on Amazon and
$169 at Lowe's
. Given the quality recommendation and all the features and capacity, that's an excellent price. We encountered some kind of technical glitch trying to order it on Lowe's website - it gave us an error message and told us to call them to order it - so instead we headed to our nearby Lowe's where we found one in stock. (They didn't have any of this particular model already built on display, but we found one in the sealed box.) Lowe's also sells
grill covers for this model
for $27.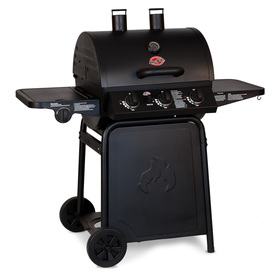 I assembled it myself in about three hours. The instructions were straightforward. We just got it (I built it yesterday) so we haven't used it yet.
Warning: Packed in the box, the grill weighs 92 pounds. It's fairly compact and easy to put in the back seat of most cars with four doors, but 92 pounds is quite heavy to lift.