Building on Ken's post, I was there last about a week and a half ago, after they'd opened the previous Friday. Since it was so new, it's understandable there are still a few kinks to work out.
It's a blockish, unremarkable building, in a not-very-busy neighborhood.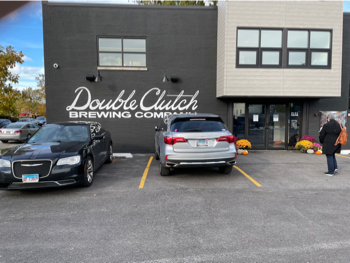 From the outside, you'd never guess all the money that was poured into the building's innards. (Or should I say "driven" into the building's interior?)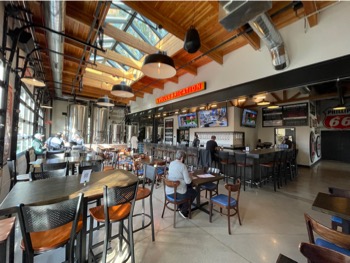 And the cars ...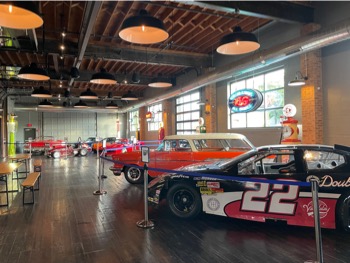 (I made a NSFW comment about some of these cars — you'll have to ask me in person if you want to hear it.)
In a few words, the food was pretty good, the beers, not so much.
We started with Fried Pickles. We've been jonesing for the fried pickles from Celtic Knot lately; these were a little fluffier, more tempura-like. A slightly different, but excellent version.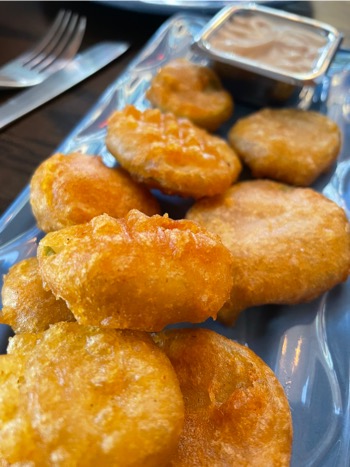 Belgian P.E.I. Mussels were good, in an herby Hefeweizen broth with bacon. (See Hefeweizen comments below.) Unfortunately, the honey beer bread that came with it, while delicious on its own, was too dense and fatty to do much good at sopping up the broth. (We suggested to the server that something more akin to a baguette would be better for soaking up the tasty broth.)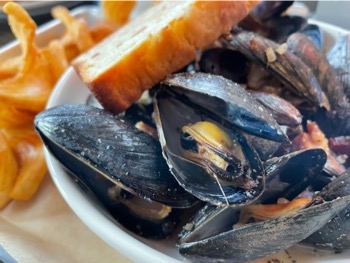 The Pulled Pork Sammy consisted of flavorful smoked pulled pork, slaw, pickles, and crispy fried onion strings.
Note the beer-battered "sidewinders" — their version of thick-cut French Fries — on the right. (I'd always thought a sidewinder was a snake, but there was no evidence of reptilian flesh anywhere near these fries.) As fries, they were excellent.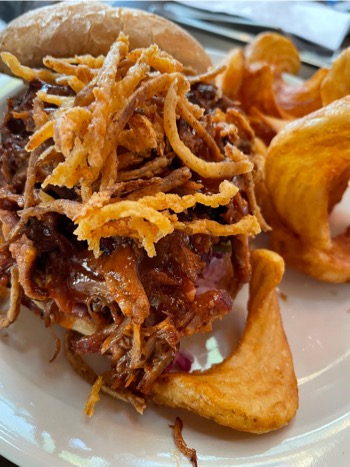 I didn't get a pic of the beers, but had a sampler (which was served in a plastic replica of an engine block). In general, each of the beers were okay, clean, inoffensive, but lacked some of character that would define each style. For example, if you concentrated, you could pick out the banana-clove notes in the Hefeweizen, but they weren't as pronounced as you'd expect for that beer. Similarly, the Märzen wasn't as malty as I anticipate in the style. Other beers shared the same fate. Strangely, when I asked our server about dark beers, he said the Märzen was the darkest they made (and it was a lighter amber than many Märzens I've had). He also said he didn't know of any plans to make a porter or stout. (I'm hoping that's just a result of his newness there and inexperience in the beer world in general.)
Overall, Double Clutch is a good option for the food, and the cars; there are better options for locally-brewed beers in Evanston.
(Full disclosure — I work on a very occasional basis for Sketchbook Brewing Company.)
Last edited by
nr706
on November 11th, 2021, 9:07 pm, edited 1 time in total.