With the re-scheduling of the Small Household Food Exchange last night, Moetchandon and I decided to use a gift certificate we had for
The Alcove
(formerly Chef's Station), in the bottom level of the Davis Street Metra Station.
(Note: The Alcove is not to be confused with
The Alcove, posted here
)
Two Starters
: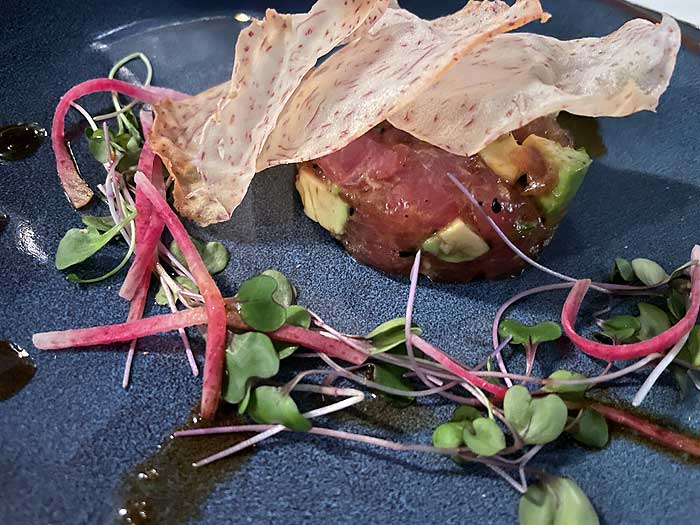 Yellowfin Tuna Tartare
, with malanga root chips, micro greens, avocado. The combo of raw tuna and avocado is a match, if not made in heaven, then at least made somewhere up there in the clouds.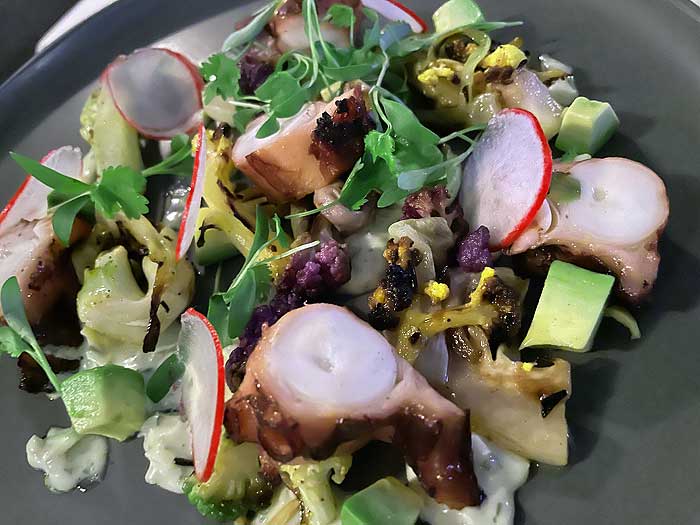 Grilled Spanish Octopus
, with radish, avocado, purple cauliflower, micro arugula greens, and sauce gribiche. (
I didn't know what that was, either, so I had to look it up.
) So inspiring, I had to get frozen cooked baby octopus today at Valli International Fresh Market (Evanston).
Two Entrées
: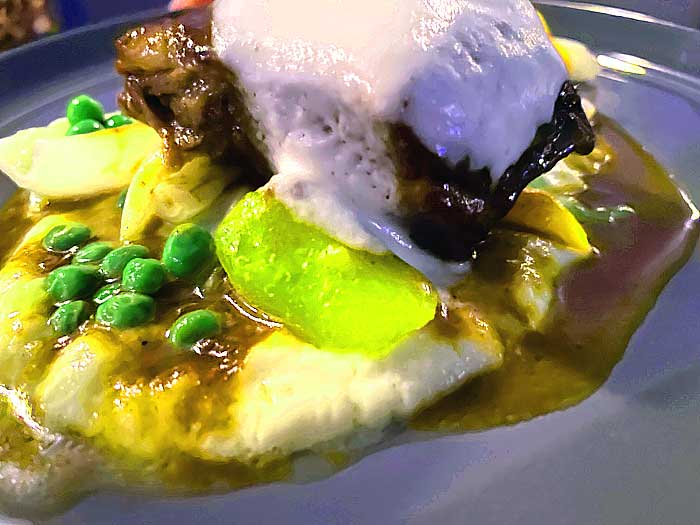 Red Wine Braised Beef Short Ribs
, with parmesan baked mashed potatoes, peas, carrot, yuzu?, in a bordelaise sauce.
It looked like the beef may have made a brief trip under a broiler before plating — one end was slightly on the chewy side, but that's nitpicking. The rest was fork-tender, and as with the other dishes, the sauce worked perfectly.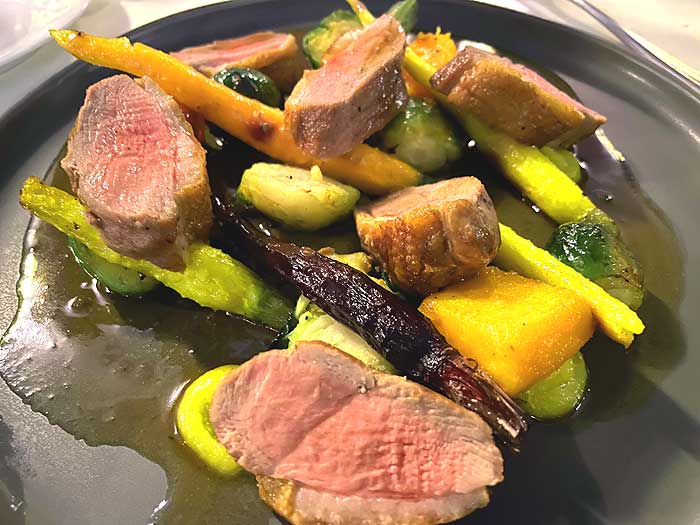 Maple Leaf Duck Breast
, with brussels sprouts, butternut squash, baby carrots, in an apricot Pinot Noir reduction. If I were to nitpick again (which, of course, I would never do), I'd say the brussels sprouts were a bit on the undercooked/crunchy side, but the rest worked well. The duck was superbly medium-rare, and the sauce complimented it well.
Prices were reasonable for this level of dining, coming in at $166 for the two of us, including a bottle of Cotes du Rhone, before tip.
I do miss some of the whimsy that Chef's Station was originally noted for — they're clearly going for a more contemporary/formal look, but it's carried off without being overly stuffy.
And the chef has an interesting back story.
The location is walking distance for us, but the place could be worth a drive from the north side of Chicago or the northern 'burbs, for those who aren't afraid of street parking. (There a large city parking garage about a block north, though.)