pudgym29 wrote:

nr706 wrote: Having recently shared a successful Evanston Lunch Group™ outing to Double Clutch Brewing (if you ignore the disappointing beers, which is a worthwhile thing to do), [edit]

Somebody who should remain unidentified, but cannot, due to the forum's quotation method, needs

a little more beer tasting experience before making a remark like this

.
A few thoughts:
First, and most importantly, I'm happy for Double Clutch. I love supporting local breweries. It's been over half a year since my second visit there, and I'm guessing they must have upped their game significantly since then.
I stand by my comments about their beers at that time. I had a flight each time, and I thought most of their beers were either not to style, or weak in the flavor profiles the beers should have.
For example, one of the beers I had was a Schwarzbier. BJCP guidelines specify SRM of 19 - 30 for the beers. While I didn't bring my SRM measuring stuff to the luncheon (that would be way too nerdy), the SRM of the "Schwarzbier " I had was more in the 6 - 10 range — an Amber at best.
I also had the Hefeweizen.
Beer Judge Certification Program wrote:it should have "a distinctive banana-and-clove weizen yeast fermentation profile."
I couldn't detect any banana or clove notes, and there was none of the signature haziness of a hefeweizen. On our first visit, our server said they use the same yeasts for all their beers, which is no way to make a hefeweizen (not to mention other styles). It could well have been a Helles or a Kölsch.
If it was only those two beers, I'd assume they just served some beers which were mislabeled. But, again, almost all the others were flawed, if less obviously, in one way or another.
Normally, when I'm personally attacked, my preference is to turn the other cheek. Unless it's egregious. So, here goes.
I've been involved in the beer community for years. I was a consultant to Golden Prairie, one of Chicago's earliest craft breweries, in the 1990s. Currently, I'm an independent contractor for Sketchbook Brewing, representing them at the occasional beer fest.
I'm also a homebrewer. I haven't entered any competitions in several years, but here's a few of the awards I've been given. (There are plenty more; this is all could scrounge up for a quick photo.)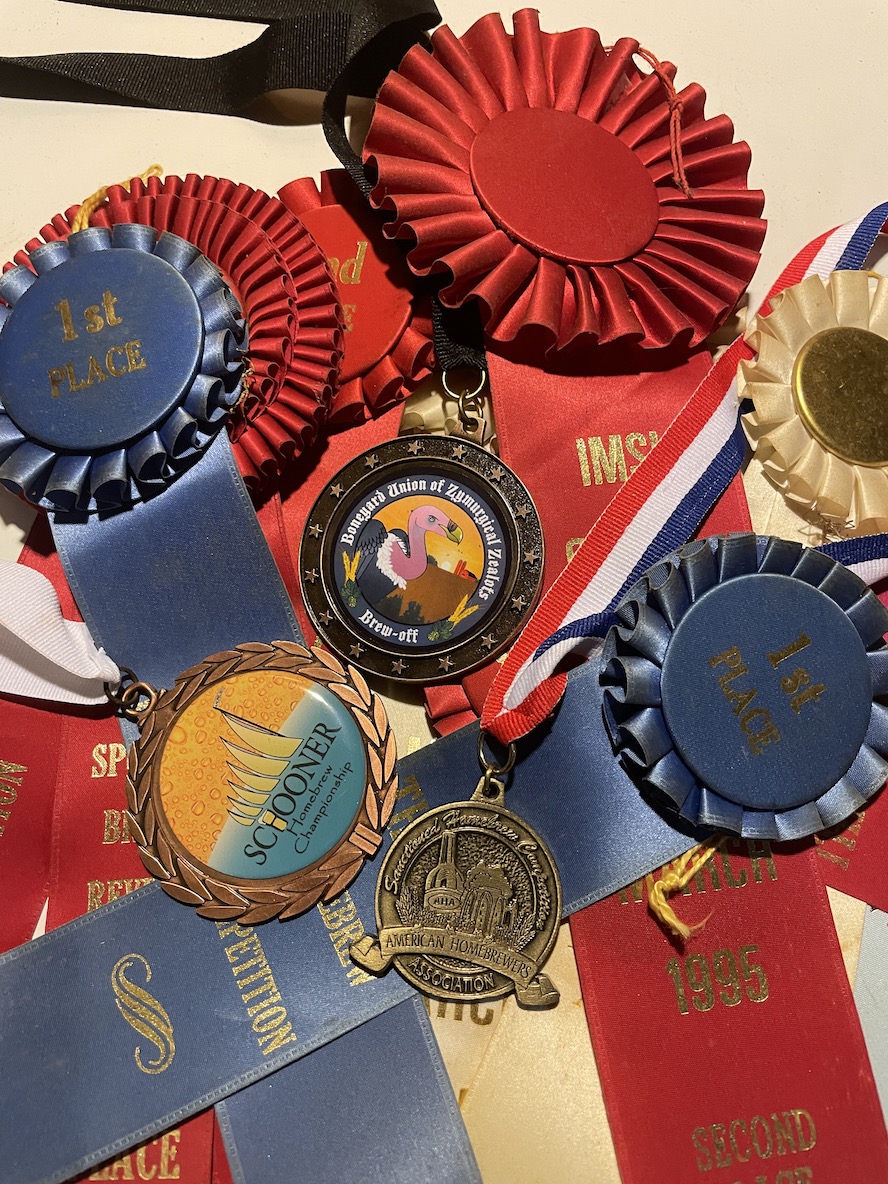 Today, there are many tens of thousands, if not more, Ciccerones (the beer equivalent of wine's somaliers) rated as "Certified Beer Servers." I was the 5,988th person in the world to earn that title. I probably could have gone higher in the program, but it would be the equivalent of someone who usually only drinks wine with their meals at home going for Master Somalier.
So, if pudgym29 believes that I need "a little more beer tasting experience before making a remark like this," he's entitled to his opinion. I'm pretty sure I could find lots of people who would disagree with him.