No, I'm not inventing a new "neighborhood restaurant" award on the spot. But after dining at
Great Neighborhood Restaurant nominee
Sweets and Savories last night with a couple of other moderators and their better halves, I have to think about why we pick an upscale place for this award. (Those who could care less about the following ruminations can jump down to the first photo and read about the actual meal.)
It's easy to know why you pick an inexpensive ethnic place-- because the food is noticeably better than its peers serving much the same thing, because the place tries harder than the average storefront, because you like the people and want to encourage traffic. But you expect outstanding food and dedication from an upscale place-- and yet we don't feel the need to bestow our little plaque on every such place. (Somehow, Everest seems to be surviving anyway.) Last time out, we gave one to Frontera/Topolobampo (for having been a pioneer in bridging the worlds of Chicago's haute and ethnic cuisine, to my mind) and to Moto (justified because Chef Cantu had engaged our community, and our intellects, so fully; the "neighborhood" in Moto's case may have been the virtual one more than its actual location). So far at least, the only nominee approaching that price range is Sweets and Savories; what would we find there, assuming we even liked the food and service in the first place, that would justify picking this one over Butter, Scylla, Green Zebra, Avec, Rodan, Despair, Ennui, Precocious, Marsupial, or any of the other new, hot, hip, see-and-be-seen joints to have opened this minute?
Sweets and Savories is, first off, saddled with the name of a muffin shop, when the interior, dark and simply appointed with posters for French chocolates, calls for a stark one-word name like the ones above. Service when we were greeted (and the restaurant was still pretty empty) was effusively friendly, jovial even, and upon seeing GWiv suffering from a cold, our host thrust upon him a warmed Sambuca to work its magical effects on his sinuses. GWiv was also offered, in what must be the first example of huffing I've ever seen in a fine restaurant (not counting snorting from the whipped cream cans at Farrell's Ice Cream), a whiff of the bag the white truffle mentioned in previous posts had come in. Alas, it turned out that the truffle had been used up the night before.
We never really saw a menu; we were urged into the $60 tasting menu and saw little reason to object. First up-- shudders, Alderman Moore-- a foie gras mousseline with pomegranate sauce, light, bright and a lovely start:
The first entree course was a huge scallop on a celery root puree, with a veal sauce (variously described as either being, or not being, the Perigord sauce mentioned elsewhere), a much more robust sauce than the kind of citrusy topping you usually get on scallops. If there was a flaw to the meal it was that it peaked with the first two courses; this was excellent and I think all of us agreed at the end that it was the best thing of the night.
Next was a "five mushroom" soup, dotted with marsala. Rich flavor but salty.
Then came salmon with an unconvincing toupee. No, that's oxtail, I think, or something like that, on a beet risotto (beetotto?) and with a horseradish inflected sauce around it. This one was better in parts than as a whole, partly because, sad to say, it's just hard to get excited about salmon any more. It really is the chicken of the sea. Maybe if it had been done to a crisper crust-- on both the salmon and the scallop, I might have cranked the stove higher and gone for more burn outside and rare inside, they were sort of done evenly to the (to my mind, not necessarily everyone's) less interesting midpoint. The beets were quite good, so was the braised whatever the meat was, and the horseradishy taste of the sauce served them well.
Next, a very tender shortrib (sans bone) on polenta. Sauce was a little sweet/cloyingish for me-- it reminded me of the glazed meat at a central European restaurant-- but the place is named Sweets and Savories for a reason and this was an estimable dish.
Incidentally, when we saw one of the foie gras-topped wagyu burgers go by, we tried to add that to our meal-- which as you can see was
much
too small-- just for tasting's sake; but it turned out they were out. The night to come for that, clearly, is Wednesday, when it's on special.
For a palate cleanser, the world's smallest salad!
I'm joking. The actual salad was at least four times this big. Okay, I shouldn't make fun, it really was supposed to be just a palate cleanser and it's not like we were about to get stinted as we moved into dessert. In fact it was at this point that the name finally made sense. Having had several courses of savories, we now had a nearly equally long series of sweets to end our meal. First up was another palate cleanser, a sour cherry sorbet (Ciao Bella, we would see when we visited the kitchen):
Then two citrus desserts, a meyer lemon curd tart (probably the best of the bunch, again we peaked early):
And then, lit dramatically by GWiv's focus light, a key lime pie. (That's a nice shot. Maybe I need to start carrying a tiny light kit to dinner, too...)
Then there was a peanut butter cake (I don't really care for peanut butter desserts, that's kiddy food to me), a bread pudding (quite nice), a creme brulee (not a standout), and finally a chocolate fondant with chocolate sorbet on the side:
Oh wait, did I say finally? There were chocolate truffles at the end, too. In the meantime, between our picture-taking and the fact that we seemed to be talking about the food so analytically, it was obvious that the staff was wondering about us and even asked, at one point, if we were food critics. (What is the accurate answer to that question, I wonder?) Anyway, shortly after, our evident curiosity got us invited back to see the kitchen and meet the chef.
Hey,
we
didn't get that!
Amusingly, one of the subjects that came up as we gave Chef Dave Richards an LTHForum card was the
Time Out 100 issue
and in particular, the whole staff was jonesin' for one of the things mentioned on the list...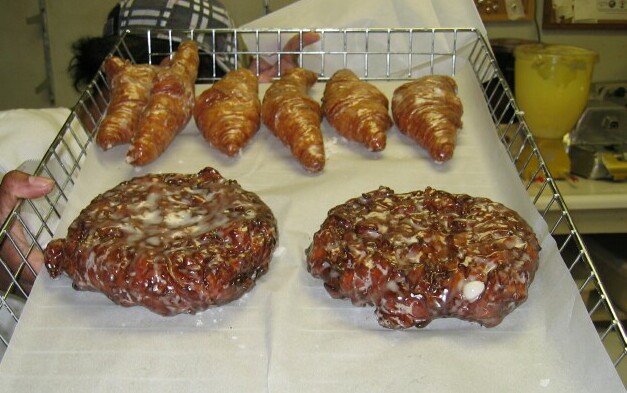 The legendary Old-Fashioned Donuts apple fritter, seen on the LTHForum calendar. G Wiv was his modest, self-effacing self, effaced, so I had to explain that here was the man who had taken the picture which had, so to speak, put the Old-Fashioned Donut apple fritter on the map of Chicago eats.
So, very friendly and well-run place, totally 'tude-free, great value when you consider all that we had for $60, not in the top tier of Chicago restaurants but unquestionably the kind of mid-level place you'd be very happy opened near you, maybe even the folks who mob Rose Angelis a few blocks away out of proportion to its quality will discover it eventually... is this what makes a GNR award? Shouldn't there be some particular quirk that makes it stand out even further from the pack of one-word-named places to open this month, Crouton, Spore, Alabaster, Orgone? Well, 80% of life is showing up, as Woody Allen said. Sweets and Savories got nominated, it was tried, it was liked. Good enough for me.
Sweets & Savories
1534 W. Fullerton Ave.
773-281-6778