Speaking of brats
....
Started in 1961 as a mom and pop Wisconsin beer-cheese-sausage highway stop the Brat Stop moved across Highway 50 into larger quarters, lit up the grill for it's house made brats and was well on it's way to becoming a must-stop on the Milwaukee-Chicago route. With my parents it was always a decision whether to stop at HoJo for clam strips and one of Howard Johnson's 28-flavors or the Brat Stop for brats and cheese curds. Truthfully, HoJo typically won out as my father dearly loved clam strips.
The Brat Stop of today is nothing like of old after a fire, a decade or two ago, they have been on a never ending expansion kick, seating for hundreds in the main dining room, banquet facilities, venue for formerly A-list rock bands, but drill down deep enough and, hiding in plain sight behind the front bar, is the core, the still beating heart of mom and pop Rasmussen, brats sizzling away on a live fire grill.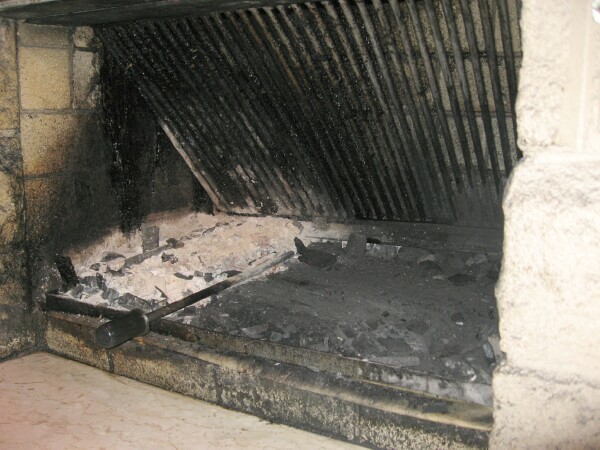 For those of us who still hold the Brat Stop dear, even in it's current FrankenBrat configuration, there has been question and controversy. The brats have not been made in house for decades, but I had heard, born out by a question or three to busy employees, that the brats, all the brats, both served in the restaurant and for sale in the cheese-sausage shop, were made by
Usinger's
. Nothing wrong with Usinger's, in fact I
grilled up
a batch just last week, but a joint called the Brat Stop should really be rolling it's own, or at least it's own recipe.
The other 'controversy' is brats ordered at the bar are
properly
grilled with lump charcoal on the front bar grill, brats served in the multi level restaurant area cooked in the kitchen with a gas grill. As it turns out both of these
theories
are only partially true.
In an early morning conversation with Odie,
like in the Garfield cartoon
, I learned yes indeed Brat Stop brats are made by Usinger's, but only, and this is the very important fact I missed, the specialty brats, ie jalapeno, onion, cajun etc. The all pork Brat Stop brats are made to their original recipe specifications by Busch in Silver Creek Wisconsin.
Odie went on to say that all sandwich brats and, for that matter, frankfurter, rib eye steak and polish sausage sandwiches are made on the bar grill. All Brat Plates, in other words combos w/sauerkraut, fries etc, are made under a high intensity broiler (Salamander) in the kitchen, irrespective of where one is sitting.
Not to doubt Odie, but it seems unlikely that, given a full house, the small bar grill could possibly keep up with both bar and restaurant sandwich brat demand. I'm thinking the policy of grilling all sandwiches brats on the bar grill is somewhat elastic depending on how busy they are.
I still love the Brat Stop, though always take a bar seat with a view of the grill and, with varying degrees of success, try to block out the endless strings of beer advert neon, espn tuned tvs and focus on the essentials, the brat. It's all about the brat.
No brat pictures, I was at The Brat Stop early morning, which is why Odie had time to chat, they had not yet fired up the grill. Next time out I will be sure to take a few pics of the grill in action and both a brat and rib eye sandwich.
Enjoy,
Gary
Brat Stop
12304 75th St
Kenosha, WI 53142
262-857-2011