LTH,
Made <
suggestions for snappy name apreciatd
> a Dragon Turd variant with mini hot dogs and cheddar cheese for the first time Sunday. The mini hot dog idea popped into my head last week, though I'd guess I'm not the first to stuff hot dog into jalapeno with cheese and bacon wrap.
I ran into trouble early as
Romanian Kosher
had just come back from a two week hiatus and did not have the diminutive dogs on hand. I went with a large diameter garlic link, which I cut to size, feeling the stronger flavor would hold up well to jalapeno.
Next minor issue was the heat of the jalapenos, mutant peppers from hell more aptly describes them, so, as I was bringing them to a mixed palate party, I blanched before deseeding. The moment the jalapenos hit the water an invisible cloud of eye stinging cough inducing venomous vapor rose throughout the house, it was so intense my wife went to the neighbors. I don't wear gloves working with jalapenos, though as my hands were still stinging an hour after deseeding I might rethink that policy.
All in all they <
any ideas for snappy names yet?
> turned out well, though after the Wow is that hot! from eating the upper crown, where there was still a bit of seed and placenta, most stayed clear of the top 1/4-inch.
Jalapeno, Kosher hot dog, cheddar cheese wrapped in bacon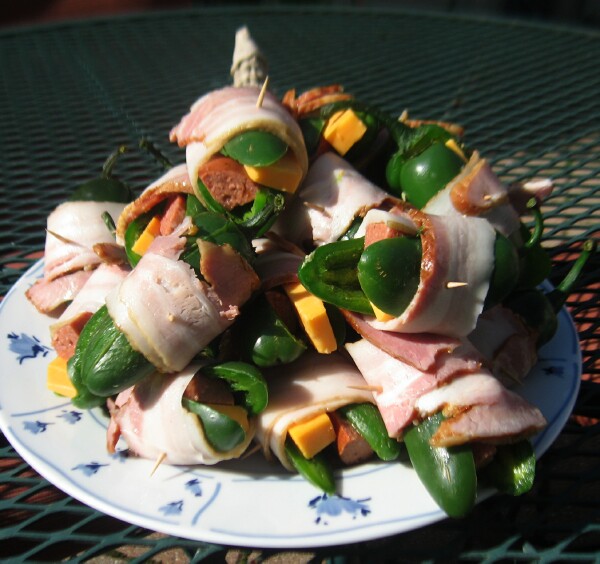 Jalapenos were smoked on a
WSM
along with the hosts delicious Goya Mojo Chipotle marinated chicken.
Majority of Jalapenos on lower WSM cooking grate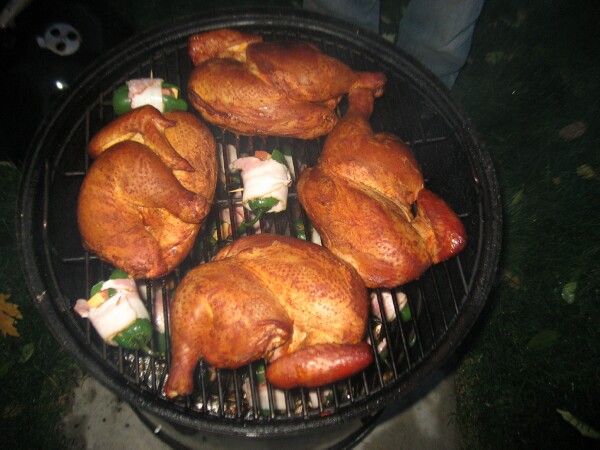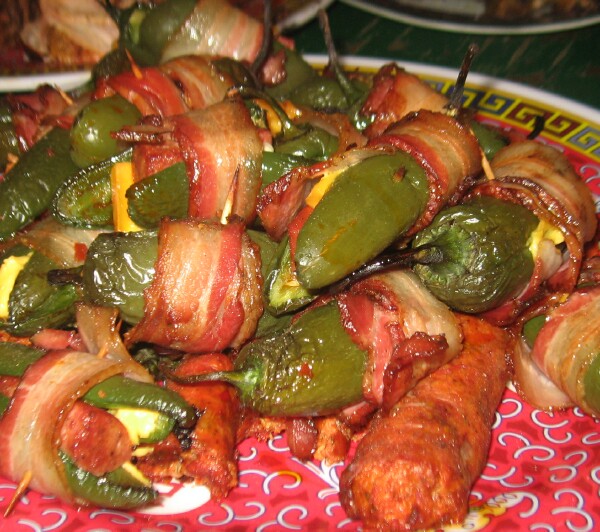 Enjoy,
Gary
Romanian Kosher Sausage Company
7200 N Clark St
Chicago, IL 60626
773-761-4141