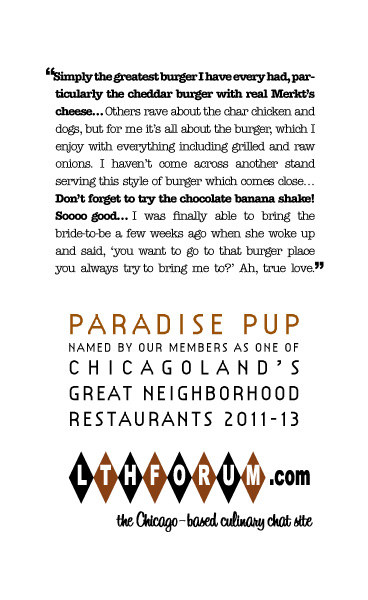 I'd like to nominate Paradise Pup in Des Plaines, IL
How it stands out from other burger places:
INTENSE char flavor, by real charcoal
rich challah bun
they don't overcook the patty
grilled onions as an option
real Merkt's cheese if you are inclined, I like it on the crinkle cut fries
all the above for less than $4 tax included.
Paradise Pup
1724 S. River Rd
Des Plaines
847-699-8590
"Paradise Pup"
"Paradise Pup in Des Plaines"
(thanks to Ramon for the links)
--
Last edited by
Sweet Willie
on September 6th, 2007, 11:56 am, edited 1 time in total.
I did absolutely nothing and it was everything I thought it could be.