LTH,
When I heard the owners of Spoon Thai opened a Thai/Japanese restaurant on Rush street, no less, I started to worry. I pictured a celebrity interior, Versace plates, Chai in chinos, gold chains and a pinky ring, Vanna in a sleek pair of Feragamos and Sushi Samba/Saiko/Japonais fusion for fusion sake culinary cliches.
Not to worry, no leopard interior, no gold chains and not one pair of Ferragamo's in sight. Spoon's same high level of Thai, well executed Japanese and a smattering of incredibly well thought out Thai/Japanese fusion. The fusion dishes we had were not fusion for fusion sake, gilding the Lily if you will, but a delicious, vibrant flavor enhancing blend of style and culture.
OK, yes, I know, I'm gushing, well it was really damn good, though I should point out I've only been to Silver Spoon once, Chai and Vanna tested a few soon to be on the menu items on us, they knew the four of us were coming in at 2pm and we're regulars at Spoon Thai.
Things got off to a flying start with red snapper sashimi topped with slivered daikon, flying fish roe, bits of scallion, a drop of two of hot sauce, all topped with a confetti of crisp fried onion slivers. Onion slivers? Yep, and damn if it didn't absolutely enhance the overall flavor of the dish. Red snapper sashimi and crisp fried onions, who da thunk it?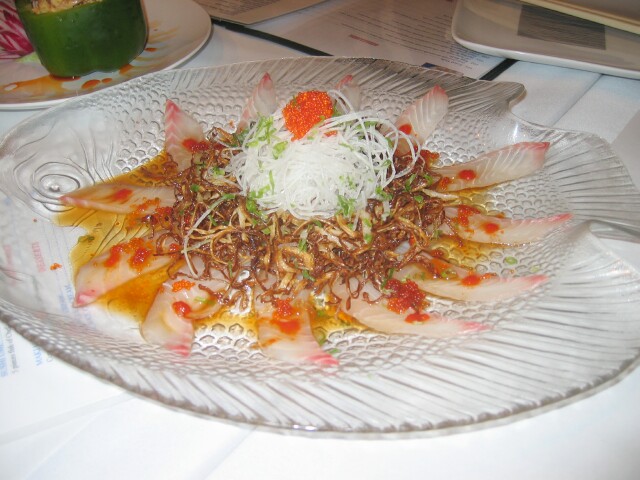 Next was seafood salad presented in a hollowed out green pepper with a porcupine radish for decoration. Really delicious, light Thai curry flavor with hints of apple.
[img]http://www.sptsb.com/SilverSpoon6.jpg
[/img]
A few pieces of nigari sushi came next, quite nice yellow tail and escolar.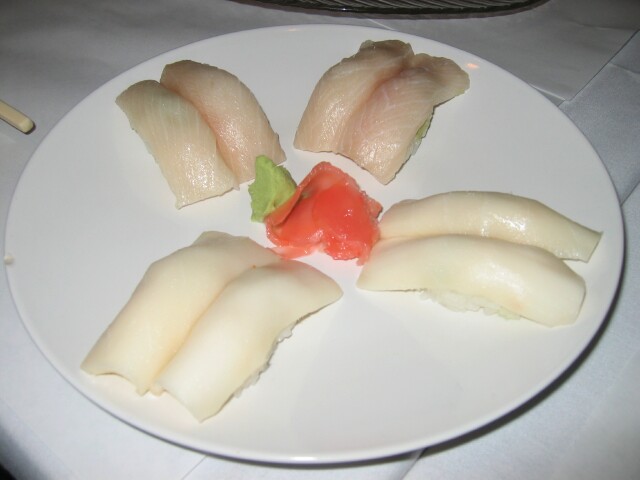 Pan fried chive dumpling was up to the usual Spoon Thai standards, in a word, delicious.
ht
Tuna on the outside, crab on the inside maki with a slightly sweet reduction of soy on the plate was good, but contained krab, as opposed to crab. Standard at many Japanese restaurants, but something I, personally, can do without.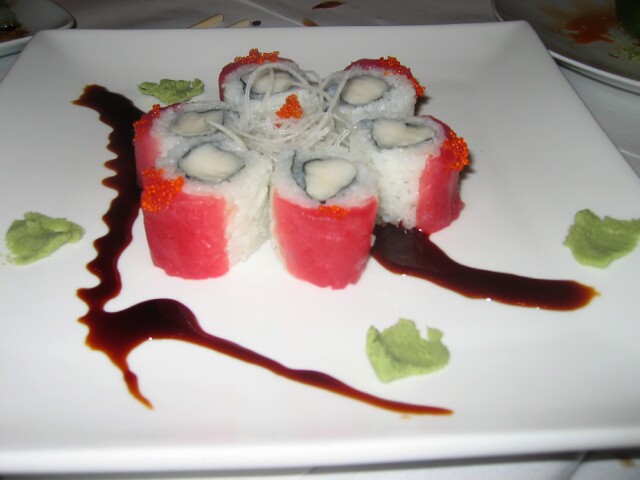 Next up was a real high point of the meal, a futomaki sized inside/outside roll filled with moo ping (Thai grilled pork) served with full flavored papaya salad on the side, decorated with a cucumber that looked like a spouting whale. This was simply delicious.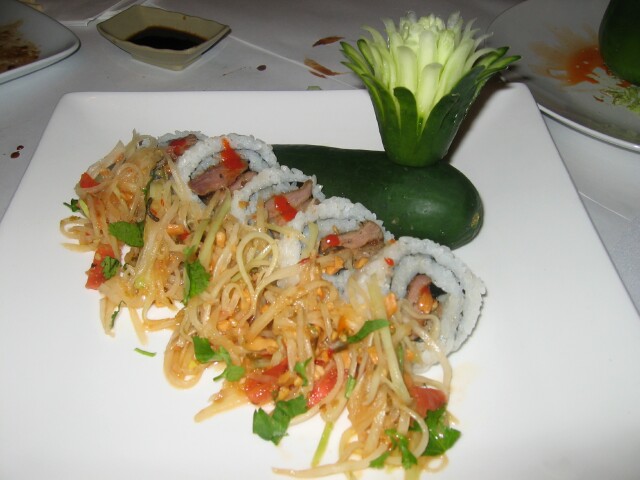 Shrimp tempura maki with green curry sauce, might sound odd, but the flavor combination was wonderful. The green curry was whipped, almost frothy, with a light texture, but a solid curry flavor that really complimented the shrimp.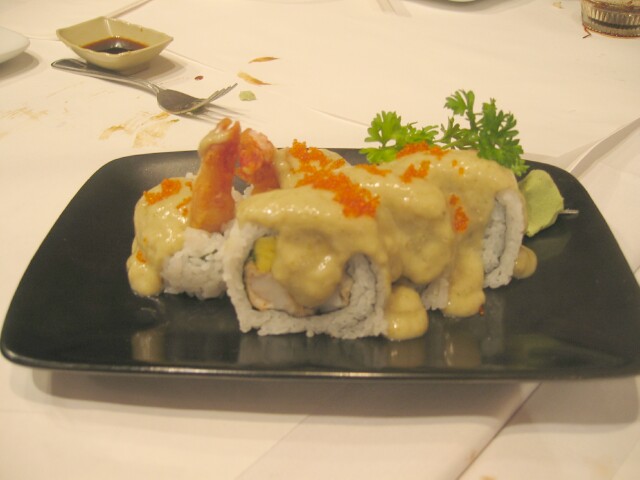 Tri-colored caviar topped crab maki was visually appealing, but as krab was used it lost something in translation for me. I am just not a fan of krab.
The papaya salad accompanying the moo ping maki rolls was so delicious we a stand alone papaya salad, equally as delicious.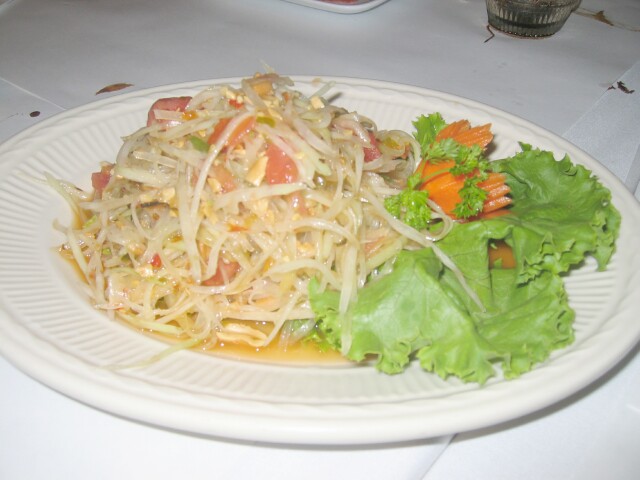 Inside out tuna maki topped with mango and avocado was delicious. I liked the little hint of sweet the mango provided and the shreds of cucumber, in the roll, for slight added texture.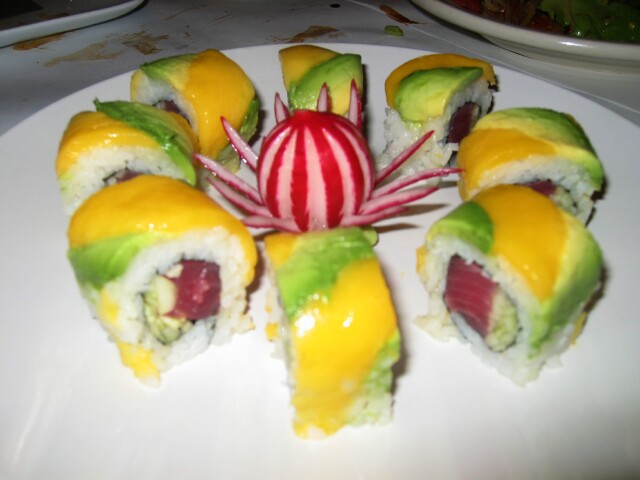 We finished our meal with peach sorbet, the same type they serve at Spoon Thai, which is excellent. I especially like the pineapple.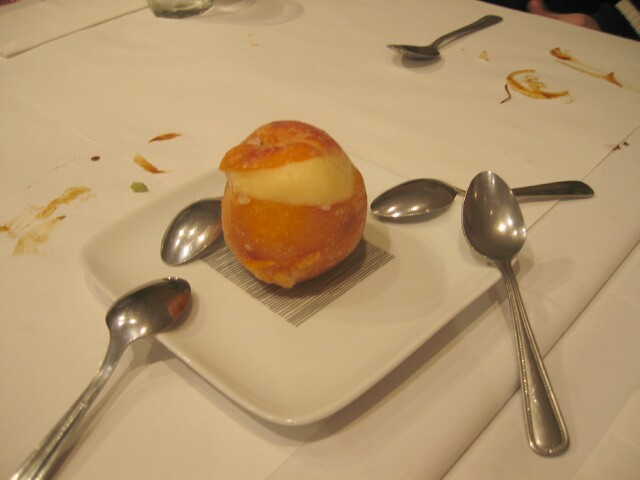 Silver Spoon's interior is nice, comfortable, but not over done in the way of so many fusion type places. Currently Silver Spoon is BYOB.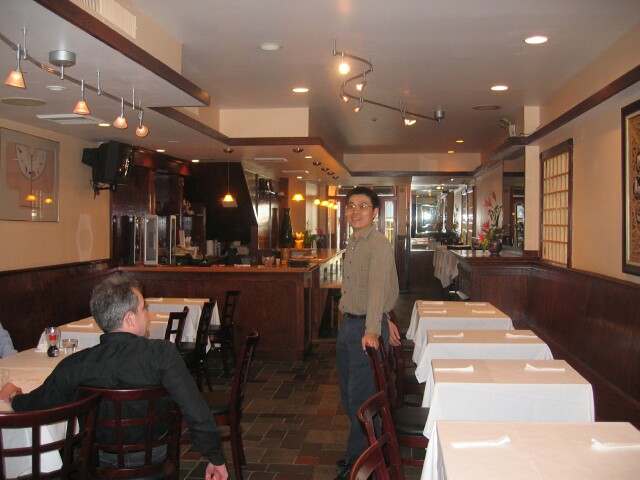 Here's a picture of Chai and Vanna in their new restaurant. When I started to take their picture they just naturally held hands. A simple sweet gesture from two of the nicest people I know.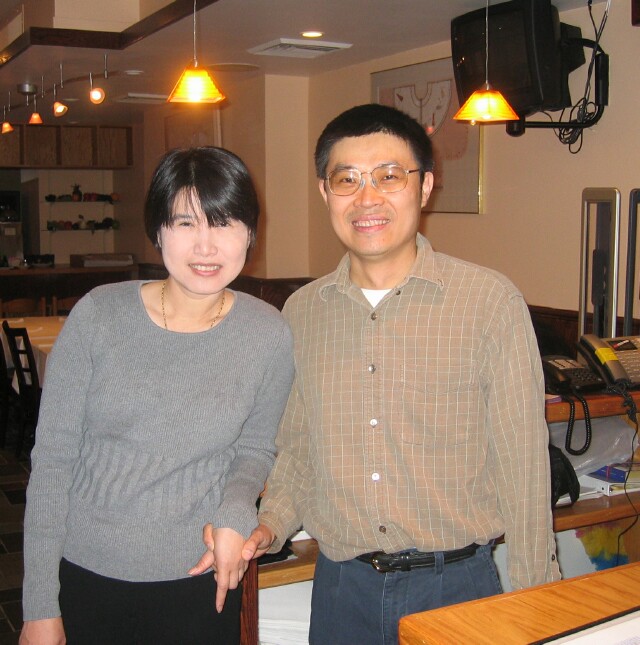 I wish Chai and Vanna the best of luck in their new restaurant. I intend to go to Silver Spoon in the finest of Chicago tradition, early and often.
Silver Spoon
710 N Rush Street
Chicago, IL
312-944-7100
11am to 10pm
7 Days a Week
BYOB
Spoon Thai
4608 N Western
Chicago, IL 60625
773-769-1173
BYOB