When the United States was still largely unpopulated, Kansas City was a gateway to the west. The well-beaten trails of Sante Fe, California and Oregon all originated in Kansas City. Today, Kansas City by Chowist standards is a BBQ mecca recently explored in a one-day seven-stop BBQ marathon trail lead by Yourpalwill with Cathy2 riding shotgun.
Will and I left on a 7 AM flight to Kansas City, which allowed for enough time to arrive to Arthur Bryant's 30 minutes before opening at 10 AM. To kill time, we drove about the neighborhood in search of coffee. We returned to Arthur Bryant's just after 10 AM to be their second customer of the day. The first customer was a lanky salt & pepper bearded man eating BBQ with ear pods stuck in his head.
Deferring to Will's research and our desire to have the reputed best of each place we visited, our game plan was to order a single serving and split it. For Arthur Bryant's, the must-have was their brisket sandwich with french fries, which with 2 drinks and 2 bottles of sauce to take home cost $19.98. Brisket ordered by the pound: $10.75, which we bought to take home.
Immediately one is struck by the reddish smoke ring circling each slice of totally relaxed and tender brisket. The texture of the meat was simply smooth and the taste smokey satin. The French fries were hand cut, cooked in lard to extra crisp. Rarely can one find such a good fry.
Since our next quest didn't open until 11 AM, we read some articles on the walls. There was a framed handwritten letter from a widow whose husband used to work nearby who ate lunch at Bryant's every day. Reluctantly, they moved from the area then shortly afterwards he died unexpectedly at a young age. She wanted her husbands image on the wall at Bryant's because it was one of his favorite places. Eternal love and devotion to fine barbeque is a sentiment, which no longer surprises me. It's the highest compliment reflecting the respect and love Arthur Bryant's puts into their barbecue craft everyday.
Would you return to Arthur Bryant's? Yes, in retrospect I'm sorry we didn't return the same day for another round.
Arthur Bryant's Barbeque
1727 Brooklyn Avenue
Kansas City, MO 64127
816-231-1123
&&&
Our next stop was to Gates, which has a reputation of shouting at customers and especially tough on uncertain newbies. It was also my turn to order and I did not want to even begin to smell like a newbie. So as Will drove, I read aloud the information Will had gathered from LTH as well as from local KC barbeque mavens. All sources pointed toward ordering the 'small ends' (pork) ribs with regular sauce and baked beans.
We walked in to a rather perfunctory half-hearted shout from a girl whom this was a command performance rather than a heartfelt desire to intimidate. Already a first clue this place was more marketing hype than authentic.
While I ordered our small ends ribs and beans, which set us back about $10, Will collected their three BBQ sauces. When we sat down, Will indicated #1 was hot, #2 was regular and #3 sweet. Later as we tasted and dunked our food, the sauces were spinning around the center like a shell game. Yet, Will knew each time which sauce was which. In a moment of dim wits, I finally asked how did he always know which was which sauce: #1 had one cup, #2 had 2 cups stacked and #3 had 3 cups stacked. I pride myself in being observant but clearly sometimes I miss the mark.
My first bite of these ribs was the tiny, cooked tip without much sauce. It may be tiny but there was a very heavily applied rub rendering my first taste so salty and overwhelming it sucked the moisture out of my mouth. To dilute the experience, I dunked my other bits of meat in the recommended regular sauce, but these sauces somehow did not compliment the meat as they should.
The beans were very good, but who comes back for a side dish? The beans were cooked long in a sweet sauce, though there was a porky flavor I did not see any meat. I really enjoy BBQ places that drop some charred bits and pieces of BBQ pork in their beans. In this case, you had to buy the meat if you wanted it in your beans.
Would you return to Gates? What for? The beans? No.
Surprisingly, Brisket at Gates was $12.75 per pound as opposed to the much better Arthur Bryant's charging $10.75 per pound. Gates was steeped in marketing promising it was Kansas City's preferred BBQ. We speculated maybe because they have several more locations, than Arthur Bryant's current two, maybe on this thin line of distinction they would claim most popular. Unfortunately, their food didn't convince us. In fact, we left several ribs on the plate because it was pointless eating bad BBQ when we had so much more to explore.
As we were leaving, the guy with the ear pods from Arthur Bryant's was walking out ahead of us. He turned to us and said something vaguely like, "Nice to see we're on the same BBQ trail," then quickly moved on to a bus stop. I wonder if we should have offered to bring him along with us. We never did see ear pod guy again.
Gates Bar-B-Q - Kansas City Missouri
1221 Brooklyn Avenue
Kansas City, MO 64127
816-483-3880
&&&
Our next stop was to the Aaron Deacon recommended burnt ends at L.C.'s Barbeque. When you walk in you are in the immediate presence of their cast iron smoker, which dominates the room:
Will ordered Burnt Ends ($8.99) and two large drinks for $12.74. Take-out brisket was $12. per pound. We had heard so many raves about these burnt ends, and from such well qualified sources, we were quite eager to eat BBQ gold. Our plate had some burnt ends, which we appreciated, and lots of interior cut meat with no burnt crustiness, which gave us pause. In fact, some of this interior meat was no different than eating a fatty pork roast, no smokiness, nothing special. We began to reason maybe this is a very local favorite, something like rib tips in Chicago, which may not always dazzle an outsider because they don't have the accumulated good will feeling. We finished our plate when I realized I forgot an important detail: no picture!
My head swiveled around looking for someone digging into a fresh order of burnt ends. The table immediately to my left had a group of gentlemen just settling down to their meal. My immediate neighbor had a plate of burnt ends, which looked unlike ours: it was entirely burnt ends and not a bit of interior meat. I inquired if these were burnt ends and may I take a picture? I received an affirmative on both.
I immediately turned to Will to complain we were given the non-local treatment! We learned the guys at the next table regularly visit several times a week. They pointed to an adjacent round table to indicate that's where the owner holds court, though he wasn't present. These guys dug into their plates and gave us a regular customer sampling of burnt ends. We now belatedly learned the raves of burnt ends aficionados. While Will chatted about our one-day BBQ mission and LTHforum, I went to visit the serving crew. I informed them we had come from Chicago for a day of BBQ sampling. If it were not for the kind intervention of their regular customers to acquaint us with real burnt ends, then we would have walked out puzzling what was special about burnt ends. Of course, they just stood there looking surprised and mute. I did the best I could to smooth the path for the next non-local visitor.
One of the guys at our table was a former Chicagoan. He was thrilled to talk Chicago restaurants. He even claimed there is a secret menu at Maggiano's on Clark. He would visit there with a friend who always ordered a soup, which was not on the menu yet it was always available. Anyway, we provided our screen names and LTHforum contact information. I was pleasantly pleased to find shortly thereafter a new member: Chef Dan who later informed me "It was really fun running into you and Will. Would you believe that
not 3 minutes after you left
, L.C. pulled up in his big dually pickup! We hoped you guys might've left something at the restaurant you could've come back for and met 'the master' himself. Maybe next time..."
Would I return to L.C.'s? Yes, but this time with Chef Dan doing the ordering!
L.C.'s Barbeque
5800 Blue Pkwy.
816.923.4484
http://www.lcsbar-b-que.nv.switchboard.com/
?
&&&
At this time, we took a BBQ pause to walk around the shopping district on a hot and humid day. We ended up in a Starbuck's with lovely air conditioning, L.C.'s prominent smoker also made the place quite steamy, comfy chairs and local newspapers. We each read the papers with a running commentary about interesting tidbits observed. It was nice just having a quiet moment before charging into more BBQ. We also noted quite a bit of buildings dating back to its' pioneering past. A lot of tiled roofs suggesting a Spanish influence, though not entirely sure, we figured the answer resided in the guidebook left on the plane.
Our pause extended longer than expected because we were challenged trying to locate our next quest: lamb rib barbeque. Actually Will may correctly insert he isn't very confident in my map reading skills. Initially, this struck me odd I could not read a map because I do most of the route planning for my family. However, then I realized I do most of the driving and leave the map reading to others. I am guilty of being out of practice, which is all I will admit. In all, it took almost an hour to find the path to Fiorella's because there was a major train station between us and where we wanted to go. Getting around this train station was simply beastly with streets disappearing or one-way in the wrong way and just plain bad instructions from a web navigation program. On the edge of dismissing this goal, we finally found their back entrance.
We walked into an old railroad freight house, which was reworked to house a restaurant. Very tall ceilings, thick brick walls and subdued lighting gave a cool, cavern feel to the room. There were plenty of hard surfaces for sound to bounce, so I imagine this place is quite noisy when filled with patrons. In mid afternoon, we were nearly the only patrons when seated at our walnut stained table set with glassware and white cloth napkins. I ordered a combination plate of lamb ribs and beef burnt ends with beans and coleslaw and two drinks for $17.65. Beef brisket for take out was priced at $11.95 per pound.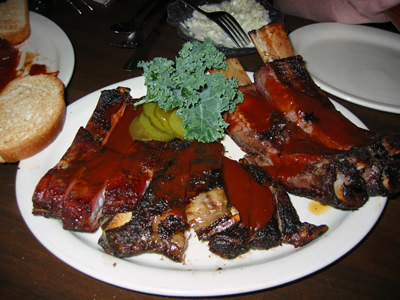 Photo courtesy of Seth Zurer
The lamb riblets had a smokie flavor, which as much as I like lamb I wasn't enamored by these riblets. The burnt ends did not have a clear smoke flavor though we noticed a clear smoke ring. These lamb riblets were also quite greasy causing a slight unease in my tummy for a short while. The accompanying sauce was weak in flavor and likely not specific to this restaurant. The bread was not BBQ quality Wonder Bread but rather of a higher quality, an unnecessary expense when serving BBQ.
We concluded Fiorella's was where locals took out-of-town guests for Kansas Barbeque in a safe white cloth napkin atmosphere. Nice atmosphere, well marketed but not our cup of tea.
To underline our general dismay, Will fully intended to buy lamb BBQ for his trip back to Chicago. He not only didn't find it interesting enough, he did not like the ordering procedures where you paid not by the pound but by the piece. We did enjoy the prettiest waitress of the day, though admittedly she was one of only two waitresses for our day, still she was quite lovely.
Would you return to Fiorella's? No, there are better options.
Fiorella's Jack Stack Freight House
101 West 22nd Street Suite 300
Kansas City, MO 64108
816-472-7427
http://www.jackstackbbq.com
&&&
We were caught unaware at our next quest, it had closed for the day while we were trying to decipher the way to Fiorella's. What a waste! Especially as it was an easy location to navigate to, double darn! SteveZ had specifically recommended Lil's Jakes as a place to obtain burnt ends. Further, he hoped there would be some brought to Chicago for his pleasure. The exterior was a marvel of neon promise, ironically for a place open only for lunch, which means very little in the afternoon sun:
While we are standing around licking our wounds from a missed opportunity. A delivery van pulls up to the side entrance and begins off-loading crates and supplies from a catering job. Everyone is working hard and sweating up a storm. We're on the periphery watching them and making meaningful glances into the restaurant's interior. A very perceptive worker cheerfully advised their hours for the next day. We advised there is no next day for us, we are from Chicago for the day and missed our only chance to visit their establishment. The guy offered to get us a take-out slab of ribs for $18. Will handed the guy a $20, who then proceeded to bring us two large pink lemonades, a container of ribs and a retail sized jar of sauce. More than adequate exchange of goods and services for the $20. he received. We thanked him profusely, returned to the car and packed our treasures in Will's cooler.
Later, we parked the car and ate ribs from Will's favorite dining table on the fly: the trunk of a car. Though cold and without sauce, these were outstanding ribs. We were instantly transported into a funk missing this treasure while searching for Fiorella's, which was a relative waste of time. But how do you know these things in advance?
Would you return to Lil' Jakes? YES!
Danny Edwards Famous K.C. Barbecue AKA Lil' Jakes Eat it and Beat It
1227 Grand Blvd.
816.283.0880
&&&
Our last BBQ destination for the day was Rosedale. Our web generated navigation instructions pointed us first to a third destination, which we knew was already closed. However, going to the closed location provided continuity to our next destination of Rosedale. Bad karma rocked this segment of the trip. While Will's driving, Cathy the now acknowledged amateur navigator does the best she can with poor instructions. What was really irksome was the signage referred in the printout did not jive with the actual real-life signage. While trying to decipher this signage incongruency, Will was driven off the road by a pick-up truck that wouldn't allow us to merge into his lane. What excitement! Maybe this was a hint Rosedale wasn't worth pursuing, but hey we have a plan and we are going to follow it no matter what it takes!
Rosedale is a watering hole, which serves inexpensive and according to Will's research serviceable BBQ brisket. We ordered one Brisket sandwich, Dr. Pepper and Iced Tea for $5.45. As quickly as we placed our order, the lady turned to the service window and pulled our foil wrapped sandwich. I inquired if it was a freshly made sandwich or does your kitchen respond in lightening speed. Rather humorlessly she informed us the sandwiches were just made as we arrived. There was no reason to believe this explanation, but you get an inkling serviceable may be a kind evaluation of this sandwich.
You see the flakes of beef sprinkling the bread? This is fairly representative of the brisket throughout the sandwich. Will observed the brisket was dry, then sliced too thin it fell apart as if it had already been chewed. Will felt it was not a freshly made sandwich, maybe held on a steam table too long, sort of reminiscent of bad corned beef at Katz or an Arby's Beef sandwich. The sauce did improve the meat's condition, sort of melding it together like a Sloppy Joe. Apparently I was a bit overexcited in my dislike of this sandwich as Will asked me to keep my voice down. He felt we should be a little more reserved rather than have someone confront us over this miserable sandwich.
Would you return to Rosedale's? No.
Rosedale Barbecue
600 Southwest Blvd.
913.262.0343
&&&
Will had one last food quest, which was entirely unrelated to BBQ: fried chicken from Stroud's. We did not go to original, rather to a location, which was on the way to the airport. This Stroud's was situated on a hill with a swan filled pond at the bottom, a small (wedding) chapel with the restaurant in a rambling white clapboard house. Will opined it reminded him of a visit to Grandma's, though we both admitted neither of our Grandmother's had such a wonderful bucolic lifestyle.
When we stepped inside the vestibule, I had a feeling we were in a log cabin from all the dark wood. It may have been the original homestead. In such a homey, country style setting the hostess was quite a jarring eyeful: petite with green camouflage satiny short shorts. If we had wanted no smoking, then we would have waited for 45 minutes. When I advised we could eat at the bar or in smoking, we were immediately seated at a picture window looking out to the pond.
We ordered the family dinner $13.75 plus $6.95 to share dinner, which was fried chicken (wing, breast, leg and thigh), mashed potatoes, baked potato, green beans and choice of either chicken soup or dinner salad. Will's chicken soup looked very good with thick (apparently) homemade noodles.
I had a dinner salad with blue cheese dressing. It was an iceberg-based salad, which was dressed in an unusual way: the arranged salad was dressed with the blue cheese, then a grated mozzarella cheese (which was tossed with parmesan to keep it loose) was heavily sprinkled on top. Certainly, nobody can suggest they were not generous but I had to carefully pick through to see there was indeed blue cheese dressing underneath. I didn't eat much of this salad due to my food saturation from the entire day rather than anything else.
Dinner was served family style, so it was no big deal to check out the mashed potatoes with peppery cream gravy Will ordered. We never did touch the baked potato.
The pan-fried chicken had a very thin crust, which just sealed in the chicken juices. I like it as-is though Will felt it needed more seasoning, at a bare minimum more salt and pepper. I guess if I were not drowning in a day of BBQ, I could have gotten more enthusiastic about the chicken. I enjoyed it fresh and I enjoyed it cold the next day when my senses could register the experience better. Ditto for the cinnamon sugar rolls, which came to our table with dinner.
Overall, Stroud's was our most picked over meal of the day with lots of leftovers to be enjoyed later. Our efficient waitress still had to inquire if we wanted dessert, which was amusing considering all the uneaten food on our table. We slipped our leftovers into bags to fit into the cooler and headed off the airport.
Would I return to Stroud's? Maybe, though I might explore what other fried chicken options reside in KC.
Stroud's Oak Ridge Manor
5410 NE Oak Ridge Dr
Kansas City, MO 64119
(816) 454-9600
Stroud's South
1015 East 85th Street
Kansas City, MO 64113
(816) 333-2132
http://www.stroudsrestaurant.com/
&&&
During the day, we received a phone call from Gary inquiring about our progress. Will promised the next trip would evolve around a schedule Gary could commit to. However as the day progressed, we found only a few places we would visit again:
1. Arthur Bryant's simply lived up to its' reputation as the premier KC BBQ destination.
2. Danny Edwards Famous K.C. Barbecue AKA Lil' Jakes Eat it and Beat It - Cold take-out was outstanding, so a visit during working hours must be special.
3. L.C.'s Barbeque - redeemed only by Chef Dan and his buddies generosity.
Each of these three places did not have the marketing polish or interior design we observed at Gates and Fiorellas. Our favorites had humble interiors with serviceable Formica tables, because all their efforts, their love, was put into their food. Fortunately, people respond with their feet and cash to eat their barbeque.
Will also observed these same places would likely arrange next day delivery to our homes, which is fair value considering our cost of air fare and car rental for a day. It does not necessitate a return trip, though my arm could easily be twisted!
&&&
You have to wonder how do people feel when they are continuously eating all day. Are we like the fatted goose, which has food funneled down their throats to improve the fattiness and size of their liver? Not quite. You do feel a little slow mentally because the stomach just never quite empties and the concentrated energy to digest does not abate. We really did not eat like each meal was our last, there was quite a bit of conversation over what we ate. When did we feel the most refreshed? Stepping off the plane at Midway when our last meal was several hours behind us.
Going to Kansas City for a day to eat BBQ was quite an adventure. Thanks again Will for a truly memorable day!
Now let's eat it an beat it!
Regards,
Cathy2
Concrete mascot from Danny Edwards Famous K.C. Barbecue AKA Lil' Jakes Eat it and Beat It:
Last edited by
Cathy2
on May 21st, 2007, 7:09 am, edited 2 times in total.