Though feeling definitely spoiled after an amazing trip to the
Iberian peninsula
over the holidays, the need to keep moving away from the chill brought my girlfriend and I to Mexico City. I was again blown away by the simplicity and focus on fresh ingredients of a cuisine that just gets too convoluted in translation to suit American tastes.
We started the first full day at my regular haunt when I visit town,
Cafe El Popular
, near the Zocalo: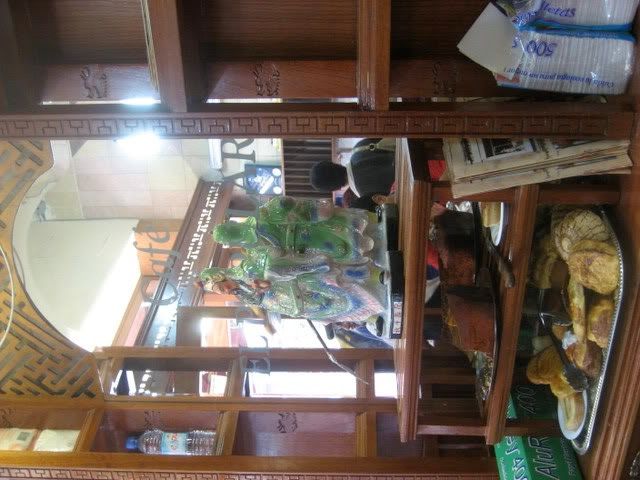 Nothing says good morning like a tall glass of freshly squeezed Jugo de Mandarina: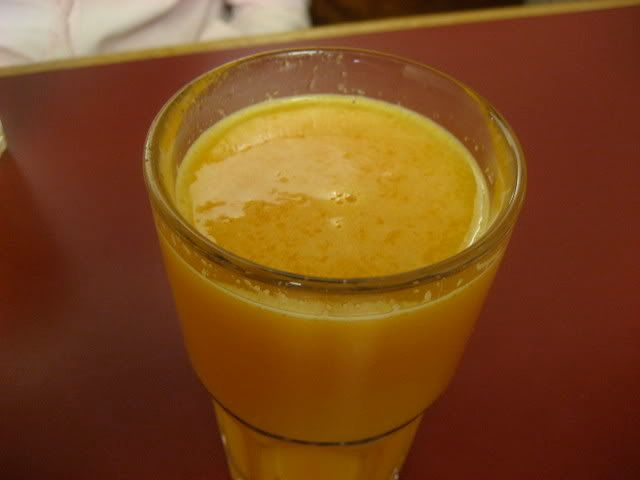 They had some new huevos specials, including perennial favorite, Huevos Oaxaquenos, which were blazing in a salsa spiked with chilies arboles. This rendition was unique in that the quesillo was rolled into the center of the omelet:
After a midmorning siesta, we hit the dizzying
Mercado de Merced
, which was a new journey for me. It was breathtakingly sprawling, over the top, too big. But perhaps the single greatest concentration of color north of the Tropic of Cancer: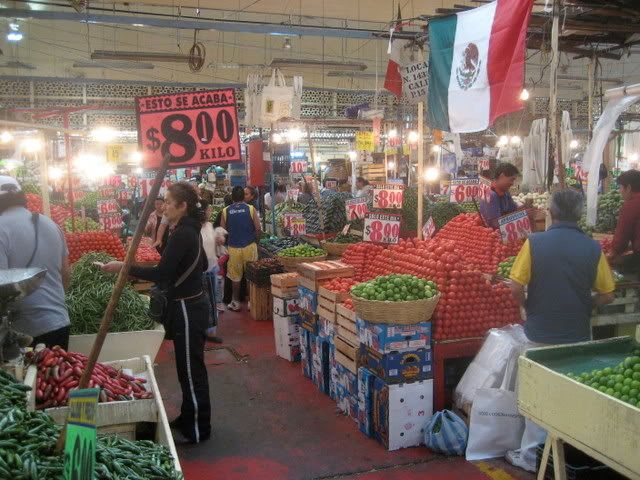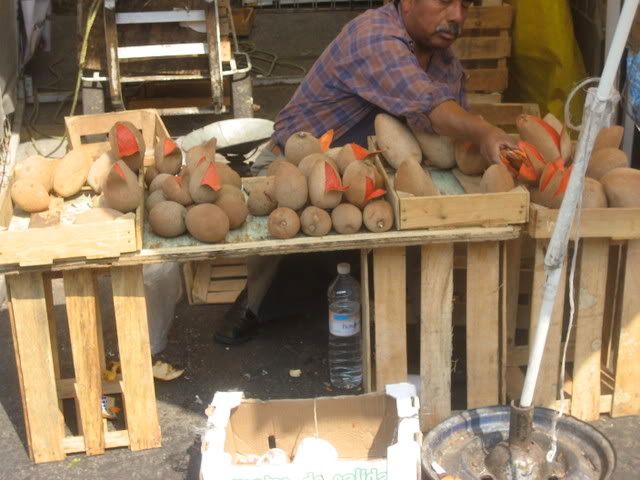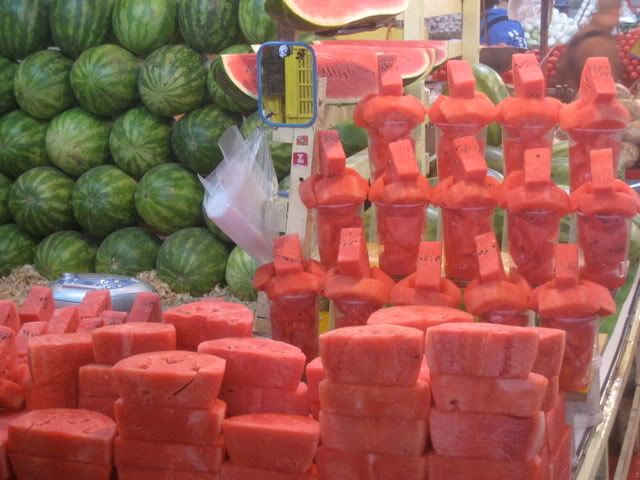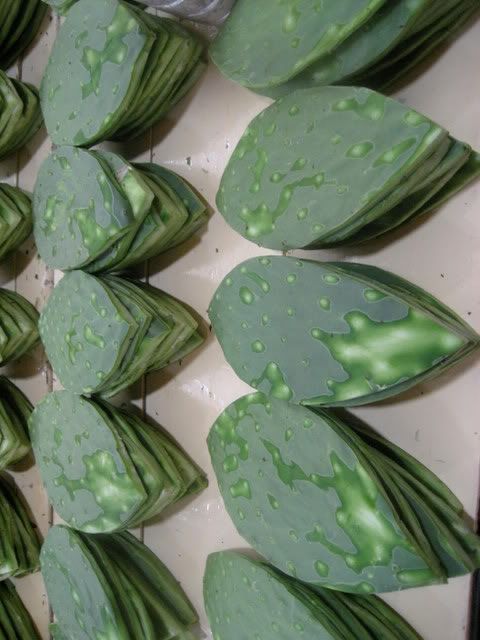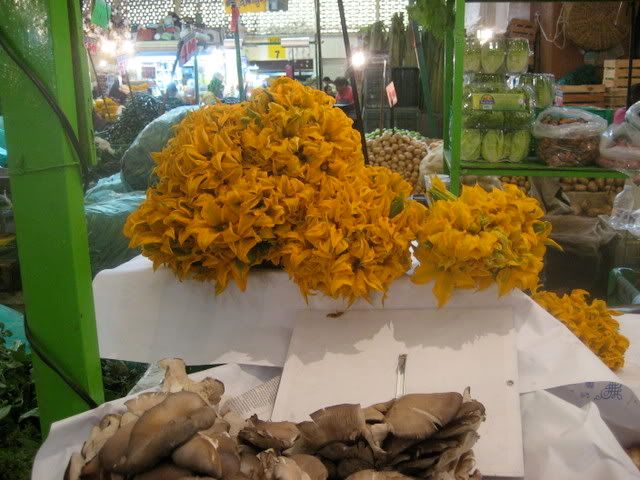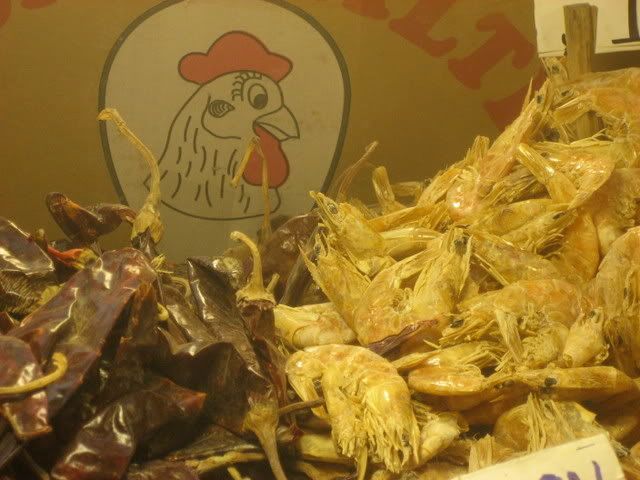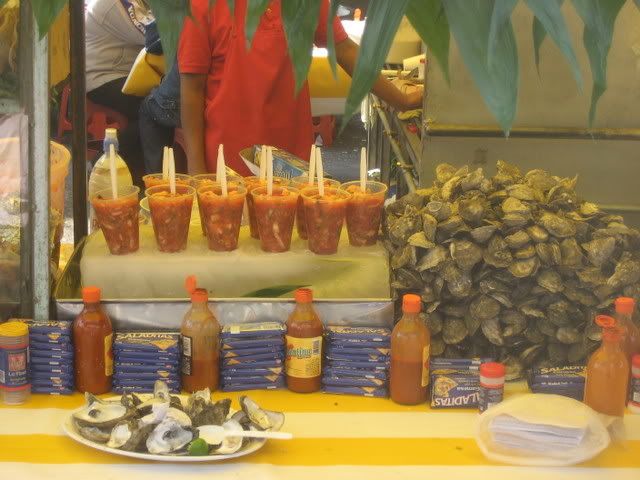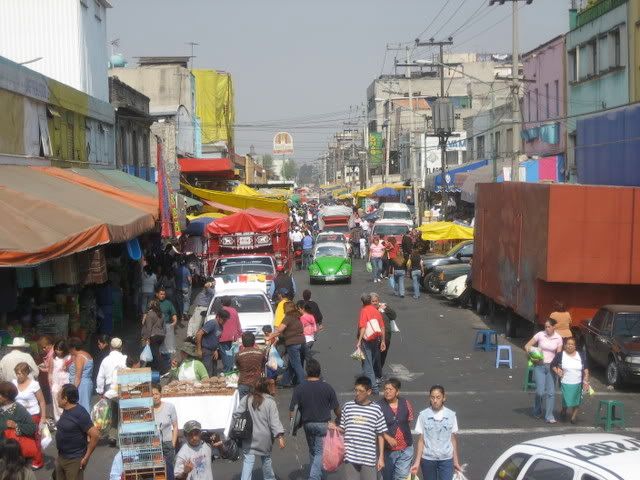 This place is like Maxwell Street Market's whole family on growth hormones. It rightfully feels as though it is the vendor of provisions to a city of twenty million plus people.
Sometimes it gets really clumsy being the tallest guy in the crowds tens of thousands deep, so unfortunately we had had it with the crowds by the time we hit the meaty stuff- I was also being sensitive to my more squeamish traveling companion.
So, we headed across the Fray Servando overpass to
Mercado Senora
, a market known for its catering to a superstitious clientele:
Deer's eyes, any one?
Olokun?
These delightful little guys were ominously described as "diablos de mar":
Starving from near exhaustion, we hit the quesadilla stand. Watching the woman so rapidly hand form the tortillas was mesmerizing. Then griddled on the comal:
I am not sure that I have ever had a tlacoyo. Are they stubby and pinched shut? Are they always topped as well as stuffed? I've heard that they are frequently made with blue corn. But what do you call a hand formed disc of masa folded around a filling, a quesadilla without cheese?
This was perhaps the best thing I ate all trip. I don't think that I had ever had fresh huitlacoche before and it is entirely different beast, fresh, light, and tangy, with earthy mushroomy base notes: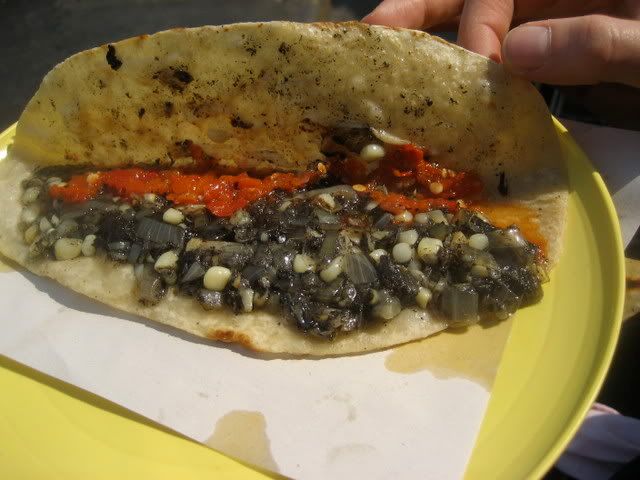 Unfortunately the sun didn't hit the filling quite the right way with the squash blossom quesadilla, but this was a taste of early summer in January:
The elotes guy had these funky mottled blue kernels. And my girlfriend spotted his cauldron of green porridge, which turned out to be a new discovery: Chilatole. Savory atole fortified with green chili and studded with said corn kernels. It was the most elemental of corn poblano soups. Tasting first of squeeze of lime, then sweet roasted chili, with a base of comforting masa and corn on corn bursts of sweetness.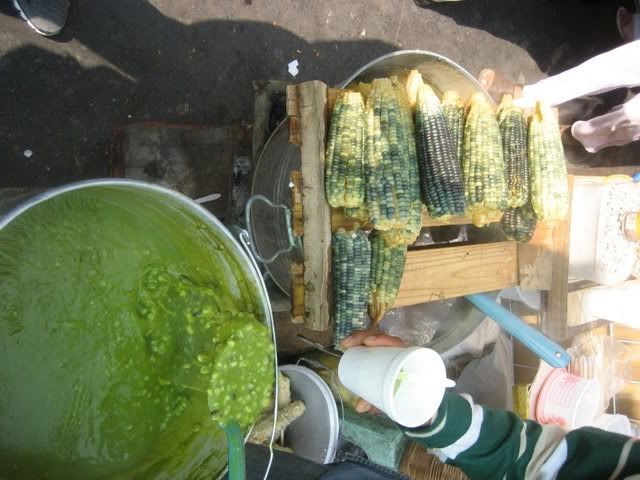 What struck me unusual at this point in our afternoon of grazing was the abundance of unadvertised vegetarian food. I was half full without sampling any meat. Happy girlfriend and I were learning new secrets about real Mexican eating. This food makes the very best out of the very least.
The next treat, also vegetarian, was ethereal and mysterious. It was a toasted blue corn tostada topped with a smear of frijoles, cold stewed nopales, cilantro, queso fresco, and blistering hot salsa.
For dinner, following tradition, we ate at
Cafe de Tacuba
. The dishes are hit or miss by Mexico city standards- not too bad by American standards. I've had sensational cochinita pibil here and so so cesina. It is a fairly encyclopedic menu and I consider the place a sort of academy of Mexican dining.
Oaxacan tamale was really good, not as good as versions off the Zocalo or even Maxwell Street, but satisfying:
Serviceable pozole rojo:
But then again, after all the exciting new things we were eating out in the real world, there are some places you frequent for something other than the food alone:
My favorite restaurant meal happened at a surprising moment at a Lonely Planet recommended spot,
Restaurant Techinanco
on an inconvenient stretch outside of the archaeological site at Teotihuacan. It was one of the most laid back places I have ever eaten: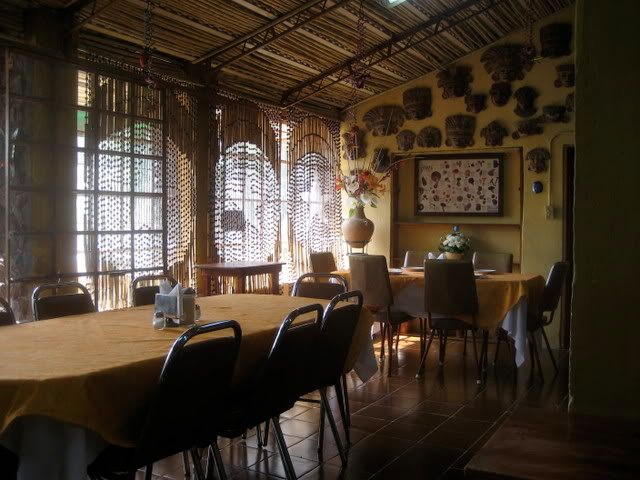 This ensalada de nopales was like four bucks: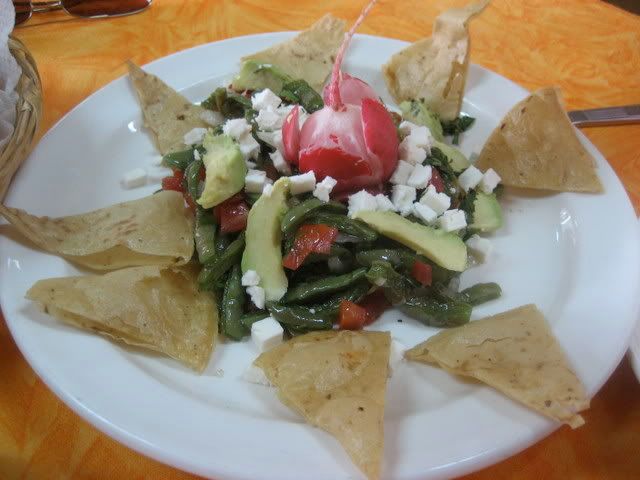 On a major huitlacoche kick I sampled something new, mole de huitlacoche. The sauce was simply huitlacoche fortified with stock and garlic, but it was delicious.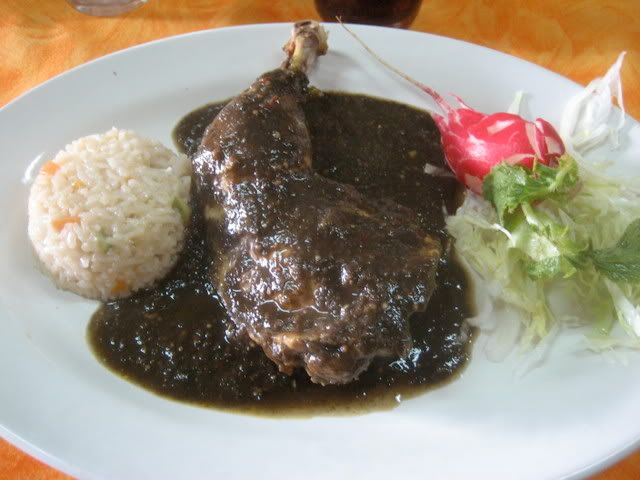 Our dining out itinerary was cut short by an unfortunate run in with Monteczuma (it was ironically not street food or even Mexican food), so my girlfriend went on a saltines and Gatorade diet. And I went on an al pastor diet. But seriously, I had every intention on checking out Pujol or Izote, but I had to eat on the fly while out procuring banana smoothies. And Pastor it was. This was my first, right across from the hotel, unnamed hole in the wall. Dig the spears of pineapple shaved from atop the cone. Eating these perfectly charred garlicky gems I was really thinking "damn, it would be really hard to top these".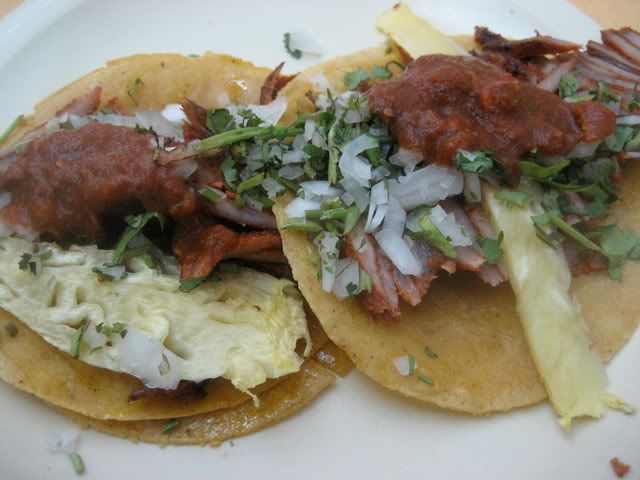 So I tried the so-called inventor of al pastor,
El Tizoncito
in Condesa. I was most assuredly not complaining about the impressive tower of chips and salsa: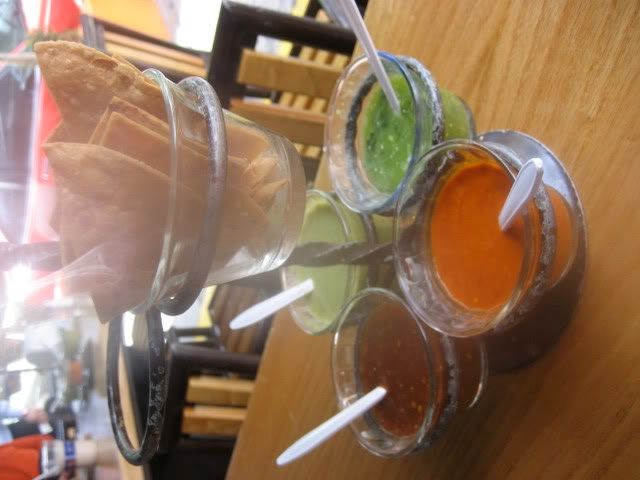 But this joint was busy. And as we've learned from
Professor Wiv's theory of crowd ratio to pastor perfection
, al pastor needs time to carmelize and crust to its ideal consistency:
The nice thing about these wee taquitos, though is that the don't fill you up so fast and give you a chance to sample all the yummy salsas.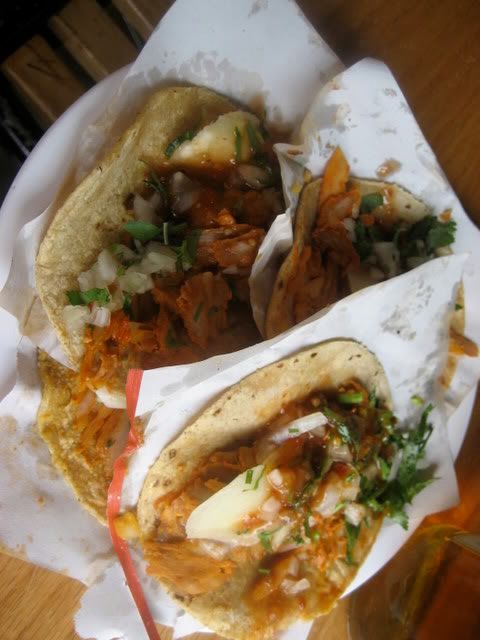 So down the block to Saveur recommended (sorry no link) El Guero, where a mighty spread of different taco fillings in cazuelas meet a horde of in the know citizens for an almuerzo on the go.
Pick a filling, eat one, order more. Again, a surprising find of so many vegetable fillings, I opted for quelites, a fritter of a tangy young green. A stuffed taco rounded out with queso fresco and salsa verde, pretty dang filling:
This place rocks, its hard to find though, since the sign explains little more than a greeting:
The hunt for the best al pastor continued the next day. I scoped a popular spot from the previous day and showed up earlier than the typical early/mid afternoon lunch crowd. I went on a limb with an order of alhambres, pick a meat (al pastor!) and add grilled jalapeno, onion, and bacon, blanket of melted cheese optional (I opted out, for a prettier picture, may I point out)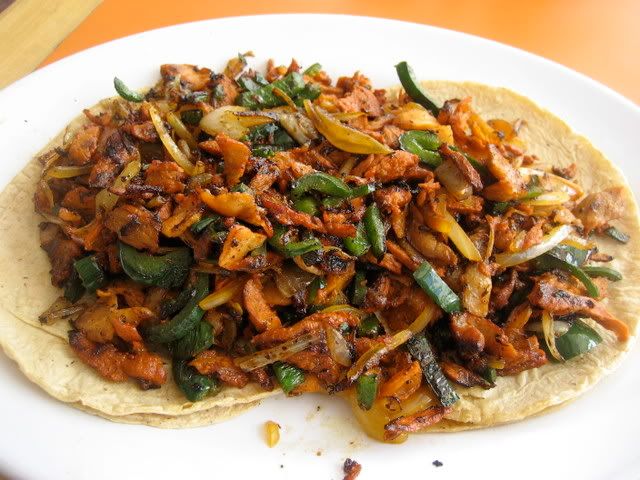 I also had a lump charcoal grilled skirt steak huarache with pungent queso cotija. I got so greedy, I nearly forgot to snap a pic.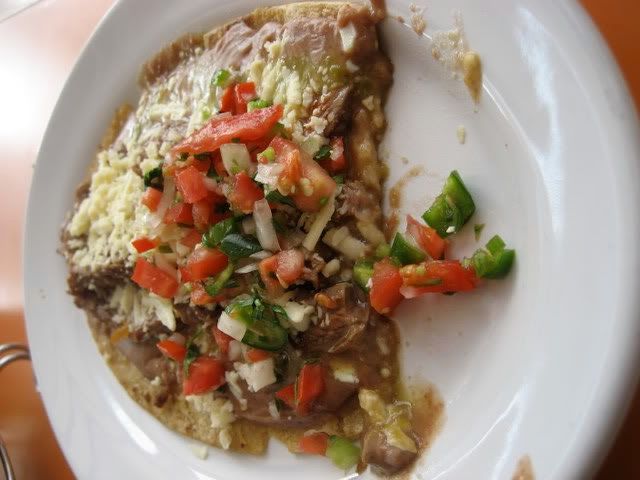 I neglected to get the info on that last taqueria. It was in the Polanco neighborhood on Presedente Masaryk.
We also stayed in Sayulita on the Pacific coast, which was much more about sun and surf (and cervesa). I did enjoy a dry ceviche tostada as reported by David Hammond in his
Nayarit
post, followed by a wonderful buck fifty smoked marlin torta. Unfotunately, though, to appeal to the masses of American tourists its back to complicating everything with piles of sour cream and melted cheese. It is really hard to beat the complex range of Mexican cuisine than you can find in the big city. The real street food, the food of the people. Food that tastes good because it is made by folks who understand so well how the few ingredients that they have to work with taste.
Cafe El Popular
Av 5 de Mayo 52
Cafe de Tacuba
Tacuba 28
Restaurant Techinanco
Across from the Piramide de la luna, take gate three from the park and head north
Teotihuacan
El Tizoncito
Tamaulipas 122
Condesa
El Guero
Amsterdam 135
Condesa